If you have pets, I'm sure that you spoil them as rotten as I do. I have two cats and have given them tons of toys, snacks, and scratching posts. When my older cat was younger, I even bought her a pet stroller because I wanted to take her for walks!
However, if you have a large disposable income, you can take spoiling your beloved fur babies to a whole new level. There are fancy, high-tech pet gadgets that you can get for your cat or dog that go beyond a standard chew toy or litter box.
Have you ever wondered what your dog is up to when you're at work? Do you worry that they're getting into the garbage, or if the dog walker got there on time? With the Furbo dog camera, you can see exactly what your best friend is doing and how they spend their day.
This pet gadget not only allows you to spy on your dog, but you can interact with him/her via the 2-way audio. You can even toss your pup a treat using the Furbo app, or program using Alexa to dispense them at certain times. Finally, the Furbo sends you barking alerts, and you can check why your buddy is barking.
If you have a dog who loves to play fetch, but you can't throw for some reason (busy, exhausted, arthritis, etc) then this pet gadget iFetch interactive ball launcher is perfect for you and your best friend. Train your pup to drop the ball in the opening, fetch it when it flies out, and then bring it back.
There are two sizes — one for large and one for small/medium dogs. The large uses standard tennis balls, while the smaller one comes with small tennis balls.
Apparently, they aren't very sturdy, so some folks use these KONG x-small tennis balls  instead.
When it's mealtime, my male cat takes his sweet time getting to his bowl while my female cat races towards hers. She often ends up eating from both bowls! I wish I had this in my home. This programmable feeder is compatible with most identification microchips in pets, or use RFID tags  for non-microchipped pets.
When programmed, the SureFeed Microchip Pet feeder lid will open only for a particular pet at that particular time, ensuring that each of your pets receives their appropriate food and the appropriate amount. This is especially handy if one of your fur babies is on a special diet.
As much as we cat lovers adore our babies, we don't enjoy cleaning their litter boxes. Luckily, there are automated self-cleaning litter boxes that ensure we have a stink-free home and don't have to touch icky litter for as long as possible.
This Pet Gadget PetSafe litter box senses when a cat is finished using the facilities. A 20-minute timer starts in which the special crystals absorb urine and dry out solid waste. A rake then pushes the dirty litter into a compartment, leaving you with fresh litter. All you need to do is replace the litter tray every few weeks.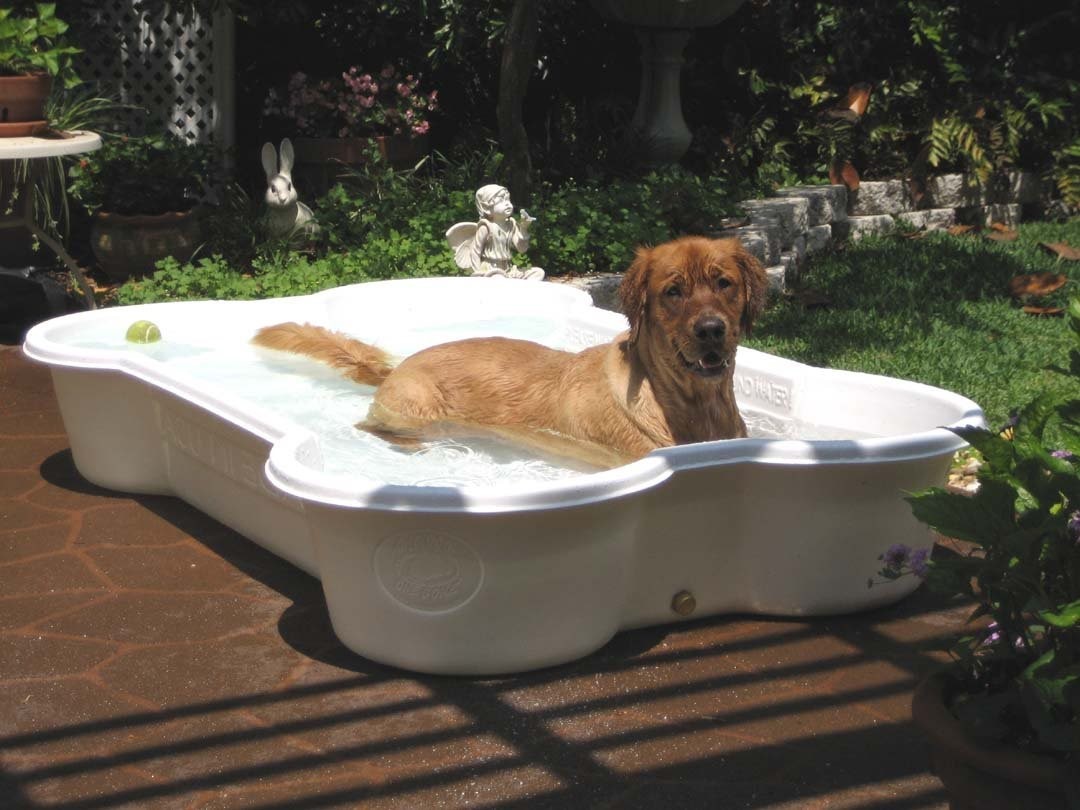 When it's a hot day, your best buddy may want to cool off. The Bone Pool is perfect for the job. Yes, there are other dog pools out there and you can even buy a cheap kiddie pool, but the Bone Pool would be the best choice.
Many dog pools are made of soft vinyl, which is fine for smaller dogs and easier to store, but large, heavy dogs can tip a wall over and spill the water. The Bone Pool is made of truck bed liner material, so it stays in place when say, two large dogs decide to have a pool fight.
Interested in reading more about pets? Find out how to keep your house bright clean when you have pets around!