We hope you love the products we recommend! Just so you know, Trendy Mami may collect a share of sales or other compensations from the links on this page.
–
Everyone has the same objective when finding and buying the best ugly Christmas sweaters: to get attention and make people laugh at all of your holiday parties this year.
If that's your main goal when shopping for hideous Christmas sweaters, you're on the right track. Wearing ugly Christmas sweaters is a tradition in my household, and it's one of the best things about our Christmas shenanigans. Well, that and the heavy consumption of alcohol. But before you can consume a hefty amount of liquor, you must get your attire right.
Best Ugly Sweaters for This Holiday 
You have to find the best ugly Christmas sweater you can get your hands on. Not to sound dramatic but without it, your entire Christmas holiday will be ruined. Yes, that's how serious the sweater game is. So without further ado, here are our best ugly Christmas sweaters for this holiday season.
Vintage Holiday Pullover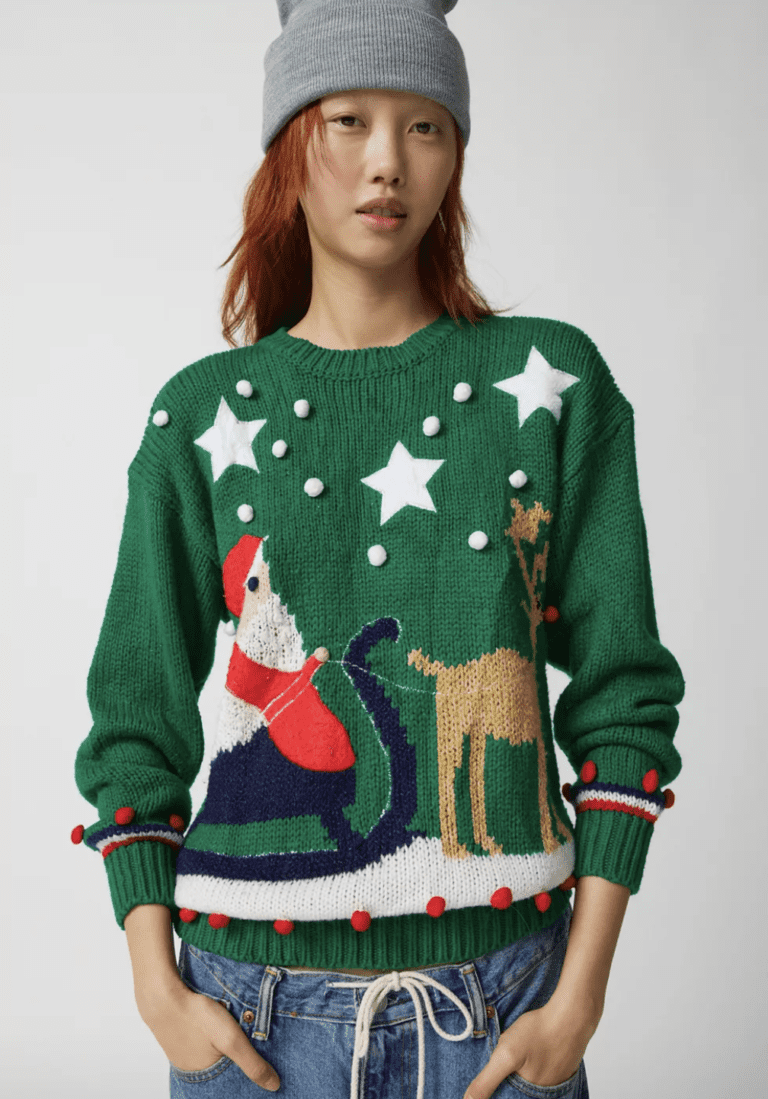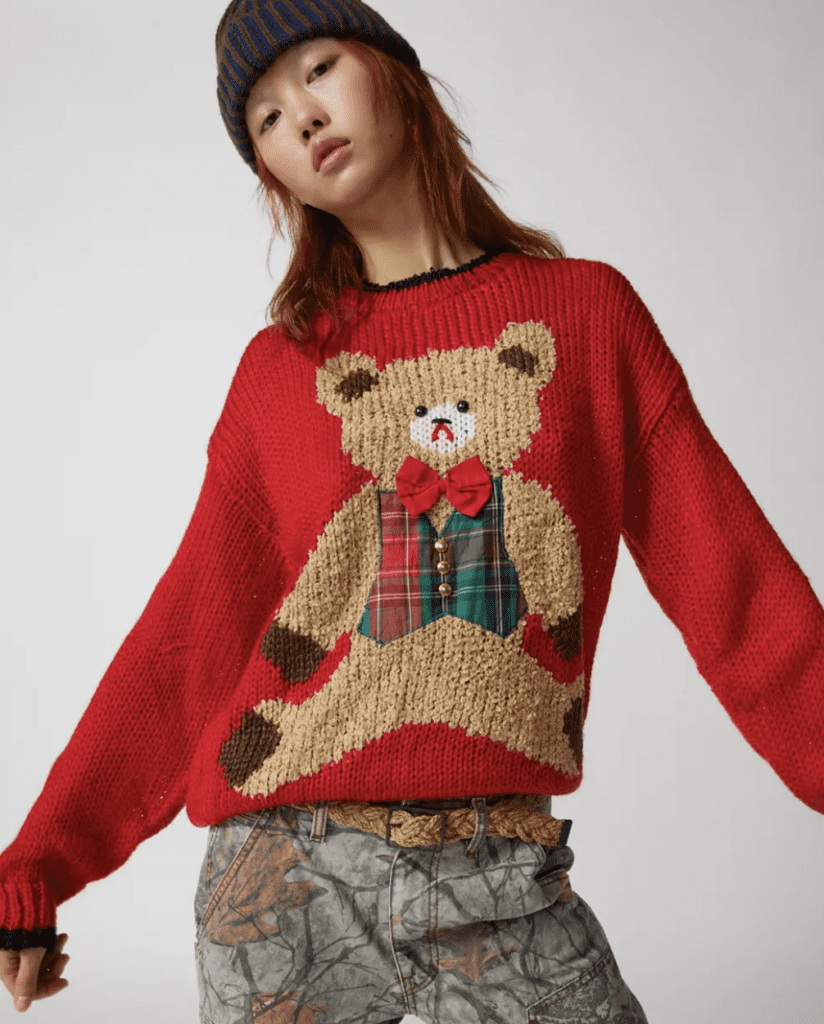 Get ready to cozy up in style with Urban Outfitters' Classic Crew Neck Sweater! This festive pullover is rocking a holiday pattern that's as unique as a snowflake. Urban Renewal is on a mission to bring you the coolest vintage vibes from across the globe. Urban Outfitters has handpicked the cream of the crop in vintage style just for you, and trust us, our stash is limited edition!
But here's the fun twist – the sweater is like a surprise gift from Urban Outfitters. Each piece is one-of-a-kind, so the design you unwrap will be a delightful mystery. Embrace the uniqueness and get ready to slay the sweater game with Urban Renewal's original vintage magic! 🎉✨
Red Off-the-Shoulder Knit Sweater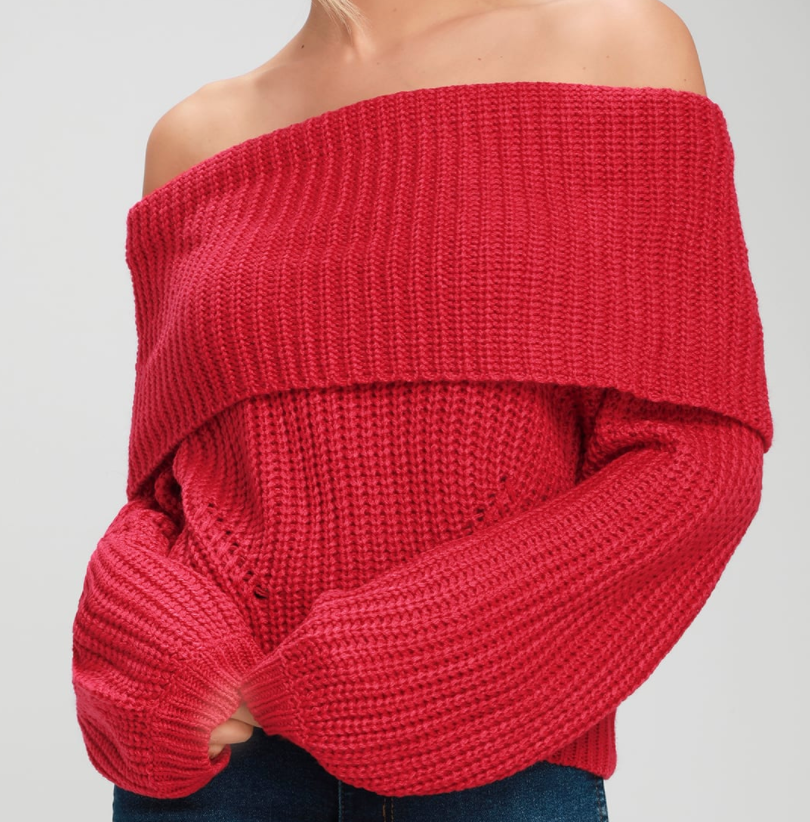 If you still want to participate without the silly sweaters and want something warm but elegant, Lulus has many sweaters that are both those things! This red sweater will be cute with a pair of skinny jeans and cute boots. You may not win any awards for an ugly sweater, but you'll win the night for looking adorable!
Women's Rick and Morty Happy Human Holiday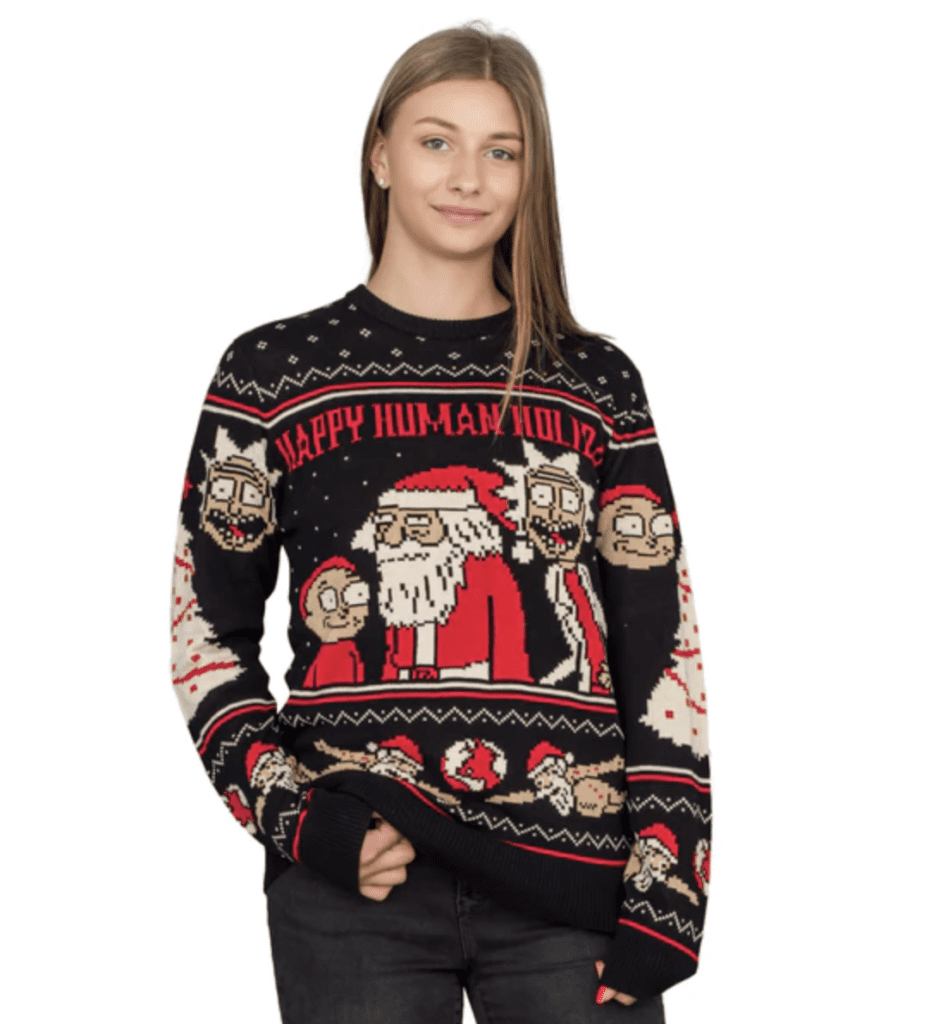 Who isn't a fan of Rick and Morty? This quirky, smart-aleck, way-over-your-head comedy makes for a great ugly sweater. Get yours, and show up to the ugly sweater party with the most impressive outfit there!
Wubba Lubba Dub Dub – Rick and Morty Ugly Christmas Sweater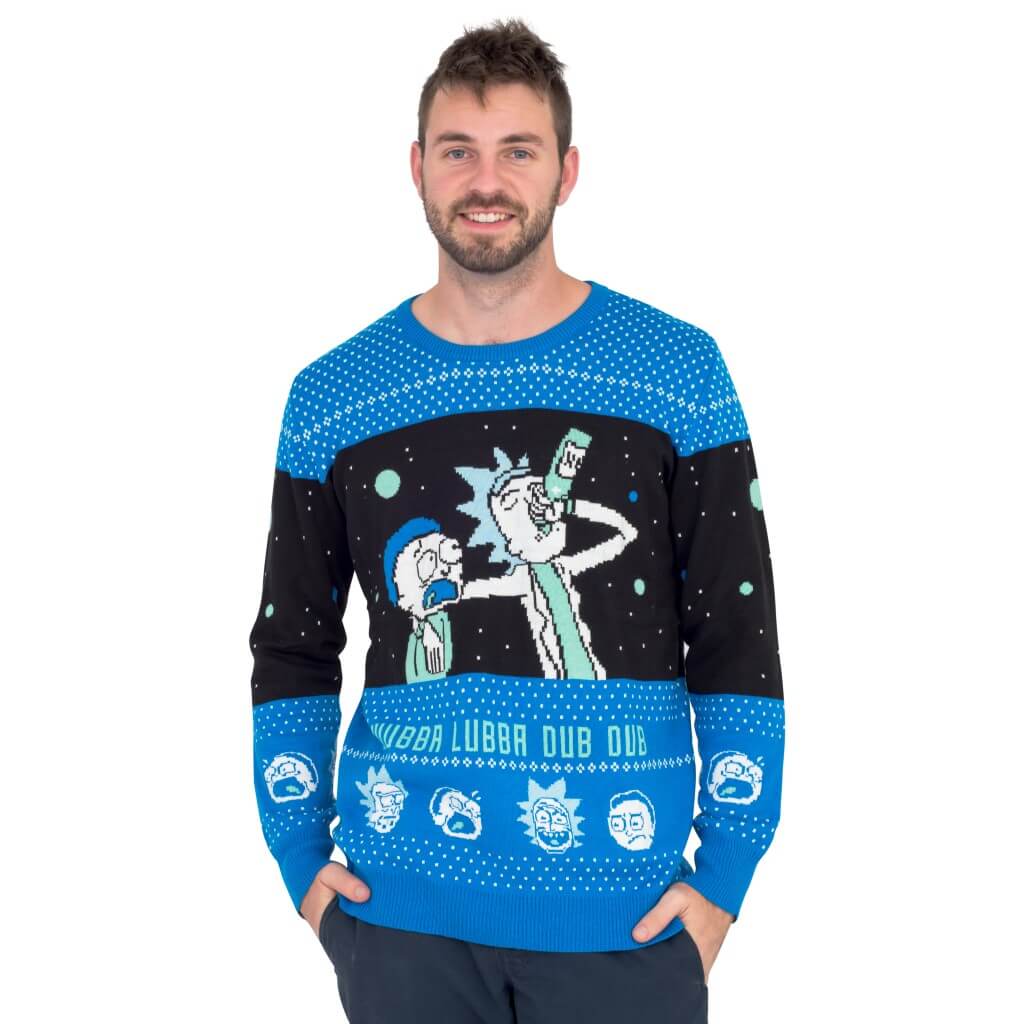 Wanna bring some good ol' Rick fun to Christmas day? We picked a few of these too for our favorite this season! There are so many Rick and Morty ugly Christmas sweaters from which to choose, including this blue one!
Women's Red 3-D Best Ugly Christmas Sweater with Stuffed Moose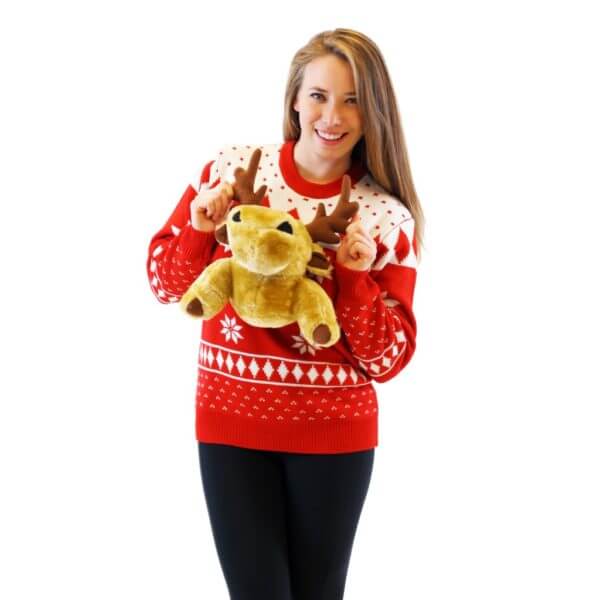 Okay, okay, hear us out. This "ugly" Christmas sweater has to be the cutest one on our list! How can you call the stuffed moose in the center ugly? You can't. There's just no saying it. Show off your Christmas cheer and wear this "ugly" Christmas sweater with pride.
Men's Red 3-D Sweater with Stuffed Moose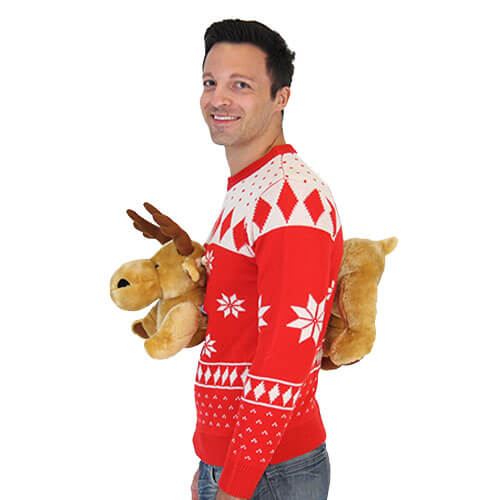 If you and your SO rock up to a holiday party in these bright red, protruding moose sweaters, you're going to be the life of the party. Let's be real, who doesn't want to dance with THAT couple? The correct answer… No one!
Women's Tree Rex Light Up T-Rex Ugly Christmas Sweater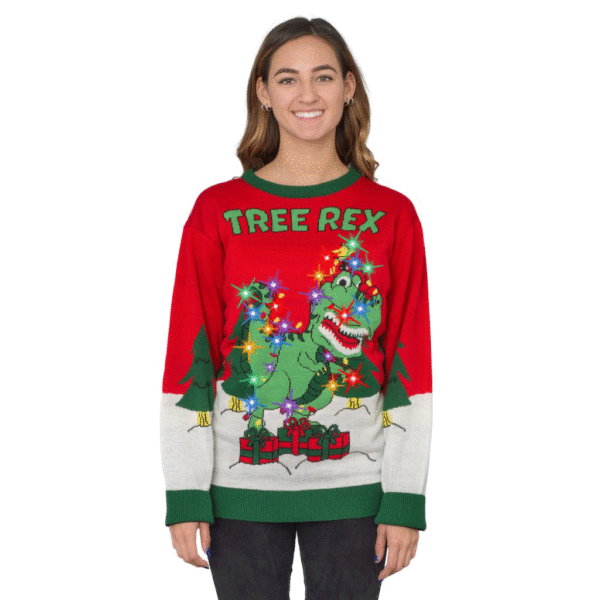 Okay, seriously, who doesn't want an ugly Christmas sweater that LIGHTS up? This sweater is a winner just because of that awesome feature. Never mind the hideous T-Rex and cringe-worthy joke splattered on the front.
Women's Dr Seuss Grinch As Santa Next To Tree Adult Off-White Sweater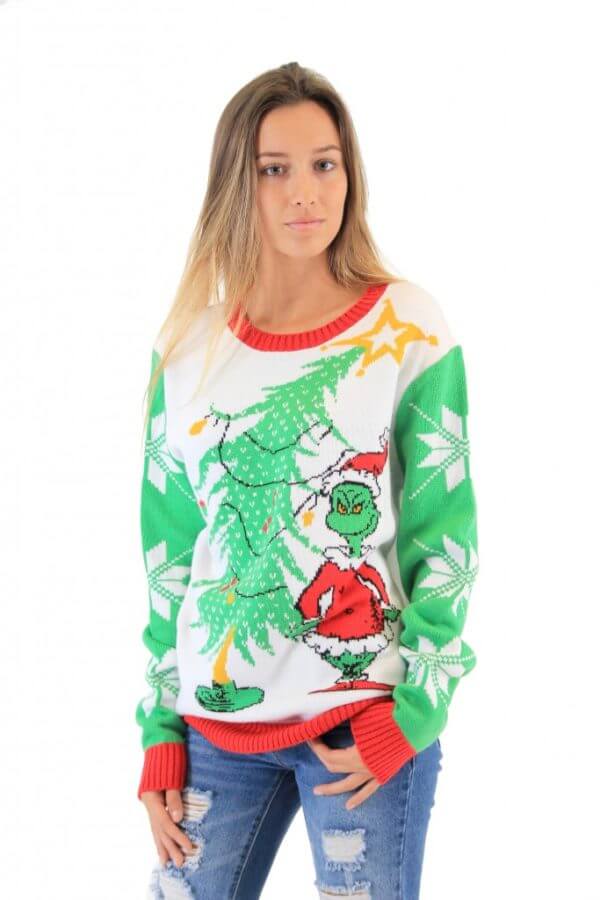 Are you a true Grinch at heart? Don't hide your true colors this Christmas and show off your likeness to the grouchy lovable character from the wonderful Dr Seuss. This Grinch sweater is the best ugly sweater for the people who loathe this time of the year.
Men's Dr Seuss Grinch As Santa Next To Tree Adult Off-White Sweater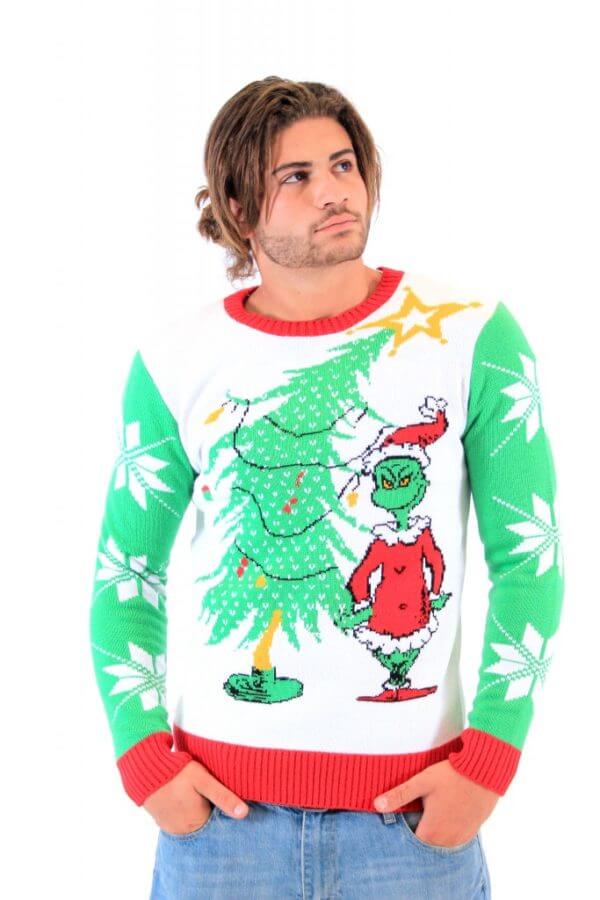 That's right, the Grinch sweater is perfect for the couple who's a little more grouchy this time of year! You and your SO can rock these Grinch sweaters from UglyChristmasSweater.com at any holiday party to show some holiday spirit (even if you don't have a whole lot).
More Christmas Season Fun
We hope you enjoyed our article on the best ugly Christmas sweaters for this holiday season! If you did enjoy it, you may also like some of our other Christmas articles, such as Delicious Gluten-Free Zucchini Cake "Christmas Trees" – Video Included! and Perfect Christmas Outfits Ideas For Every Style. Stay tuned for more fun Christmas-themed articles, coming to you soon!