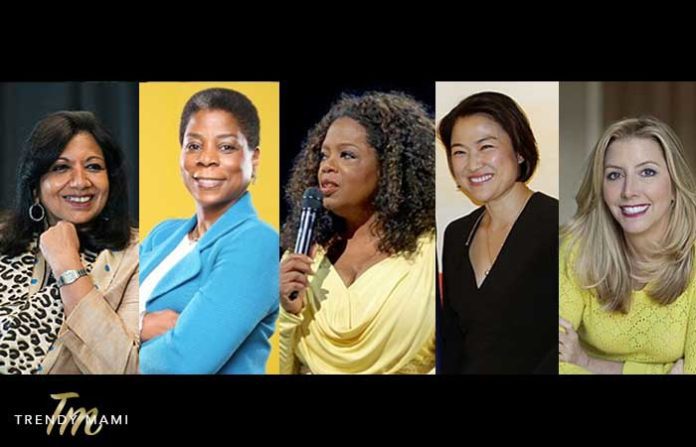 We hope you love the products we recommend! Just so you know, Trendy Mami may collect a share of sales or other compensation from the links on this page.
Obtaining success in business isn't something that happens overnight. It requires high levels of  determination, dedication, and bravery. The world of business can be doubly difficult for women due to outdated stereotypes regarding gender. In defiance of those antiquated ways of thinking, some business women have overcome every obstacle thrown their way in order to achieve outstanding success in their fields. Full of inspiration, courage, and resolve, these women's stories deserve to be told. 
On a side note, if you're a business owner looking to check your credit score, give TransUnion a look. You can easily check your credit score and point it in the right direction.
You can also watch the video on Youtube
Sara Blakely, Founder of Spanx
In the late 1990s, Sara Blakely came up with the idea to create women's modeling stockings that either left the lower leg or foot portion free. The odds weren't in her favor as she'd never worked in retail or fashion, never taken a business class, and only had a few thousand dollars in savings. She also faced a tough crowd; back then the market was backed mostly by men, which meant that she had to do all the product testing herself. Despite being turned down repeatedly, she believed enough in her product to get it patented, and from there things took off! Blakely is now one of the most famous business women, a self-made billionaire and her product is available in 50 countries across the globe.
Looking to get the word out about your business with brochures and business cards? Check out GotPrint for all your printing needs!

Oprah Winfrey, Media Proprietor
Born and raised in a poor urban neighborhood by mother who was dependent on government welfare, Winfrey defied her upbringing to become one of the most successful women in America's history. After her talk show received national syndication, she became a millionaire at the age of 32. Winfrey negotiated the ownership rights to the show, which went on for an impressive 25 year span. From there she started her own multimedia production company, Harpo Productions. Winfrey also created Harpo Print, LLC (which publishes O, The Oprah Magazine), and OWN (the Oprah Winfrey Network).

Zhang Xin, Real Estate Developer
One of China's most successful business women, Zhang Xin rose from humble beginnings to dominate the real estate world. In order to obtain an education abroad, she began working at 15 and for five years, was employed at factories that made electronics and garments. By age 19 she had saved enough money to buy a plane ticket to London and support herself while she attended secretarial school. She went on to study economics at the University of Sussex and in 1992, graduated from Cambridge with her masters in economics. In 1995, Xin founded SOHO China, a real estate developer, with her husband Pan Shiyi. The company has 11 properties in Shanghai and 18 in Beijing and is famed for its iconic modern architecture.

Kiran Mazumdar-Shaw, CEO of Biocon
After founding Biocon in 1978, Mazumdar-Shaw faced credibility challenges due her gender, her youth, and her untested business model. At that time, biotechnology was a sector that was largely unknown and therefore considered high risk. Mazumdar-Shaw also had difficulties finding people to work for her because she was a woman. People feared she couldn't give them job security. To get her business off the ground, she had to engage with men who refused to acknowledge her managerial role in the company. The first couple of years after creating Biocon were very difficult, but in Mazumdar-Shaw's own words, also very "fun." She saw these preconceived notions as a challenge and triumphed over them all, eventually becoming a billionaire and one of India's most powerful women.

Ursula Burns, Chairperson of VEON
Ursula Burns was raised by a single mother in a housing project of New York city. In 1980, she became an intern at Xerox and became a permanent employee there after getting her master's degree. She was named the CEO of Xerox in 2009, becoming the first black-American to head a Fortune 500 company.

In the beginning stages of her career, Burns faced adversity because she was a double minority: a woman and an African-American. Despite that adversity, Burns went on to forge an impressive path through life. In 2007, President Barack Obama appointed Burns as head of the National White House STEM program. She has also served on a number of other boards and committees, including the President's Export Council and the MIT Corporation.
Powerful Women, Obtainable Dreams
These five women are living proof that women can do just as well (or better!) than men in business. What's more, they are proof that even if you come from humble beginnings, great success is possible. These women showed true resolve in the face of difficulty. Even though their career paths are all very different, their stories are full of inspiration for others looking to follow in their footsteps.