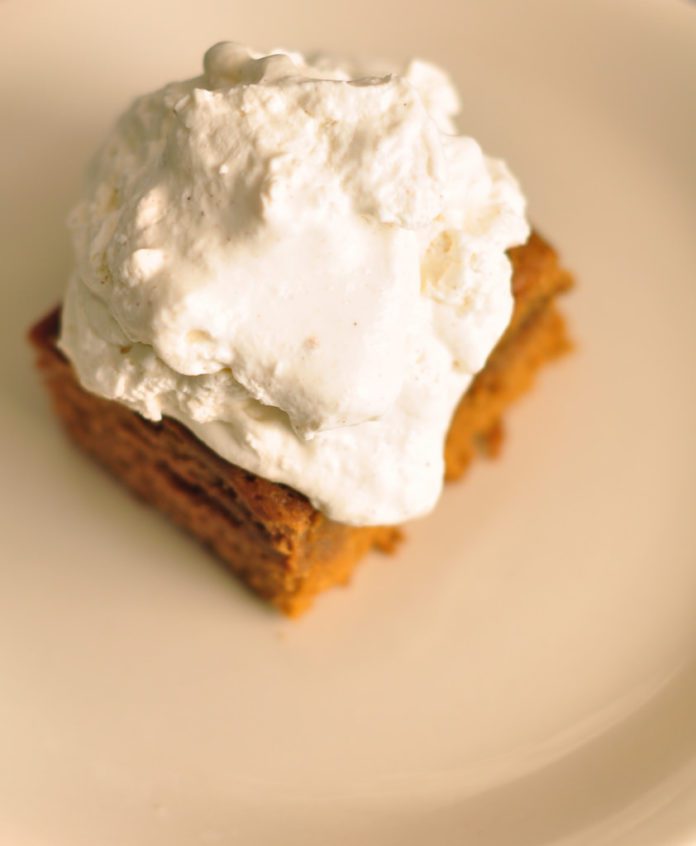 We hope you love the products we recommend! Just so you know, Trendy Mami may collect a share of sales or other compensation from the links on this page.
There's nothing more holiday than gingerbread. Be it a man, woman, or a house, gingerbread is the go-to treat to celebrate the yuletide season. I love watching the kids build their gingerbread houses and get their hands sticky with frosting.
Here's a great twist on gingerbread: a gingerbread spice snack cake.
It's a lot less messy than building a house, and you won't have to clean frosting out of your kids' hair when you're done baking. Thanks to Sally's Baking Addiction for this recipe.
Ingredients
2 cups all-purpose flour

1 teaspoon baking soda

1 1/2 teaspoons ground ginger

1 1/2 teaspoons ground cinnamon

1/4 teaspoon ground cloves

1/4 teaspoon salt

3/4 cup unsulphured molasses

3/4 cup hot water (about 100°F)

1/2 cup (1 stick) unsalted butter, softened to room temperature

1/3 cup packed light or dark brown sugar

1 large egg, at room temperature

1 teaspoon pure vanilla extract

8 oz. full-fat brick style cream cheese, softened to room temperature

2 tablespoons unsalted butter, softened to room temperature

1 3/4 cups confectioners' sugar

1 tablespoon cream or milk

1 teaspoon vanilla extract

1/2 teaspoon maple extract or 2 tablespoons pure maple syrup (optional)

c

ranberries for garnish (optional)
Directions
Adjust the oven rack to the lower third position and preheat oven to 350°F.

Grease a 9-inch spring-form pan. Set aside.

In a medium bowl, whisk the flour, baking soda, ginger, cinnamon, cloves, and salt together until combined. Set aside.

In a separate bowl or dish, whisk the molasses and hot water together.

In a large bowl using a handheld or stand mixer fitted with a paddle attachment, beat the butter on high speed until smooth and creamy (about 1 minute).

Add the brown sugar and beat on high speed for 1 minute until creamed together fairly well. Scrape down the sides and up the bottom of the bowl with a rubber spatula as needed.

On medium-high speed, beat in the egg and vanilla until combined. Scrape down the sides and up the bottom of the bowl with a rubber spatula as needed.

With the mixer on low speed, add the dry ingredients in three additions alternating with the hot water/molasses, beginning and ending with the dry ingredients, and mixing each addition just until incorporated. Avoid over-mixing. Batter will be thin. Whisk out any big lumps.

Pour batter into prepared pan. Bake for around 35 minutes or until the cake is baked through. To test for doneness, insert a toothpick into the center of the cake. If it comes out clean with only a couple moist (not wet) crumbs, it is done.

Allow cake to cool completely in the pan set on a wire rack. The cake must be completely cool before frosting.

Make the frosting: In a large bowl using a hand-held mixer or stand mixer fitted with a whisk or paddle attachment, beat the cream cheese and butter together on medium-high speed until creamy and no lumps remain- about 2 minutes. Add confectioners' sugar, milk, and vanilla extract. Beat on low speed for 20 seconds then increase to high speed until everything is completely combined and the frosting is creamy. Taste. Add a pinch of salt if frosting is too sweet. Spread on top of cake. Spread around the sides if you have extra frosting.

Slice, serve, enjoy! Leftover frosted cake keeps well covered tightly in the refrigerator for up to 5 days. The flavor gets even better after a day or two.
Enjoy this moist, frosted gingerbread cake for your next holiday dinner. Can't wait to bake mine this year!
What's your favorite gingerbread recipe? Leave a comment below!