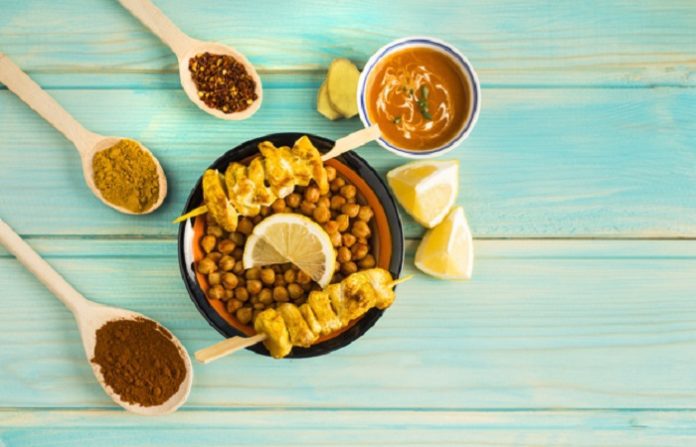 We hope you love the products we recommend! Just so you know, Trendy Mami may collect a share of sales or other compensation from the links on this page.
Chickpeas, or garbanzo beans, are part of the legume family. Whilst they have become more popular recently, chickpeas have been grown in Middle Eastern countries for many years. They have a nutty taste and grainy texture, which pairs well with a lot of other foods and ingredients.
What's great about chickpeas is they are a rich source of vitamins, minerals and fiber and may offer a variety of health benefits, such as improving digestion, aiding weight management and reducing the risk of several diseases. Impressively, chickpeas are also high in protein and make an excellent replacement for meat in vegetarian and vegan diets. So for all of you vegetarians and vegans out there, these are an excellent ingredient to add to your plate! Keep on reading to find out more on the health benefits of chickpeas and the best homemade hummus recipe you'll come across!
1. Jampacked With Nutrients
Chickpeas have an impressive nutrition profile. They contain a moderate number of calories, providing 46 calories per 28g serving. Approximately 67% of those calories coming from carbs, whilst the rest are coming from protein and a small amount of fat. Chickpeas also provide a variety of vitamins and minerals and a decent amount of fiber and protein.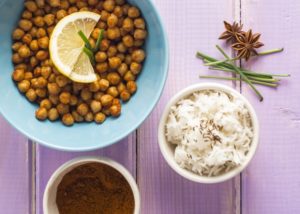 2. May Help Keep Your Appetite Under Control
Did you know that the protein and fiber in chickpeas may help keep your appetite under control?
Both of these nutrients work synergistically to slow digestion, which helps promote fullness and satiety. Additionally, protein may also increase levels of appetite-reducing hormones in the body. In fact, the filling effects of the protein and fiber in chickpeas may automatically lower your calorie intake throughout the day, which may result in weight loss or help with weight maintenance!
3. Chickpeas are rich in Plant-Based Protein
Chickpeas are a great source of plant-based protein, making them a perfect food choice for those who do not eat animal products. Vegans and vegetarians, where you at? A 28g serving provides about 3 grams of protein, which is significantly comparable to the protein content in similar foods like black beans and lentils. As mentioned above, the protein in chickpeas may help promote fullness and keep your appetite at bay. Protein is also known for its ability to help with weight control, bone health and maintaining muscle strength.
If you're looking to keep track of your protein intake or just overall food intake, Sun Basket can help you do that! They provide many protein filled recipes weekly!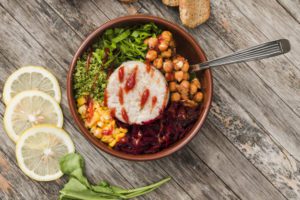 4. May Help You Manage Your Weight
Chickpeas actually contain several properties that may help you control your weight. First, chickpeas have a fairly low-calorie density. This means they provide few calories relative to the amount of nutrients they contain. People who eat lots of low-calorie foods are more likely to lose weight and maintain it than those who eat a lot of high-calorie foods. However, everybody is different depending on their activity levels, genes, etc. Furthermore, the protein and fiber in chickpeas may help with weight management due to their appetite-reducing abilities and potential to help reduce a person's daily caloric intake.
5. Chickpeas Support Blood Sugar Control
Chickpeas contain several properties that may also help manage your blood sugar levels. First, they have a fairly low glycemic index (GI), which is a marker of how rapidly your blood sugar rises after eating something. Diets including many low-GI foods have been shown to promote blood sugar management. Second, as we've mentioned, chickpeas are a good source of fiber and protein, which are both known for their role in blood sugar regulation. This is because fiber slows carb absorption, which promotes a steady rise in blood sugar levels, rather than a spike. Also, eating protein-rich foods may help maintain healthy blood sugar levels in individuals with type 2 diabetes.
Best Homemade Chickpea Hummus Recipe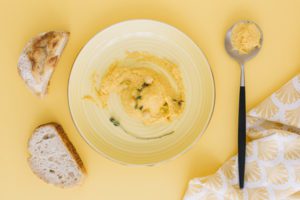 What You'll Need:
What To Do:
Drain and tip the chickpeas into a food processor.
Peel and add the garlic, then add the tahini, a good squeeze of lemon juice and 1 tablespoon of oil.
Season with a pinch of sea salt, then pop the lid on and blitz.
Use a spatula to scrape the hummus down the sides of the bowl, then blitz again until smooth.
Have a taste and add more lemon juice or a splash of water to loosen, if needed, then transfer to a serving bowl.
Serve with sliced crunchy veg, such as carrots, cucumbers, radishes or peppers, and some warm flatbreads.
Dig in and enjoy!
We hope you enjoyed our article on the health benefits of chickpea/garbanzo beans and try out our recipe for the best homemade hummus. This hummus recipe will definitely be a party favorite for your next swaray. However, if you want to whip some up for your next family movie night, I'm sure it'll be loved just as much!
If you're looking for other great protein filled recipe or even another recipe with chickpeas? We have one here! Check it out!