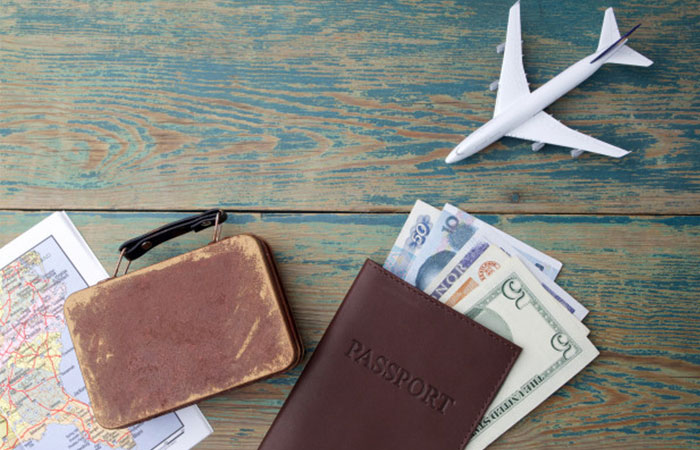 We hope you love the products we recommend! Just so you know, Trendy Mami may collect a share of sales or other compensation from the links on this page.
Now that traveling is finally coming back in almost full swing, we decided to put together a printable vacation checklist of all the essentials you'll need for traveling in 2021.
Because of the COVID pandemic, 2020 was an extremely light traveling year for most people. Health guidelines, restrictions, and cities shutting down mean many haven't taken a trip for some time. 2021 is likely to be a huge year for travel, and many cities and countries are opening up, ready to accept tourism back into their spaces. If you're planning to embark on your own traveling this summer, you'll want to make sure you are prepared after this extended time of not traveling.
We decided to put together a printable vacation checklist of all the essentials you'll need for traveling in 2021. Many of the things you will need for traveling are the essentials you are familiar with before COVID, but to stay in line with COVID protocols, there are items you may have forgotten about or were unaware you needed.
Don't have a plan of where to go yet? Check out the best prices for popular destinations on JustFly. JustFly offers top daily deals as well as a seamless search experience if you already have a place in mind. From here, you'll see options from top airlines to find your best deal.
Before you fly off into your next adventure, be sure to take a look through this printable vacation checklist to ensure you aren't forgetting anything:
When You Book Your Flight
–
Things to Do Immediately
Check passport expiration

If it's been some time since you had initially received your passport, it could have possibly expired during COVID. Make sure to double-check your passport for expiration dates, and set up an appointment to renew it as soon as possible if needed.

Book the Remaining Pieces of Your Trip

If you're planning on doing lots on your trip, double-check everything is scheduled out before you leave. Things like activities, sightseeing, reservations, and more can fall through the cracks. And if you're planning on doing something like a cruise (like with MSC Cruises), make sure your tickets are ready and set before the date approaches.

Request a visa (if applicable)

If you're traveling abroad, be sure to check the territory's rules and regulations on visa and travel. You may need to request a temporary visa depending on your travel plans and length of stay.

Get a copy of your passport

Always be sure to have a backup passport and copy in case you lose your primary passport.

Apply for an international driving permit (if applicable)

If you're going to be driving in another country, check the regulations to be sure you have the ability to drive.

Check medical insurance

An Essential part of this printable vacation checklist. Double-check to see your policies in the territory you are traveling to. If you aren't protected, it may be in your interest to find temporary insurance that's applicable to the region.

Schedule hold on mail service

Pause incoming mail to make sure you don't miss anything.

Book pet/house sitter

If you're gone for extended periods, make sure your pet and house are taken care of, and hire a part-time sitter. 

Rent a car/transportation

Lock in your mode of transportation early to make sure you can get around. Kayak is the most popular site to rent a car everywhere in the world, it's safe, reliable and offers competitive prices.

Set up an international phone plan (if applicable)

International calls can be expensive on your base plane, so set up an international plan that will work for you.

Make reservations for attractions/restaurants

If you want to sightsee or do some fun activities, certain famous attractions and restaurants might have a long waitlist. Book them early to make sure you don't miss out. On Kayak, you can search for tour packages and experiences in the location you'll be traveling to, book and pay directly from the site, so you can make sure to focus on enjoying your vacation once you start traveling.
And if you want to find really killer deals on packages on some of the nicest resorts and stays globally, our favorite is Marriott International by far. They have vacation packages all over the globe, so no matter where you're planning on traveling, you can have a beautiful and peaceful travel experience.
Before You Go – Right Before Your Trip
Empty the fridge

Any perishables that will go bad during your trip are best to throw away before to avoid nasty smells and spoiled food.

Turn off your lights

Don't leave on unnecessary lights and electronics while you're gone to avoid electricity bills.

Check-in online and select seats

Check-in online the day before so you don't have to do it at the airport.

Share diet restrictions to airline

If you're going on a long trip with an in-flight meal, make sure to let your airline know of diet restrictions so they can accommodate you.

Check your luggage weight

To avoid any big charges, be sure to check your luggage weight at home so that you meet the requirements.

Set your home temperature

Especially during the hotter and colder months, you'll want to make sure that you have the proper temperature set so no you won't risk getting mold and you won't come home uncomfortable.

Leave a set of keys to a close contact

Even if you have a house sitter, leave a set of keys to a trusted contact in case of emergency.

Lock the doors and windows

Double-check there are no points of entry for home invaders.

Turn off your sprinklers

You don't want your sprinklers running while you're gone in the case of a faulty system ruining your lawn. Be sure to turn this off before you head out.

Arm your home alarm

If you have a home defense system, be sure to keep this activated for any intruders.
Travel Documentations – Bring With You
Passport

The most important item in this printable vacation checklist. Necessary for any international travel.

Drivers License

Both for identification and if you will be driving.

International Driver's Permit (if applicable)

Have this if you will be driving in another country/territory.

Visa

If you are on extended stay and were granted a visa, don't forget it!

Health Insurance Card

In the case of a medical emergency, have your health insurance card with you.

Printed Hotel Reservation

Make sure you have proof of your hotel reservation in case there is a mix up on their end.

Printed Itinerary

Stay organized with a printed itinerary for your trip!

Boarding Pass

Either on your phone or printed, make sure to have your boarding pass when you arrive at the airport.

Vaccination Records

You may be expected to produce vaccination records for specific events and attractions, so have these or a copy on you.
Traveling hasn't been a priority for many of us for the last year or so, so we may all be a little rusty. This printable vacation checklist should be incredibly helpful to make sure you have everything you need for your upcoming trip. Safe travels!