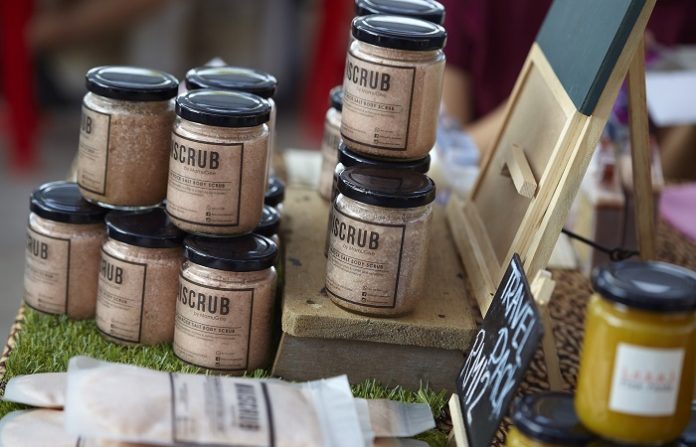 We hope you love the products we recommend! Just so you know, Trendy Mami may collect a share of sales or other compensation from the links on this page.
There is nothing like a nice refreshing shower to get you started in the morning, or a relaxing bath after a long day using your favorite scrub. Our lives have become so fast pace and we often forget to enjoy those little moments. We also often forget to appreciate and care for our body even if making and using a scrub for our body or hands would take only a little time.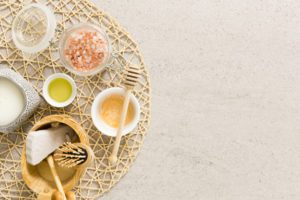 Why Homemade Scrubs?
Homemade scrubs are actually far greater than any you can find in the beauty market. Here are some of the reasons why that is true!
1. They are easy to make.
You most likely already have all the ingredients you need, whether they are hiding in your kitchen or your bathroom. If not, everything you need can be bought in a grocery store close to you.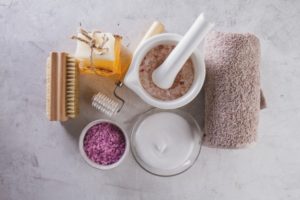 2. They suit every skin type.
They are adaptable to your needs as you can make them harsher or gentler, all you need to do is to adjust the quantity of the sugar in the blend.
3. They can smell as you like them. 
By choosing the scent you like, you will be sure to use them more often. You can also experiment with smells for different effects and different purposes, whether you want to be uplifted or relaxed.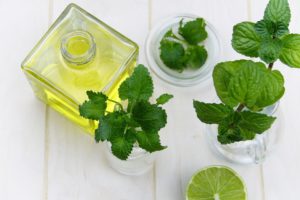 4. They are a better choice.
They are fine both for the environment and for your health, as you don't end up using chemicals which can harm you or nature in the long run – like the microbeads that are often put in scrubs and are now becoming illegal in some places as they end up entering our food system through the water.
5. By creating something, you will feel more accomplished.
There is the satisfaction of creating something for yourself. A perfect homemade scrub makes a great gift. You can put it in a nice jar, wrap it with a bow and gift it with a note including a few kind words.
6. They last for a long period of time.
Another great reason for creating your own hand scrubs is the fact that they can't really go bad, and there is no need to keep them in a fridge. With time, you might see the sugar and the oil separating from each other, all you need to do then is just to stir the mixture before using it.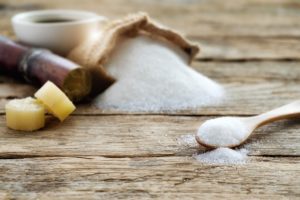 Lemon Sugar Scrub Recipe
So, here is how you can create your very own lemon scrub. All you need is:
A spoonful of extra virgin olive oil or coconut oil
Two spoonful's of sugar
A few drops of lemon juice
A small jar or a similar packaging
Just take some oil of your choice, mix it in with a bit of sugar. Add a few drops of lemon juice, either freshly squeezed or from a bottled concentrate. You can empty a jar or packaging from a face cream and fill it in with the mixture. You can create even larger quantities to use all over your body. After using the scrub, you will see no need for additional moisturizer, as the oils in the scrub will keep your skin soft.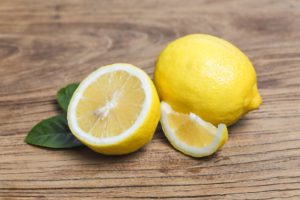 I recommend using lemon for the scent mainly. Lemon is known to be antibacterial and brightening, which is a great benefit for your tired hands. Your hands are known to show signs of aging much sooner than your face or even your neck.
Olive oil and coconut oil also have antibacterial and anti-aging properties. You might find the smell of olive oil to be a little less pleasing than coconut oil. You can either add lemon or any other essential oil to hid the olive oil smell. Otherwise, you may use the oil on its own. While on the topic of oil, have you heard of oil pulling for oral hygiene? Check out one of our latest articles on how to maintain your oral health!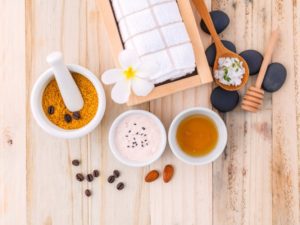 Other DIY Scrub Options
You can play with the scents of your scrub by adding different essential oils to the mixture. Mint is a great option for winter, as it is soothing and calming just like lemon is refreshing for the summer times. If you find yourself under a lot of stress, adding lavender will calm your thoughts and prepare you for sleeping.
You can also get creative and prepare a pumpkin spice sugar scrub for the holidays by adding some brown sugar, pumpkin spice mix or cinnamon and nutmeg with vanilla extract. As you get comfortable, you will see that you can play around with different textures and different smells for different occasions. You can also add some food coloring and have your lemon scrub be yellow, for example!
All in all, give this simple recipe a try and see how you feel once your hands get soft and beautifully scented!
Check out our article on different DIY face masks for a smooth and moisturized skin!