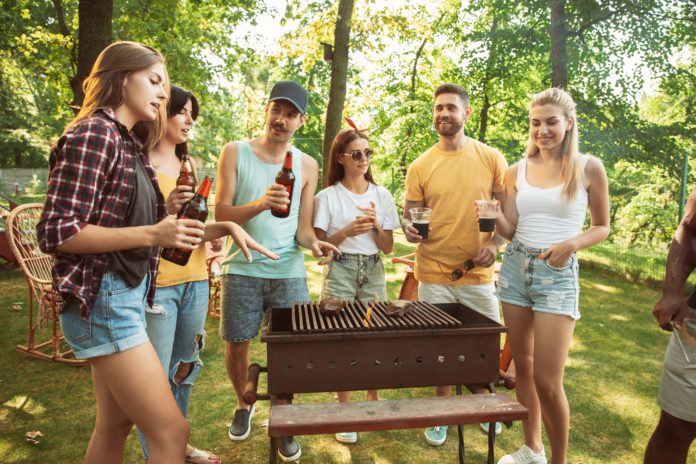 We hope you love the products we recommend! Just so you know, Trendy Mami may collect a share of sales or other compensation from the links on this page.
Celebrate the start of summer with these mouthwatering Memorial Day food ideas! Whether you're throwing a backyard BBQ or a small family get-together, these foods are guaranteed to please all palates. While many of these dishes are meat-based, we've also thrown in a few non-meat options for vegetarians!
6 Memorial Day Food Ideas for Your BBQ
Omaha Steaks is a meat-delivery service with a huge variety of steaks, seafood, and side dishes. They're your one-stop shop for everything you need for a delicious BBQ meal. You can also read our full review of how Omaha Steaks works!
Gourmet burgers and bratwursts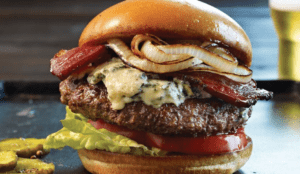 No BBQ would be complete without a big juicy burger (or sausage). This iconic BBQ food is a must, especially considering how easy it is to make them in bulk. Then you can have your guests dress them up with their favorite sauces and toppings.
Omaha Steaks sells many different types of burger patties. Try their succulent Prime Reserve Angus Burgers, or opt for something more unique like Pork & Bacon or Salmon Burgers. They also have a large assortment of sausages. Bring on the heat with these Jalapeno Bacon Bratwursts, or stick with a classic Beef Frank. These gourmet Franks in Blankets also make great appetizers if you're looking for passed-around snacks!
BBQ Ribs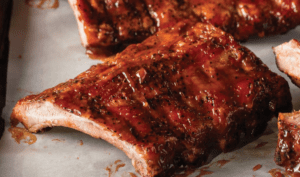 BBQ Ribs should be on every menu when it comes to Memorial Day food ideas. They're smokey, they're meaty, and they're smothered in a rich, flavorful BBQ sauce that you can drink by the gallon.
These smoked Baby-Back Pork Ribs are pre-seasoned and fully cooked, so all you have to do is heat them up on the grill. You might also want to try Teriyaki Two Bone Ribs for a unique flavor of finger-licking soy sauce and honey.
New York Strip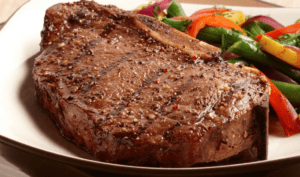 Steak lovers rejoice! Omaha Steak's thick-cut Boneless New York Strips are made for your Memorial Day BBQ. Aged for 35 days, these steaks have been triple-trimmed for a bold and beefy flavor that everyone at the party will be fighting over.
For extra flavor, you can grill up these Bone-In New York Strips instead. The meat is extra tender and juicy (it's one of the most savory pieces of meat you can get). One bite and you'll see why it's considered to be one of the best Memorial Day BBQ ideas.
Pub-Style Cod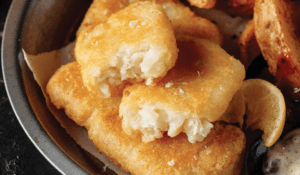 Not all Memorial Day foods have to be grilled on the BBQ! You can still enjoy a delicious meal straight from your oven or air fryer. These Fried Cod Filets are made with wild-caught cod and are coated in an authentic English-style batter.
They come out crispy and juicy (perfect for any non-red meat-eater at your party). Pair it with a creamy lemon-dill tartar sauce, and you have yourself the perfect Memorial Day meal!
Chicken and Veggie Skewers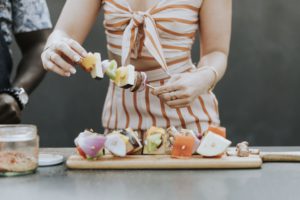 If you want to offer a lighter option at your BBQ, then grill up kebabs! Giant cubes of chicken are layered with red onions and bell peppers and simply seasoned with salt and pepper. All you have to do is roast them on the grill to add that perfect char-grilled flavor.
They're perfectly portioned for each guest, although they can also be taken off the bamboo skewer and shared.
Asparagus Souffle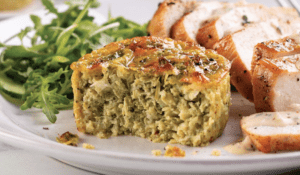 Celebrate the fresh flavors of spring and summer veggies with these individual asparagus souffles. Made with chopped green asparagus and a blend of mozzarella, swiss, and parmesan, it's the ultimate side or main dish for vegetarians.
Not to mention, they're incredibly easy to make. Just place them in the oven, and you have a freezer-to-table dish in just 20 minutes.
Happy Memorial Day!
When you invite guests to your BBQ, it's important to offer a variety of Memorial Day food ideas. From steaks and burgers to chicken skewers and sides, Omaha Steaks is one of the best places to shop for your next party. So, fire up the grill and grab an ice-cold beer because all of these Memorial Day BBQ ideas are guaranteed to be winners!