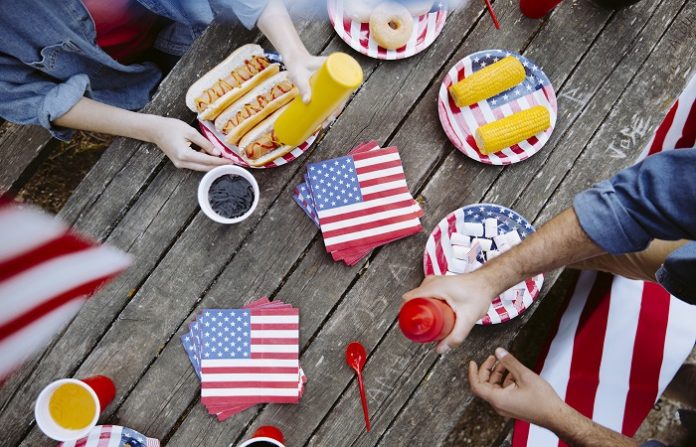 We hope you love the products we recommend! Just so you know, Trendy Mami may collect a share of sales or other compensation from the links on this page.
You'd think that 4th of July barbecue party ideas would be pretty easy to come by, right? After all, the stars-and-stripes design and color scheme is quite easy to emulate in our 4th of July recipes and decor. However, we're always finding ourselves wanting something more, something different, something unique to really wow our guests. With that being said, we have rounded up the best and also inexpensive 4th of July barbecue party ideas. With all of these fun games, décor, food, and drinks, you'll have everything you need to make this 4th of July the best summer barbecue ever.
We want to help you rein in America's birthday in the most fun way possible. We hope these eye-catching 4th of July barbecue party ideas will help you out. What's even better, most of our 4th of July barbecue party ideas require little money and little prep time. This means that you can easily jazz up any summer party, even if you only have a few minutes to spare. Check out our 4th of July barbecue party ideas below!
4th of July Party Ideas
1. Display Confetti Balloons Around Your Backyard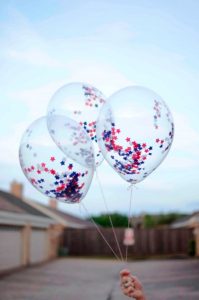 For a fun and festive display, ditch the basic red, white, and blue balloon display. Opt for a dozen of these confetti-filled clear balloons from Etsy instead. They're incredibly photogenic and make for a festive BBQ decoration!
2. Dress Your Lawn With Stars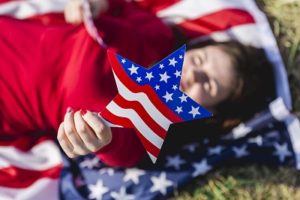 Transform your lawn into the ultimate firework viewing spot by spray painting your lawn with patriotic red, white and blue stars. You can even make the stencil yourself with large construction paper. Just get yourself a star stencil, some red, white and blue spray paint and you're good to go! Get all your arts and crafts supplies from Joann's.
3. Use Gingham Napkins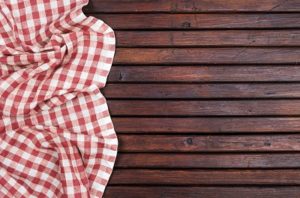 These classic gingham napkins are certainly Independence Day friendly. However, they look just as good in your dining room all year round. Get your gingham napkins in red and blue and then alternate the two and create a nice pattern on the table by alternating colors. Very festive!
4. Fire Up The Grill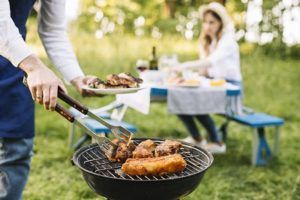 What's a 4th of July barbecue without a good grill and delicious food? Be sure to check out the grills from Traeger! All that you need for a good barbecue are some hamburgers, steaks, kebabs, shrimp or even some tasty salmon. For the best tasting meats for your 4th of July barbecue, check out Omaha Steaks, Wild Alaskan Company, Mr Steak, and Snake River Farms.
Or if you're looking for a quick dinner delivery, give Seamless a look! You can even get 25% off first order of $15+ while ordering from their app with code AFF25!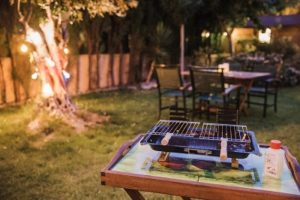 You can't have an evening summer soiree without string lights! To bump things up a notch further, light a bonfire, make some tasty treats like s'moress'mores and sit around the fire to bring back some summer camp nostalgia.
6. Serve Patriotic Beverages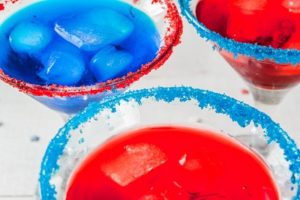 To really get into the holiday spirit, you need holiday spirits! Haha, see what we did there? Serving patriotic beverages like bomb pop shots made with grenadine, Mike's Hard Lemonade, and blue curaçao will really have everyone feeling festive. What about red, white and blue margaritas? We have some great 4th of July cocktail ideas your Independence Day party needs! However, if you and your friends don't need fancy booze to get into the holiday spirit, check out Winc and Martha Stewart Wines for some delicious bottles of red or rosé. Whatever strikes your fancy! For the beer lovers at your 4th of July barbecue, check out Craft Beer Club for delicious craft beer delivered straight to your door.
7. Have A Patriotic Snack Table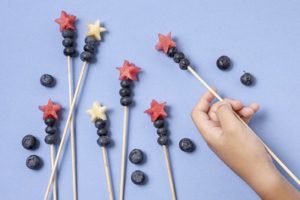 Make this year's 4th of July summer barbecue the best ever by serving some delicious 4th of July appetizers and snacks that will lure your guests to the food table as soon as they walk through the door. Serve some pigs in a blanket, mini sloppy joes, guacamole and chips or some cute patriotic desserts like these 4th of July oreo cookies from Gourmet Gift Basket.
8. Break Out The Board Games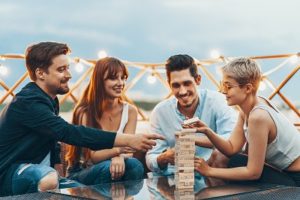 A great way to keep everyone entertained this 4th of July is breaking out the board games! If you and your friends and family love mysteries and puzzles, get your hands on Hunt a Killer. With Hunt a Killer, you must sort through the evidence and clues to crack the cold case. How about an escape room you can do in your very own home? Check out Escape the Crate!
9. Make It A Picnic!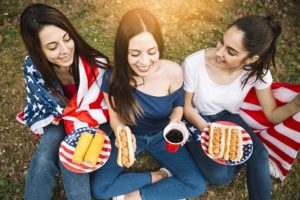 Can't host your barbecue at your place? No worries, a picnic in the park is an affordable and fun way to gather the gang together for the 4th of July! Keep things festive and pack patriotic food, snacks, drinks, games and be sure to get yourself a Big Blanket that will keep everyone cozy during your 4th of July shindig.
We hope you enjoyed our article on our 4th of July barbecue party ideas for the best summer barbecue ever!
What's more American than chicken wings? Serve these delicious buffalo wings or this gorgeous Apple cake at your upcoming 4th of July celebration!