We hope you love the products we recommend! Just so you know, Trendy Mami may collect a share of sales or other compensation from the links on this page.
Adopting a healthy diet can be daunting. There are so many fads and superfoods out there that it's easy to get confused when you're trying to figure out the right plan for you. That's the boat I was in when I decided to try and improve my diet. Instead of letting myself get overwhelmed, I decided I'd focus on the one thing I knew I could stand to eat more of: fruits. A little research revealed that there are a ton of fruits that fall under the "superfood" category. From there it was really very easy to adapt my diet to include "superfruits." If you want to eat healthier but aren't sure where to start, superfruits are easy to come by, easy to prepare, and easy to fit into your regular diet.
What Superfruits Have to Offer
It's a no-brainer that fruits in general are a good thing to include in your regular diet because they hold a lot of vitamins. If you're anything like I used to be, you might eat an orange or banana every day to make sure you're getting your daily dose. What some people might not know (and what I've recently discovered myself) is that you'll do yourself a huge favor if you decide to broaden your fruit horizons.
When most people hear "super" and "fruit" together they tend to think right away of antioxidants. Antioxidants are compounds found in foods that can halt or slow cell damage. Antioxidants are important, don't get me wrong, but they're not the only beneficial attributes superfruits have.
As Benjamin Plackett of Health explains, kiwis (especially the skins) are full of prebiotic complex carbohydrates, which can help address issues with the digestive tract. If you want to eat superfruits to target certain health issues you're concerned about, learning about the different superfruit qualities is a good idea. These qualities include:
● Monounsaturated fats – These lower the levels of bad cholesterol in your blood, reducing the risk of stroke or heart attack. Avacados (yes, they're a fruit!) are high in these.
● Bromelain – This digestive enzyme helps to reduce bloating and also has anti-inflammatory properties. It's found in pineapple.
● Folic acid – Folic acid helps your body create and sustain new cells. Strawberries have this in abundance.
● Oleic acid – This Omega-9 fatty acid helps to reduce the chances of heart attack or stroke. It's found in dragon fruit.

So Which Fruits are "Super?"
Don't know where to begin on your superfruit journey? Fortunately, a ton of fruits fall under the superfruit category. Here's the master list:
● Berries – Açaí berries, blueberries, cranberries, strawberries, raspberries, blackberries
● Citrus – Grapefruit, limes, lemons, tangerines, oranges
● Melons – Cantaloupe, honeydew, watermelon
● Seeded fruits – Dragon fruit, pomegranate, papaya
● Pitted fruits – Avocado and plum
● Red grapes
● Bananas
● Kiwis
Introducing Superfruits to Your Diet
Introducing some superfruit goodness into your diet doesn't have to follow some complicated, drawn-out diet plan. For example, I started by eating grapefruit (lowers cholesterol, high in antioxidants) and yogurt every morning for breakfast. From there, I added a kiwi and strawberry fruit salad to my lunch every other day. For snack cravings, I kept some pineapple spears on hand. I didn't overwhelm myself by trying to fit superfruits into every meal of every day. Instead, I started out slow and gradually introduced them at a pace that I was comfortable with.
Explore Your Eating Options
A part of the reason I was reluctant to include more fruits in my diet is that the idea of eating them alone seemed so bland. I like variety. After a little research, I discovered that I could enjoy these fruits in different ways. Some great superfruit meal ideas include:
● Salads – Add berries or slices of fruit to a salad to give it that superfruit boost. As a dessert alternative, mix all your favorites together in a fruit salad.
● Smoothies – Great for breakfast or for lunch. Mix up a smoothie full of the superfruits of your choice. Jazz it up a little by adding in some yogurt or juice (or both!) of your choice. If you want it sweeter, add some honey to taste.
● Frozen grapes or berries – You can do this with any kind of berry or grape. Just slip them in the freezer for a few hours.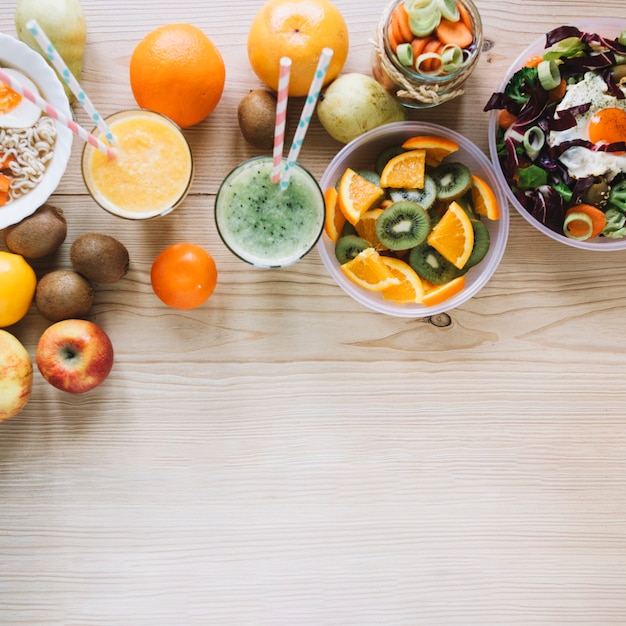 The Superfruit Switch
Like a lot of people, my dieting habits haven't always been perfect. My decision to eat healthier is what led me to superfruits. To be honest, I was curious to see if they'd live up to all the hype surrounding them. Since I've added them to my diet, I've noticed a couple things. The first is that I no longer get indigestion as much as I used to (not even close, in fact). The other is that I feel more energized on a daily basis. I consider these two things a great payoff for the small task of eating more fruit every day. For anyone looking to make a small but significant change to their diet, I highly recommend the superfruit switch.
Have you seen success with incorporating a super fruit diet? Let us know below!