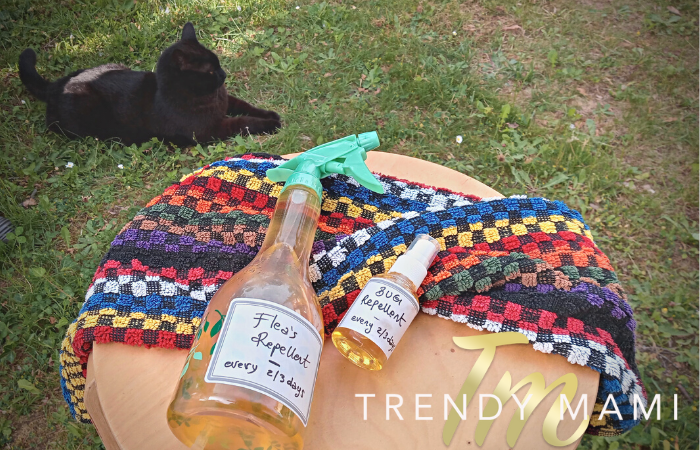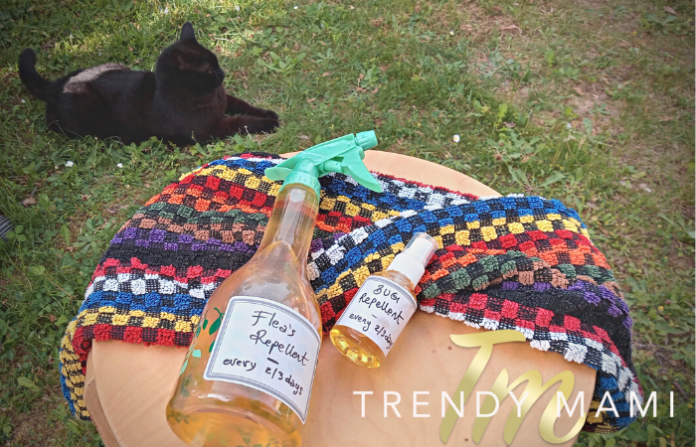 We hope you love the products we recommend! Just so you know, Trendy Mami may collect a share of sales or other compensation from the links on this page.
Mosquitoes, fleas, and ticks are some of the peskiest insects around. As humans, we get irritated when we hear the buzz of mosquitos followed by the annoying sting of its bite. So, it's common sense to think our pets feel the same way! This is why dog and cat repellent spray is so important, especially during the summer.
Dog and Cat Repellent Spray for Fleas and More + Video
In these two tutorials, we're going to show you how to make two easy and effective insect repellent sprays that you can put on your pet's collar. This should help keep pests off your cat or dog while they enjoy their day!
1. Dog and Cat Repellent Spray for Mosquitoes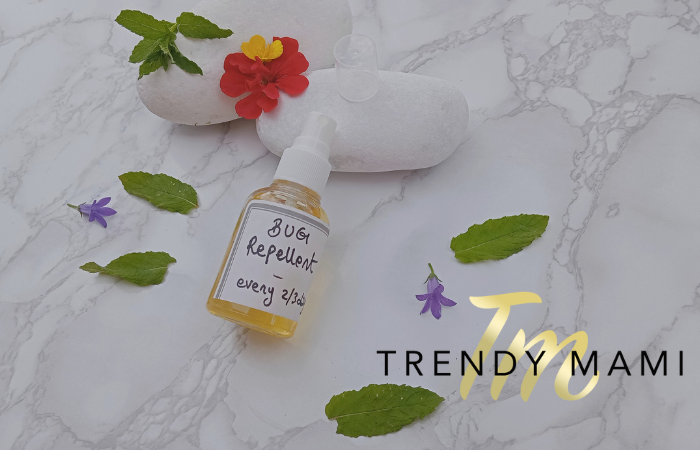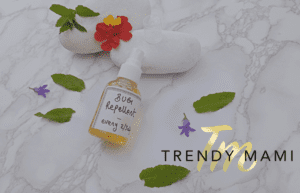 This first spray is perfect for ticks and mosquitoes as the smell keeps them away!
Materials: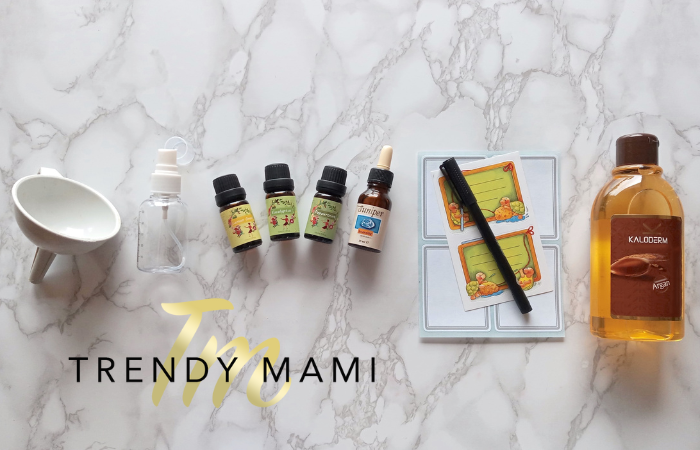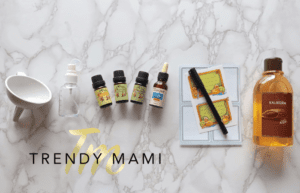 A Funnel 

A Spray Bottle 

from Target

peppermint essential oil 

Labels and marker 

And a carrier oil of choice 
Instructions:
First, label the bottle with the purpose of the spray so you never get it confused with something else that can't go on your pet. 

Then, with the help of a funnel,

add ¼ cup (50ml) of your chosen carrier oil.
TIP: The purpose of the carrier oils is to dilute essential oils and help them absorb into the pet's skin. Carrier oils include olive oil, coconut oil, almond oil, jojoba oil, and more. We chose Argan oil.
Now, add 6 drops of lemongrass essential oil.
TIP: Lemongrass essential oil is very effective against bugs.
Now add 6 drops of eucalyptus essential oil.
TIP: This oil is particularly effective against flying bugs, including mosquitoes
Then add 6 drops of

Peppermint essential oil, then

add the juniper oil.

Once you have all the oils poured in, close the bottle and shake it a little bit to mix the oils together. 
This general bug spray is now ready for use on your pet or on your pet's collar. We suggest covering their eyes before application and don't let them inhale or ingest as it may irritate their tongues.
2. Dog and Cat Repellent Spray for Fleas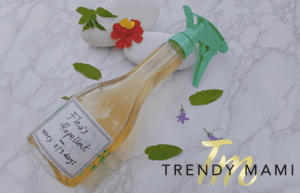 As opposed to the first DIY, this spray is perfect for warding off fleas by making the area inhospitable for them!
Instructions:
First, label the bottle so that you know what it's going to be used for. 

Then, add 1 cup (200ml) of apple cider vinegar.
Add apple cider vinegar to homemade repellent sprays for its skin nourishment and bug-repelling properties
Now, add 5 drops of lavender essential oil to help reduce the typical vinegar smell.
TIP: This much-beloved essential oil is a natural insect repellent to deter fleas and other crawling bugs for pets and humans too. But be sure not to spray where your pet can ingest it. 
Finally, add 5 drops of peppermint essential oil to the mixture.
TIP: Peppermint oil is effective against flea larvae and will prevent flea infections.
Now fill the rest of the bottle with water and

shake it to make sure everything is mixed in well.
For full effectiveness, we suggest applying these sprays every 2 to 3 days! 
More Pet Ideas
And there you have it: a DIY dog and cat repellent spray to keep your pets free of pests this summer! Keep in mind that some essential oils used in this DIY may be harmful if ingested by your pet, so be sure to apply on areas where they won't be able to reach and lick the repellent, like the collar.
Getting a new pet? Add this repellent DIY to your adoption day checklist!