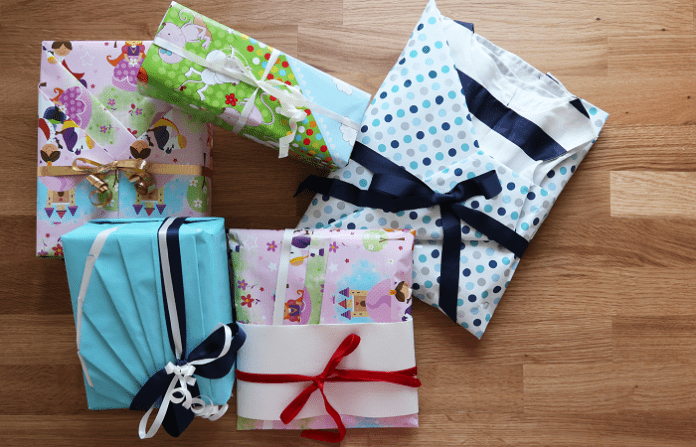 If you're anything like me, when it comes to gift-giving, you're just as much into the presentation of the gift as you are the present itself. Sure, you could use a gift bag or go with the same old wrapping style that everyone else does. Or, you could step out of the box, get creative and try some of these super-cool gift-wrapping styles.
I won't lie. It'll take a couple of times before you're able to move through your own gift wrapping as fast as these videos do. But with a few tries, I promise you'll be just as good, plus the envy of all of your friends because the presentation of your present will be just as wonderful as the gift itself! Don't forget to scroll down and check out all 5 styles of wrapping!
Basic Japanese Wrapping Gift Tutorial
What You'll Need:
A roll of wrapping paper
Some transparent tape
Some double-sided transparent tape
A pair of scissors
Your present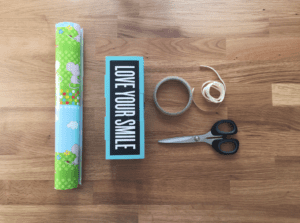 Step One: First, I make sure that the amount of wrapping paper that I use will cover up the entire present.
Step Two: I position the present in such a way that the wrapping paper becomes an "envelope" around it by using the lines that were created by the corners as my guidelines (I do this all the way around the present, by the way).
Step Three: I secure each flap of the wrapping paper with transparent tape.
Step Four: With the final flap, I pull it over the present and then secure it with transparent tape.
Step Five: Once I'm done, I choose either a bow or curling ribbon to give it some extra flair. (If you're going to go with curling ribbon, don't forget to use a blade of your scissors in order the curl up the ends of it.)
Voila—I'm done!
Japanese Fan Wrapping Gift Tutorial
What You'll Need:
Check out Annie's for your crafts supplies! They have it all!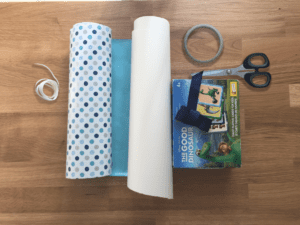 Step One: I put the two different kinds of wrapping paper on top of one another.
Step Two: Then I take one end of both papers and fold them in order to create a clean line/edge.
Step Three: I make sure to continue folding the papers six times until I create about six even-looking columns.
Step Four: I open up the now folded papers and flip them over onto their other side.
Step Five: With my scissors, from the middle of the papers, I cut diagonally towards the left side of the papers until I reach the fifth column. (Yes, I'm literally cutting a chunk of the paper completely off. You'll see why in just a sec.)
Step Six: In order to show off both wrapping papers, I slide the top one so that it's about ½ inch lower than the one underneath it.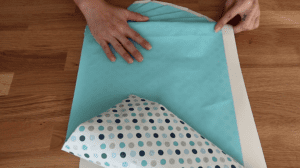 Step Seven: With the right side of the wrapping papers, I start to fold them until they look just like a fan (I do this with five of the six columns that I created).
Step Eight: When I finally reach the sixth column, I fold it until its parallel with the edge line.
Step Nine: Then I flip both papers over and secure the "fan" with transparent tape.
Step Ten: I'm now ready to wrap the present like I would with any other kind of wrapping paper. The only difference is I make sure that the fan is on top. (In order for no tape to show, try and use double-sided transparent tape.)
Step Eleven: Now it's time for the finishing touch. I take two different pieces of ribbon (I prefer one made out of satin and one that's curling ribbon) and I tie them together along the side of the fan where the sixth column shows. Then I tie them both into a bow and use my scissors to curl the curling ribbon. (How cute is this?)
A Few Other Gift-Wrapping Styles to Try
There are a few other Japanese-themed gift-wrapping options that I want to share with you. But honestly, if I broke down all of the steps, you'd be reading F-O-R-E-V-E-R and I know you've got a lot to do. So, how about I just share what you'll need for three others along with a few takeaways to remember while you're watching each video?
Kimono-Style Wrapping Gift Tutorial
What You'll Need:
Check out Annie's for your crafts supplies! They have it all!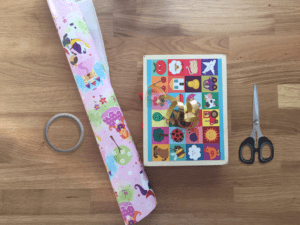 Takeaway Tip: The main thing to remember when wrapping a present "kimono-style" is that you make sure your creases in the wrapping paper are super sharp. That's what's going to give it the kimono effect that you're looking for.
Kimono-Style #2 Wrapping Gift Tutorial
What You'll Need:
Check out Annie's for your crafts supplies! They have it all!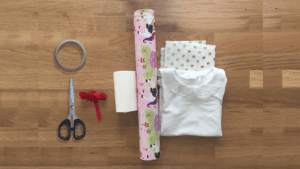 Takeaway Tip: This is probably the most complex of all the videos I've shared. Just make sure to take your time and to not forget the cardboard. You'll need it to make this gift-wrapping style to turn out perfectly.
Clothing Gift Wrapping Tutorial
What You'll Need:
Check out Annie's for your crafts supplies! They have it all!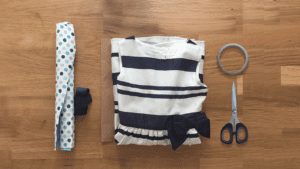 Takeaway Tip: You'll be doing quite a bit of diagonal folding here, so make sure to watch this video careful when you're doing this for the first time.
With the holidays just around the corner, we have just the presents you will want to try these gift wrapping ideas with! So don't worry you will have the best looking presents in town!
Happy Gift-Wrapping!
Oh! And don't forget to subscribe to our channel for more videos like these!