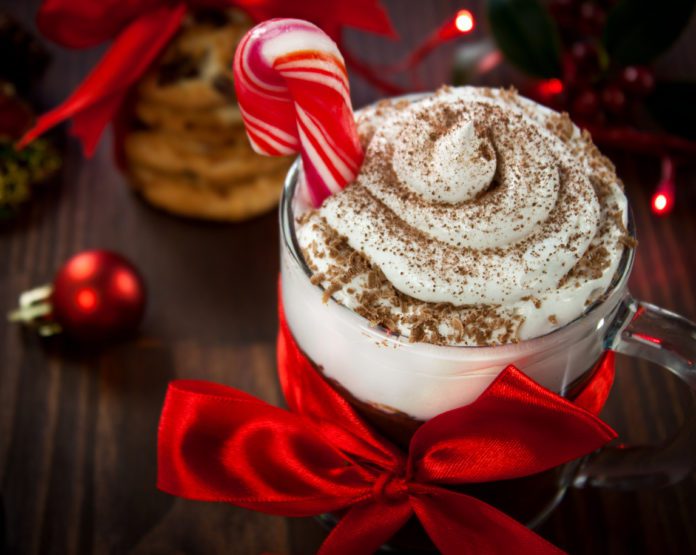 We hope you love the products we recommend! Just so you know, Trendy Mami may collect a share of sales or other compensation from the links on this page.
Holiday drinks are here! Time to admire the special holiday-themed cups (hopefully free of controversy) and — wait in line for your favorite drink. But if you don't want to stand in line for 10 minutes waiting for someone to yell your name incorrectly, then we have the solution for you! Here's the recipe for a perennial holiday favorite — peppermint mocha. Thanks to CookingLight for this recipe.
Servings: 6
Ingredients
2 cups strong brewed coffee

1/2 cup 2% reduced-fat milk, divided

3 tablespoons of sugar

1 tablespoon unsweetened cocoa powder

1 ounce 60% unsweetened chocolate, finely chopped

1-2 drops peppermint oil

(Optional) Crushed peppermint
Directions
Combine coffee and 1/4 cup milk in a small saucepan over low heat.

Add sugar, cocoa, and chocolate to pan. Cook over low heat for 4 minutes or until chocolate melts, stirring frequently.

Stir in the peppermint oil.

Divide the hot coffee mixture among 6 small coffee cups.

Place remaining 1/4 cup milk in a microwave-safe 1-cup container with a lid.

Shake vigorously for 1 minute or until milk is frothy and doubled in volume.

Remove lid and microwave milk on high for 30 seconds.

Top each coffee cup with a dollop of milk froth.

Divide any remaining hot milk evenly among cups. Garnish each cup with crushed peppermint, if desired.
It doesn't take long to make your favorite holiday drink, so try this one out! Enjoy this one from your own home next to the fire — without an overworked college kid misspelling your name on the cup.