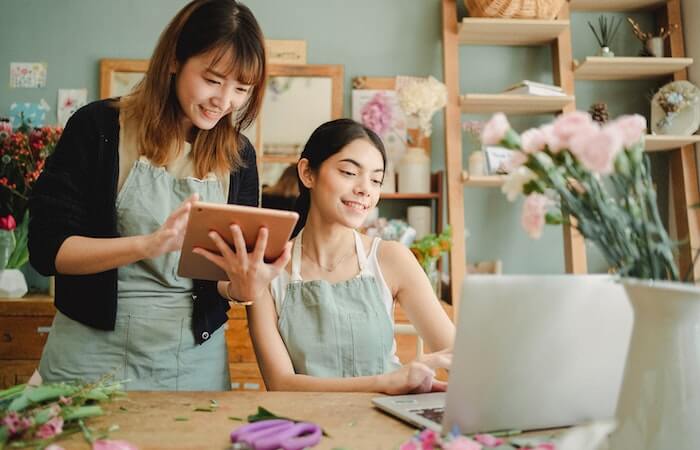 We hope you love the products we recommend! Just so you know, Trendy Mami may collect a share of sales or other compensation from the links on this page.
For anyone with a creative spark, the idea of being relegated to a desk job staring at spreadsheets and data all day long may sound an awful lot like torture. And while very few creative jobs nowadays avoid any desk time, that time spent at a screen can be spent flexing your creative muscles. But how do you go about finding "creative jobs near me?"
If you're a creative person looking for a career change or are searching for your first job after college, you may be wondering what kind of jobs are out there. We've scoured ZipRecruiter to find the best creative positions for you to consider. 
How to Find Creative Jobs Near Me: Positions to Consider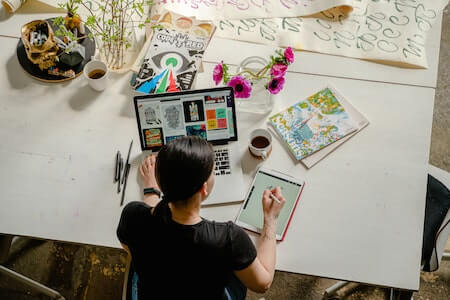 Before you figure out which "creative jobs near me" are best for you, you need to know how to find them. On ZipRecruiter, employers post millions of creative positions across industries. If you create a profile, you have the opportunity to browse these vacancies and apply to them with just 1 click.
Even better, ZipRecruiter will match you with the positions you're most likely to get. Its technology will show you how qualified you are for each job. That way, you can prioritize which ones you want to apply to!
1. Graphic Designer 
As a graphic designer, you'll create art and graphics on software such as Adobe Photoshop, Indesign, and Illustrator to create advertising materials, brand assets, websites, etc. The type of artwork you'll be making depends on who you work for. For instance, you can work on websites, ads, book covers, brand design, and more. As a result, the world is your oyster!
If you're looking for these positions, you can find over 36,000 Graphic Design roles on ZipRecruiter. 
2. Producer 
Love film, animation, or music? The life of a producer may be for you. Depending on the role, you may be hands-on. This means actively creating videos, motion graphics, or music. In addition, you may provide direction for those doing the manual work. However, it may take some experience to reach those positions.
Even if you consider being a "producer" out of your current knowledge level, it's well worth doing a search on ZipRecruiter. If you put producer as the keyword when searching for creative jobs near you, you're likely to find something!
3. Creative Childcare 
If you have childcare experience, families, schools, and childcare facilities are looking for creative childcarers to teach their children. If you've thought about (or have experience) tutoring children on any of these topics, these positions can be a great way to do that work with a more reliable income. 
4. Copywriter 
Do you have a way with words? If you can come up with snappy taglines, tell brand stories, or write captivating product descriptions, becoming a copywriter may be a great way to earn a living. Copywriters essentially write the words that sell a product. Go on any website or look at an advert and a copywriter will have worked on it, even if it's only a few words. 
5. Art Studio Assistant or Teacher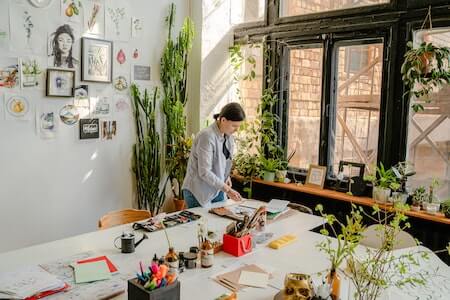 More people are investing in art lessons and ways to destress than ever before. So, many art studios are popping up that run art-related activities and classes. From pottery classes to wine-and-paint parties, there are all kinds of exciting things going on. As an assistant, you'll help set up, run, and clean up after classes, but as a teacher, you can run the show. 
6. Interior Designer 
Does your home always look Pinterest or Instagram-ready? If you've got an eye for decor, you could have a bright and fulfilling future in interior design. You can work on homes or businesses, helping to create stylish spaces that reflect someone's personality or a business's branding. You'll be able to develop your own personal style that people will come to you to recreate. 
How to Find Creative Jobs Near Me: Use ZipRecruiter 
The best way to find creative jobs near you is to head to ZipRecruiter and start using creative job keywords to find job openings near you. Think about where you want to work and what you see yourself doing. Do you want to go to an office? Do you want to travel to people's homes to do their interior design? Or do you see yourself in the theater late at night, soaking up the show's atmosphere? Make a list of roles and keywords and start searching for your next role on ZipRecruiter.