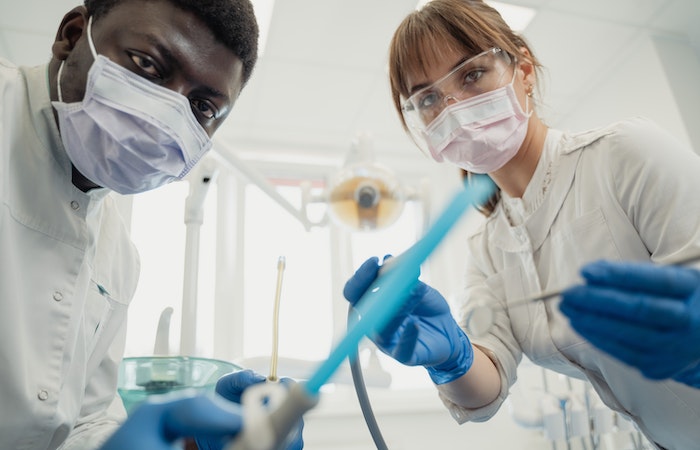 We hope you love the products we recommend! Just so you know, Trendy Mami may collect a share of sales or other compensation from the links on this page.
Looking to hire dental assistant employees? We're here to help! Well-trained dental assistants are rare to find and even rarer to recruit. But their role is critical to the smooth and profitable operation of dental clinics.
Their tasks mainly revolve around preparing equipment, assisting dentists during treatments, ensuring clean and hygienic practices, and making patients feel comfortable. In other words, they make dentists' lives easier by ensuring smooth appointments. That's why strong communication and technical skills are must-haves for this position.
According to the Bureau of Labor Statistics, dental assistants earn an average of $38,660 per year, with the job outlook portraying a growth of 8% by 2031 — faster than average. These professionals are the liaison between dentists and patients, and their tasks are indispensable.
So, if you're in the market to hire dental assistants, you know how tricky it can be to add the right employees to your growing dental practice. Not only are you looking for skilled workers, but for intelligent candidates with proactivity. Thankfully, you can fast-forward your research by posting your listing on popular job-hunting sites like ZipRecruiter. As the #1 job-searching site in the US, it can match you with qualified applicants in no time!
3 Steps to Hire Dental Assistants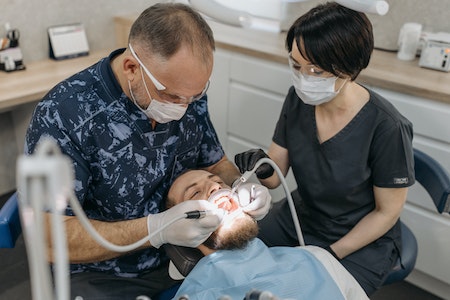 1. Define the Required Qualifications
Before jumping on job boards to spot your ideal candidates, it's crucial to define what you're looking for. For example, you might look for professionals with relevant certifications, like the National Board's Certified Dental Assistant (CDA). Or, you might want to hire candidates with a few years of experience on their backs.
Perhaps you specialize in orthodontics. Thus, a candidate with a similar background would be a better fit. Whatever the case, be sure to specify your requirements beforehand. This will help prospects understand what you're looking for, as well as help you spot suitable candidates faster.
2. Post Your Job Listing
When you've settled on qualifications, it's time to post your job listing on job sites like ZipRecruiter. Thanks to its extensive network of over 100 partner websites, your listing will receive maximum viewability and get distributed immediately after posting. Additionally, through advanced AI-matching technology, connecting with employees who match your job description will be a breeze.
Whether you need to hire college graduates or professionals with years of experience, ZipRecruiter will help you get there. The platform also offers some features to make the hiring process easier, such as sorting applications and easily arranging interviews. Simply create your profile, fill in your business info, post your job listings, and the applications will start rolling in!
3. Prepare the Right Interview Questions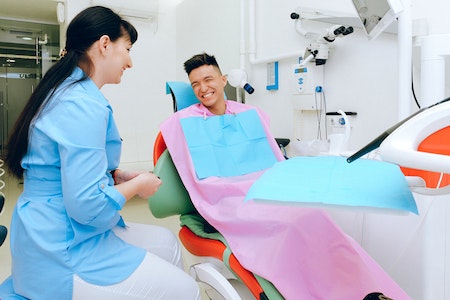 As the final step to your "how to hire dental assistants" process, make sure to prepare proper interview questions to help you figure out which candidate is the right fit. Apart from technical know-how, dental assistants' personalities play a vital role in the smooth operations of a dental business. That's because they work as a point of contact with clients, ensuring they're happy and safe.
Therefore, your goal with your interview questions should be to weigh candidates' character traits and see if they inspire safety and care. Here are some sample questions to include:
How do you cope in an emergency?

What brought you to the dental assisting field?

Are you familiar with professional ethics in dental assisting?

What challenges do you expect to face in this position, and how will you solve them?
Time to Hire Dental Assistants!
Hiring dental assistant employees is no easy task, but it must be done right. These professionals could make or break your dental practice. Therefore, your selection should be careful and wise. Remember that you're not simply looking for the best technical workers, but for pleasant employees who'll make you and your patients feel happy and safe. For the best results in your research, use ZipRecruiter to get all the procedures ironed out.
Naturally, hiring dental assistant workers doesn't end the moment a potential candidate accepts your job offer. On the contrary, you should take steps to ensure they have the proper training for the role so that new professionals feel comfortable in your practice. So be sure to forge a fair environment where they're treated with respect, trust, and openness. Good luck!