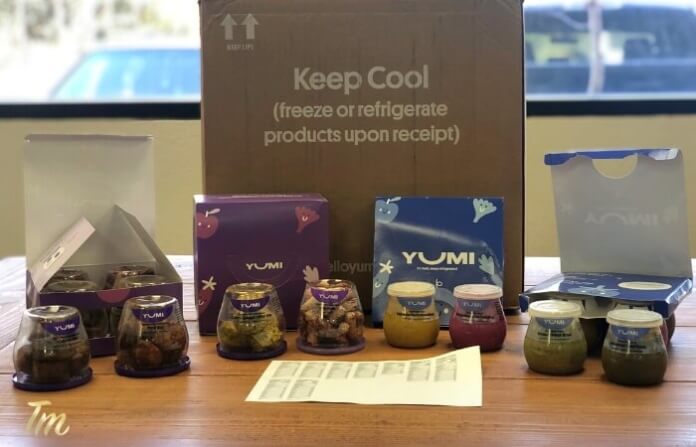 We hope you love the products we recommend! Just so you know, Trendy Mami may collect a share of sales or other compensation from the links on this page.
Searching for the baby food that fits your babies needs? We all know the transition from milk, to purees, to solids can be a tough one for parents. Yumi has a menu filled with an abundance of organic options for your baby. I guess you can say Yumi can be an extra helping hand in making sure your baby gets the nutrients they need with one weekly shipment right to your doorstep. Now if you're still confused on what Yumi is and what they have to offer, keep on reading. We will also tell you a little about our experience with Yumi baby food!
Firstly, What is Yumi?
Yumi is an online baby food subscription box that offers fresh baby food weekly and delivers it right to your doorstep. In addition, with their quick weekly delivery, they offer different menus weekly. In fact, they change up their menu based on the season to get you the most in season fresh produce. Yumi finds creative ways to include all the superfoods your baby needs in one little cup serving!
What Does Yumi Offer?
From single ingredient purees to finger foods, Yumi offers food for babies of all ages. Additionally, Yumi has a few stages that vary in the type of food your baby will receive.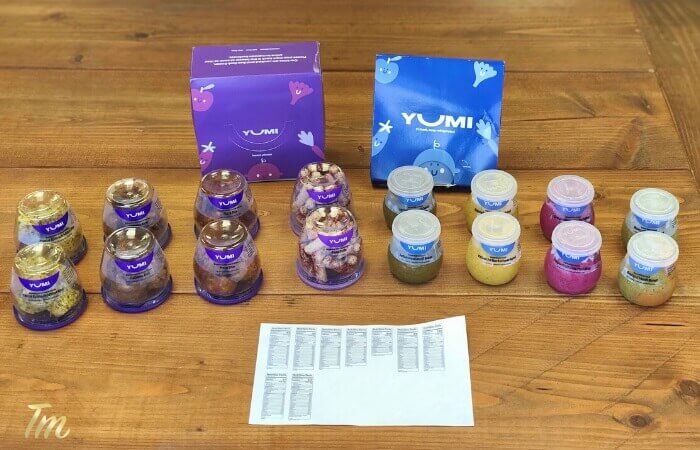 Yumi Flavors / Food You Can Choose From:
Stage 1: Single Ingredient Smooth Purees (5+ months)
Stage 2: Multi-Ingredient Smooth Purees (7+ months)
Stage 3: Multi-Ingredient Chunky Purees (9+ months)
Stage 4: Finger Foods – Bites and Puffs (10+ months)

Yumi Tot Box Includes:
Carrot Spinach Millet Bites – 1 Jar of 5 Bites
Lentil Meatball Bites – 1 Jar of 5 Bites
Cubano Bites – 1 Jar of 5 Bites
Beet Puffs – 1 Jar of 16 Puffs
How Does Yumi Work?
Firstly, Yumi's nutritionist will recommend a plan the suits your baby. Secondly, you pick your babies food, the cooks at Yumi prepares the food and ships it right to your doorstep in a conveniently ice cooled box every week.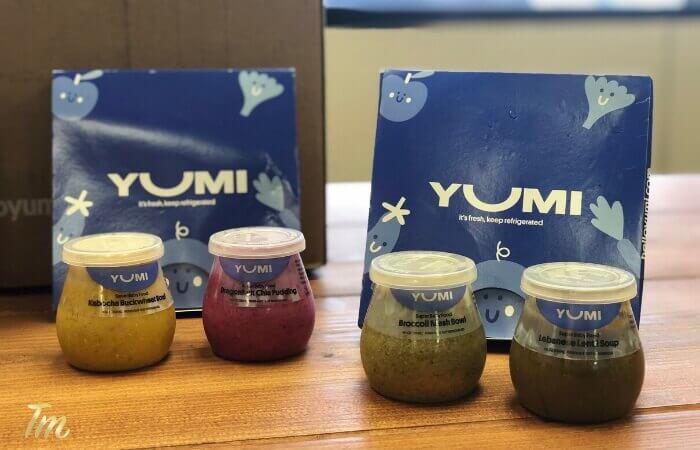 What We (And Our Babies) Thought About Yumi:
We were extremely excited to test out Yumi for ourselves and see if our babies liked the product aswell. We were able to get a few different purees and finger foods.
Furthermore, the Yumi flavors and boxes we received were 2 tot boxes (read above what tot box includes) and 2 boxes of 4 different purees. I guess you can say we got to taste a bit of everything! As we know, not all babies like the same type of food, so in any case you as the parent would pick out the perfect food for your baby.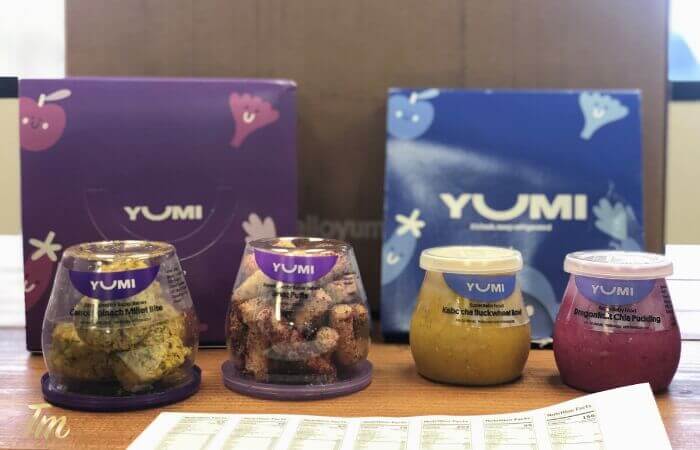 The food we opt for, our babies were definitely a fan of some foods more then others. In fact, we can say that this probably happens to every parent out there and its totally natural and sometimes is just not the right day to eat to try new flavor food. We get it, kids (babies too) can sometimes be picky eaters.
All in all, the options for Yumi flavors were a great mix, we can definitely say the have alot to choose from. The purees we tried out were fresh and not frozen. We found the dragon fruit puree and lentil soup to be our babies favorite by far. Oh and don't get us started on the beet puffs. If your baby is into snacking, these puffs are amazing and they even provide health benefits without your little kiddos even knowing! If you're interested in seeing how much our kiddos enjoyed Yumi, check out our YouTube video linked above.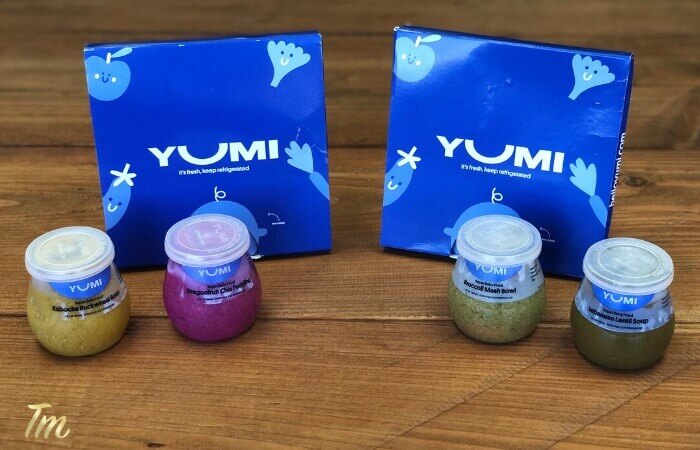 So, for the real question of the day, is Yumi worth it? If you're a parent that loves to keep track of what your baby is eating and trying to get them to try new flavors or are just simply running out of puree ideas yourself. Yumi is the answer for you! They can help you easily keep track of the nutrients your baby is getting while making sure to broaden your kiddos pallet.
Without a doubt, if you're up for something new and exciting for you and your baby, we highly recommend trying out Yumi, whats the worst that can happen, you give them a shot for yourself and get nutritional food for your baby out of it? Yup, that's not bad at all if you ask me.
We hope this helps make the decision on weather you should get the Yumi baby food delivery box an easy one!
If you're looking for more baby food recipes, check out our tasty butternut squash pancakes recipe your kiddo is sure to love!