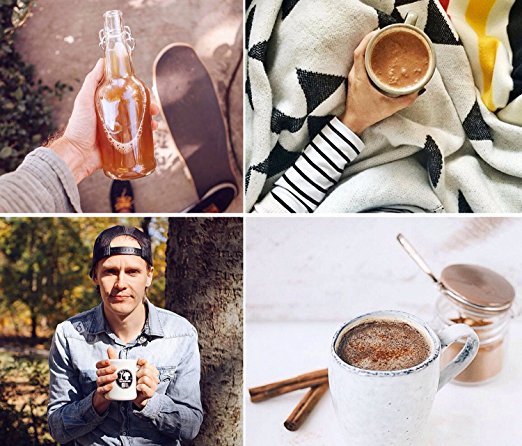 We hope you love the products we recommend! Just so you know, Trendy Mami may collect a share of sales or other compensation from the links on this page.
Reishi mushrooms are the best superfood you need to try. They fight off cancer, arthritis, stress, insomnia, infections, fatigue, and so much more. Reishi, native to East Asia, has been used in Chinese medicine for centuries to cure many ailments. Find out more about reishi here.
Amazed yet? You can buy reishi pills, powder, and extract to boost your immune system and add them to your meals. The recommended dosage for reishi is:
capsules: 1-2 per day
extract: up to 1 milliliter (about a quarter teaspoon) per day
powder: up to 1.5 grams per day
Your shot at immortality starts here, with a list of the best reishi products on the market.
Reishi capsules
Capsules are one of the most common ways to get a supplement in your diet. Lots of these pills contain not only reishi, but other superfood mushrooms as well. Take them with any drink you please to ward off destructive cells. Here are two of the best mushroom capsules on the market.
Solaray reishi capsules (100 ct.) — $11.23 on Amazon
These pills contains 600 milligrams of reishi per capsule in an easy-to-swallow form. Perfect for fighting off free radicals (imbalanced molecules that attack healthy cells) and potential cancer cells. These are perfect for adults over the age of 50 looking to get their nutrients in. BUY IT HERE
New Chapter Reishi Mushroom – LifeShield Immune Support (60 ct.) — $20.37 on Amazon
New Chapter's dietary capsules help support the immune system and are GMO free. Each capsule also contains amounts of shiitake, lion's mane, malitake, poria, and turkey tail for a well-rounded mushroom supplement. BUY IT HERE
Reishi extract
Extract might be one of the most concentrated ways to consume reishi. Below is our pick for the best extract you can mix into your tea, soup, drinks, and more.
Host Defense – MyCommunity extract, Multi Mushroom Support for Immune Response (1 oz.). — $16.28 on Amazon
Host Defense offers a concentrated extract you can drop into your favorite drinks and smoothies. Their 17-mushroom blend provides healthful enzymes, antioxidants, and probiotics and is cultivated in northwest Washington state. One ounce might not seem like a lot, but this tiny bottle is good for 30 servings. BUY IT HERE
Reishi powder
Reishi can be found in perhaps its purest form in powder. Supplemental powder is easy to mix in with your favorite drink — such as tea or coffee — and can be sprinkled onto your cooking.
Terrasoul Superfoods Organic Reishi Mushroom Powder (5.5-oz. bag) — $14.99 on Amazon
This powder's name says it all: It's a superfood in powder form. Add ⅓ of a teaspoon of the powder to anything you want: tea, food, water — even your protein shake — for a superfood boost to your diet. BUY IT HERE
Om Organic reishi supplement (200 g) — $24.90 on Amazon
Om Organic's powder puts a special emphasis on helping your immune system strengthen up by using reishi's antioxidant properties. The mushrooms that formed this powder was cultured on organic oats for the most plant-based product Mother Nature can offer. BUY IT HERE
Reishi recipes
Now that you have all the reishi, you'll have plenty of uses for it. Rather than just plopping it into your morning coffee, here are three recipes for this mushroom superfood. Not only do they look good, they'll help you feel good too!
Reishi chocolate truffles
Ingredients
2 tablespoons reishi powder
2 tablespoons honey
1 tablespoon wate
2 tablespoons turmeric
Directions
Pour all the ingredients into a bowl except for the coconut oil.
Stir in the coconut oil into the bowl.
Mix until the ingredients bind to one another.
Place in the refrigerator for about 30 minutes, or until the mixture turns into a pliable substance.
Take the mixture and form into balls.
Roll the balls around to coat them in a fine layer of turmeric.
Refrigerate for 15 minutes. Enjoy!
Reishi oatmeal
Ingredients
1/3-1/2 cup of your favorite oatmeal
12 ounces of water, milk, or lactose-free milk
1 tablespoon ground reishi, or 10-15 drops of reishi extract
Add-ons: Handful of your choice of berries, nuts, dried fruit, and/or chocolate chips
Pinch of salt
1 tablespoon Greek yogurt
Drizzle of honey
Directions
Bring the milk or water to a boil in a saucepan, then reduce heat.
Add the oatmeal, reishi, berries, the add-ons of your choice, and salt to the saucepan.
Stir on low heat for about 5 minutes.
Place into a bowl and add the yogurt and honey. Add fresh fruit if you wish. Enjoy!
Reishi fruit power smoothie
Ingredients
1 cup regular or lactose-free milk
1/2 cup coconut meat
1 medium banana, sliced
A handful of your favorite fruit, chopped and cubed
1 tablespoon ground reishi or 20-30 drops of reishi extract
1 tablespoon chia or flax seeds
(Optional) 1 teaspoon vanilla extract
(Optional) 1 tablespoon cinnamon
Directions
Add milk, coconut, banana, fruit, reishi, seeds, and vanilla in a blender. Blend until smooth.
Pour into a cup and sprinkle with cinnamon. Enjoy!
How have you used reishi? Leave a comment below!