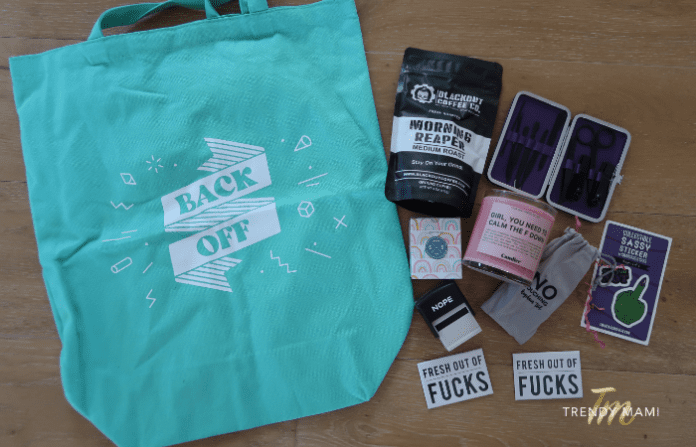 We hope you love the products we recommend! Just so you know, Trendy Mami may collect a share of sales or other compensation from the links on this page.
If you haven't heard of Smartass & Sass, it is a gift and subscription box service for individuals who love cheeky items. That being said, if you have a sarcastic sense of humor, and are often told you swear like a sailor then this Smartass and Sass subscription service is for you! The company hand-selects products from artists and small businesses – woohoo! Additionally they work with manufacturers to produce brand-new items that are sure to give you or your friend a laugh. We ordered a box to give you a Smartass and Sass subscription box review, let's get into it! When you'll be ready to purchase, make sure to use our exclusive coupon code WINK20, to get a 20% discount at the checkout!
If this is your style, ArtPix will be right up your alley too. ArtPix offers photo crystals, a new and innovative way to show your friends and family on your walls (in place of photos, that is).
What is Smartass & Sass?
To start, Smartass and Sass is ultimately the subscription service that says EXACTLY what you're thinking (so your mouth won't have to). They're all about three main things:
Shopping small
They focus on championing awesome products made by artists & small businesses and paying fair prices for items. They also design a few of their own snarky goods in-house.
Snark, sass, and sarcasm
Their subscribers (and the S&S team) love sassy products! They vibe on all types of sarcasm, and their favorite words definitely have four letters (i.e. they cuss a lot). So, if you don't approve of cussing, then this subscription service is not for you!
Variety
They offer custom-designed shirts, and each box includes 5-7 hand-picked items. Most importantly, they regularly survey subscribers to see what goods they're looking for.
How Does It Work?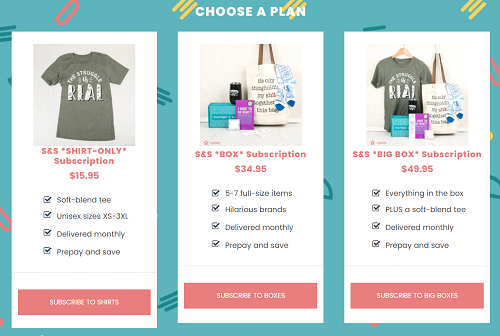 When you go to the subscription page—they have 3 levels of subscription boxes to choose from: Shirt-Only, Box, or Big Box Subscriptions.
You pick your plan and your price! You can choose to subscribe month-to-month, or prepay for 3 or 6 months to get a discount.
Make sure you order by the the 13th to get this month's shipment. However, if you order after cutoff, you can email the company to see if they can bump you up to ship sooner!
Your box ships on the 18th of the month! They love to see their subscribers share some pics when their goodies arrive.
What You Get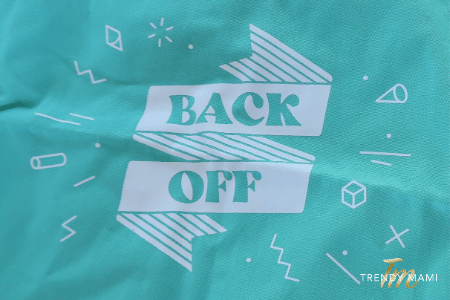 When you sign up for a Smartass and Sass subscription box, you will have multiple boxes to choose from. Then, depending on which box you select, you will receive an array of witty and sarcastic products. We ordered the November theme subscription box, Hibernation Mode. This box came with items that celebrated getting cozy at home. Such as, a "Girl You Need To Calm The F Down" candle by Ryan Porter, a "Back Off" tote bag by Smartass and Sass, "Morning Reaper Roast" by Blackout Coffee Co. And much more!
What We Liked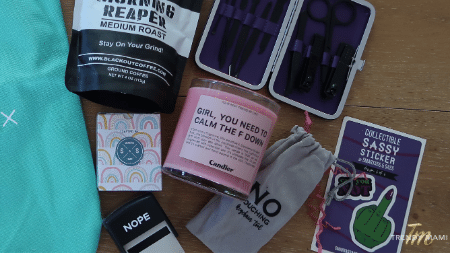 We liked the fact that there were no novelty items, meaning that we could use all of the items in the box. We also like the packaging, our subscription box was presented nicely. Another feature that we liked was that the items look and feel like quality products, not something you'd pick up at a junk shop. However, our absolute favorite thing about this subscription box was that the items included were from small businesses and all the info you need is available on a card within the box. A++ for supporting small businesses!
The Quality
The box featured good quality products, nothing we received felt cheap. Everything is really well made and thought out. We believe what we received was clever and suited to the Hibernation Mode November theme.
How Can They Improve?
We honestly cannot think of any improvements needed. Well done, Smartass and Sass!
Our Initial Thoughts
We initially thought this was going to be a box filled with random novelty items, we honestly didn't know what to expect.
Our Final Thoughts
We are very happy with all of the items that came inside the box that read sassy and sarcastic comments. Better yet, we're glad that we can put all of the items in here to use!
So there you have it, our Smartass and Sass review! There are plenty of Smartass and Sass reviews online and we believe that majority are positive. Above all, this brand is honestly awesome, supporting individuals and small businesses, and allowing our inner narcissist to come out. After all that said, we love Smartass and Sass!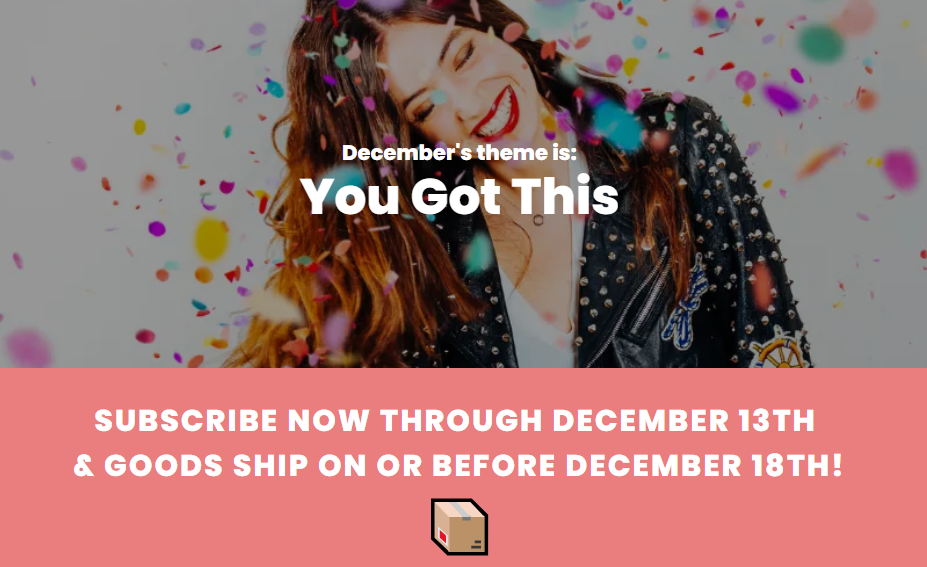 Act fast this weekend for Smartass and Sass's Black Friday and Cyber Monday deals. Use code BFCMS20 for 25% off purchases from their shop! Better yet, Smartass & Sass is offering for 20% off your first subscription box for the first half of December with promocode SC2020! Most importantly, December's theme is "You Got This" which provides some much needed inspiration after this crazy year!
Lastly, if you did enjoy our Smartass and Sass review, check out our other reviews such as our Idle Sleep Mattress Review – Quality Sleep You Need! Or our Openfit Review – Video Included.