We hope you love the products we recommend! Just so you know, Trendy Mami may collect a share of sales or other compensations from the links on this page.
–
Accessorizing with jewelry is an easy and fun way to spice up your look. Brilliant Earth has you covered with all sorts of jewelry, like stackable birthstone rings. Here are some of their rings and trending jewelry pieces for the fall.
Stackable Birthstone Rings and Other Trendy Jewelry Pieces
1. Stackable Birthstone Rings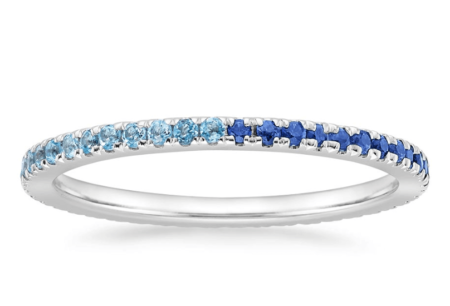 Stackable birthstone rings are a nice way to carry your birthstone with you in a simple way. No matter what color your birthstone is, these rings are easy to match with other jewelry.
For example, wear these sapphire birthstone stacking rings paired with something simple, like the Jade Trau Ring. Or, buy this Rae Amethyst Ring that has a tiny gemstone in it.
Stackable birthstone rings work well with either bold or dainty pieces. Find jewelry that will match your rings by shopping by birthstone. You'll be able to find necklaces and earrings that will coordinate perfectly!
2. Fall Layers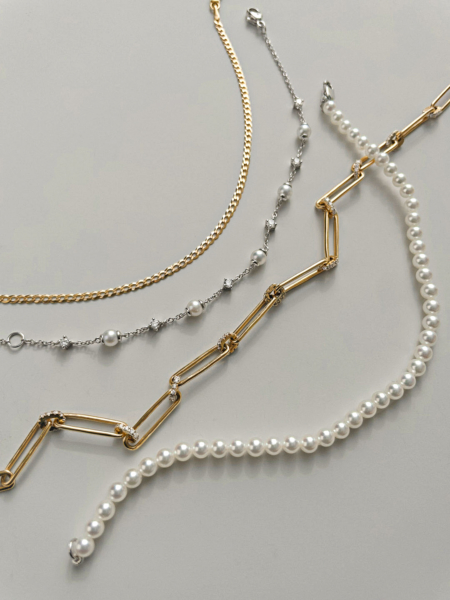 A nice and simple bracelet is fun to incorporate jewelry into your fall look. Brilliant Earth has all kinds of bracelets that can be worn on their own or mixed and matched to stack. Wear a bold bracelet on its own, like this cuff bracelet for a great statement piece. Or go colorful with this Kaleidoscope sapphire and diamond bracelet.
Pearl bracelets are timeless and would work well to stack, like this pearl strand bracelet. Or, go with this Premium Cultured Pearl Bracelet with a single pearl on it.
Make your own bracelet stack with the variety of classic bracelets Brilliant Earth has. They have everything including diamond bracelets, tennis bracelets, bangles, and cuffs, along with silver and yellow gold.
3. Mix Your Metals and Add Color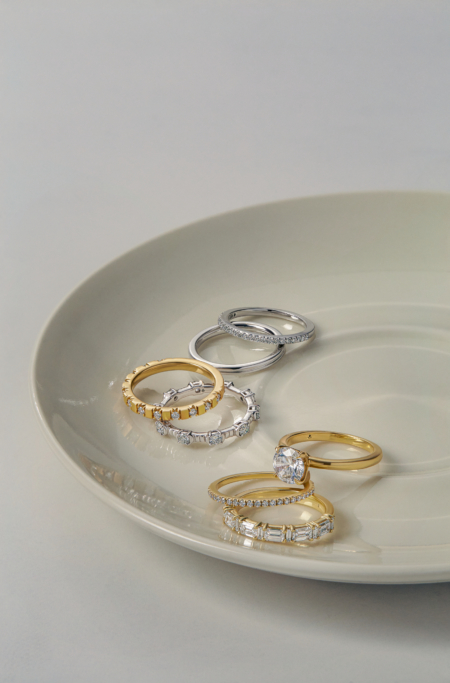 Mixing your metals is trending this fall. There's no easier way to dip into this trend than with stackable birthstone rings! Brilliant Earth has all kinds of stackable rings in silver and gold. Choose your favorites, and get started mixing, matching, and stacking!
Along with mixing, vibrant colors and chunky pieces are trending when it comes to rings. You can create your own bold gemstone ring on Brilliant Earth's site. Select your gemstone by either picking your favorite or one that can match your birthstone stacking rings. Then, select your ring setting and you're finished! You'll have a trending ring that is made well and will last a lifetime.
4. Layering Earrings
Layering is the trend this fall, and you can achieve layers in all your jewelry, even your earrings! A delicate huggie earring will be easy to match with any other jewelry. Classic hoops also make for great everyday wear. Choose from silver, yellow gold, or rose gold for whatever best suits your style.
Diamond studs also match with anything and are great to layer with if you have multiple piercings. Similarly, pearls can work well to layer with other earrings.
When you're considering layering with earrings, match your stackable birthstone rings with some birthstone earrings from Brilliant Earth!
5. Fall Bridal Stacks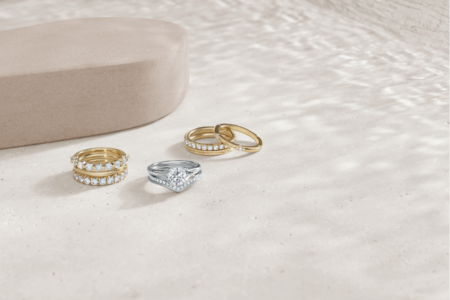 If you're a bride this fall, consider creating your own stackable ring set. On Brilliant Earth, you can customize your ring set with up to four rings. You can mix and match and choose from a variety of metals, gemstones, and ring shapes. You can also add an engagement ring to make your perfect fall bridal stack.
Get Started with Your Fashionable Jewelry!
If you're thinking about getting some stackable birthstone rings or other fall jewelry pieces, look no further than Brilliant Earth! You'll not only find gorgeous pieces but ones that will last a lifetime. Their high-quality jewelry is worth investing in and is the kind that you'll pass down. After getting some new jewelry, why not spice up your wardrobe with some trending fall clothing? Complete your fall look with a fun nail design, like cottagecore nails. You'll be ready for fall and looking glam every day!