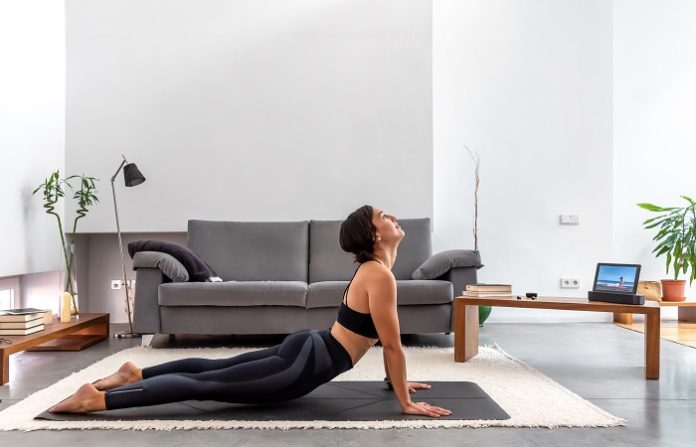 We hope you love the products we recommend! Just so you know, Trendy Mami may collect a share of sales or other compensation from the links on this page.
Whether you're a well-versed yogi or a total newbie, there's never been a better time to learn (or master) the amazing art of yoga. Yoga isn't just great for building strength and flexibility, it also helps to reduce stress and anxiety, making it a great way to improve your emotional and mental well being. If your quarantine goal was to go from couch potato to ultimate yogi, we've gathered our favorite online yoga classes to help keep your mind and body healthy and active at home.

Even though you're most likely going to perform these online yoga classes at-home, you still want to look cute doing it, right? FabFitFun, Yoga Club and Adidas have just what you need to have you looking fit and fabulous on and off the yoga mat!
The Best Online Yoga Classes 2020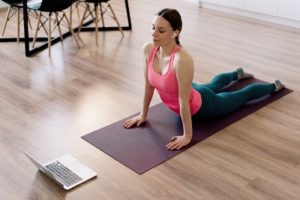 YogaDownload is an online yoga subscription that gives you access to hundreds of yoga class streams across various levels and styles. As well as streaming, there are also options available to download classes for offline use. This is extremely helpful to avoid the dreaded buffering and connection issues that come with WiFi. As for the subscription cost, YogaDownload provides three different subscription options. The biggest bang for your buck would have to be the annual plan for $120. This ends up costing you as little as $10/month or $0.33 cents per day and comes with the added benefit of being able to download an unlimited number of classes that you can use offline.

Their other plans are also cheaper than attending classes at your local yoga studio. With the Standard plan totalling at $12/month and the Unlimited plan at $18/month. Of course you're wanting to find out about the classes. YogaDownload features all the traditional types of yoga you may already be familiar with like Hatha, Vinyasa, Yin yoga and Ashtanga. However, it also branches off into other types of exercises that involve little to no yoga, like barre, cardio, and pilates. All in all, YogaDownload is an extremely convenient, affordable and fun online yoga subscription!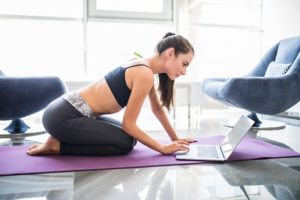 Yoga Class Plan is helpful drag and drop software that allows you to create a relevant and effective yoga class plan in minutes! This yoga sequence builder features hundreds of yoga poses that you can edit and create default information about a specific pose. When editing a yoga pose. You can change the yoga position name, enter detailed position instructions and movement notes, and even enter comments or analogies you want to voice at a specific stage in the class.

Moreover, you can even assign a pose experience level and re-categorize where the position is located in the pose pallet. What's great about this edit feature is once you've edited the yoga pose information, you'll never have to do it again! Even though Yoga Class Plan is designed for yoga instructors, if you're not confident creating a yoga class plan yourself. You can search a database of over five thousand shared lesson plans and select the one appropriate for you to use at home.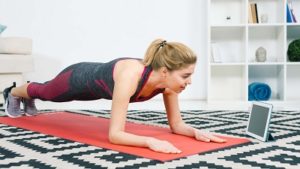 Gaia features one of the widest selections of media, with over 8,000 films, shows and classes. All relating to mind, body and spirit. With an entire section dedicated to yoga, you're able to watch endless online yoga classes, educate yourself on yoga philosophy and even watch complete series on the subject. With a subscription going for as little as $11 per month. You can perfect the art of yoga, meditation, fitness and other lifestyle practices in your very own home. You'll be a pro before you know it!
Hydration is key to a good workout! If you're looking for something to put your water in, Hydro Flask's are pretty amazing water bottles! You can grab your favorite size and color from Hydro Flask and enjoy cold water all throughout your workout!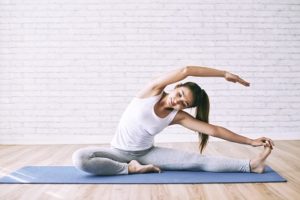 Gaiam is the perfect place for beginners. You can purchase everything you need and also find meditation and yoga classes. They also have a blog where you can learn more about living and supporting a healthier lifestyle. In addition, they have an app where you can join over 75 classes at all different levels. So, its perfect for beginners, intermediate levels, and expert levels.
5. Yoga With Adriene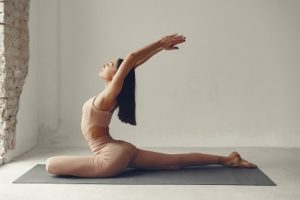 Yoga With Adriene is a YouTube channel with over 7 million YouTube subscribers. She's been recognized by Google as the most searched workout of 2015. With that being said, there's no denying that Yoga With Adriene is a cult favorite! Don't underestimate the power of a yoga class via YouTube. Adriene's passion is to provide high quality practices on yoga and mindfulness to people of all ages, at no cost! Be sure to check out her website or her YouTube channel for a wide range of free videos. There's everything from yoga classes for beginners, yoga classes for back pain, and yoga classes for weight loss. If you're looking for a fantastic online yoga class to do in the comfort of your own lounge. Yoga With Adriene won't disappoint!
Perhaps after reading about all these awesome online yoga class options you would like to teach a class yourself! If you are on the search of a job, it always good to use helpful sites like My Perfect Resume to build a superb resume in a number of minutes.
Or maybe you're looking to learn something completely knew? CreativeLive is a great resource that can help you learn, watch and discover just about any skill! So, go on and broaden your knowledge with CreativeLive today!
Other Workouts You May Enjoy
If you're looking to experiment with your fitness regime and want to try a range of different fitness activities, check out Openfit! They offer live, interactive, online classes from pilates to barre, even martial-arts inspired workouts.
Are you just missing the rowing machine at your local gym? Try the Hydrow! The Hydrow offers a growing library of live and on-demand classes, giving you an effective and fun workout every time! However, the way the Hydrow differs from a regular rowing machine is its multisensory approach. With its 22″ HD sweat- and dust-resistant touchscreen, high-quality, front-facing speakers that project the athlete's instructions and high-energy music, capturing the sound of every stroke, wave and splash along the way, the Hydrow will make you feel like you're actually on the water!
We hope you enjoyed reading about these yoga classes online.
Want another workout that'll get your heart rate up and you can perform at home? Then, try our slow burn workout! Or check out this toned legs workout instead.