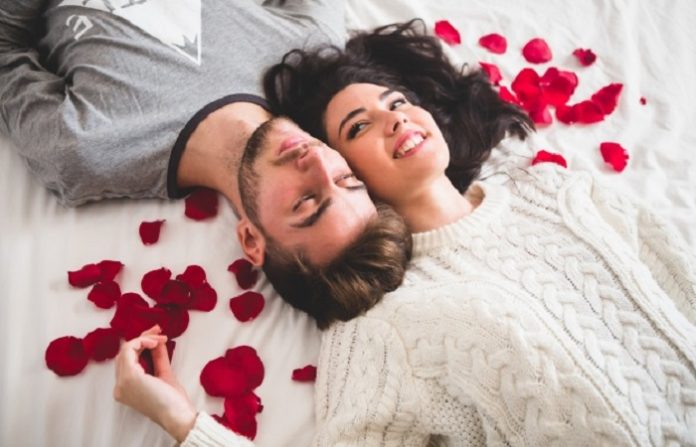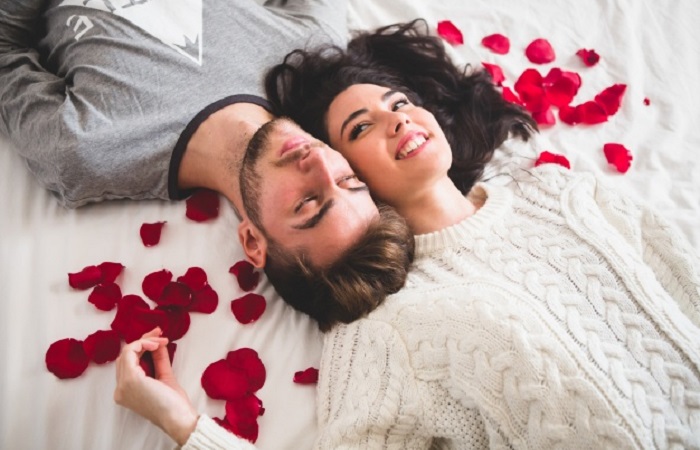 We hope you love the products we recommend! Just so you know, Trendy Mami may collect a share of sales or other compensation from the links on this page.
According to a study that we recently checked out, one of the keys to a healthy and happy marriage is that couples go on dates no less than once a month. Couples who do are 14 percent less likely to end up divorced.
But what happens when your schedules are super-hectic, money is tight and/or you can't seem to find a babysitter? Does that mean that you should nix dating plans altogether? Or, say that you're not married but the relationship is headed towards getting serious. Thing is, the soon-to-be love of your life is extremely introverted or simply isn't big on going out. What then?
We know that there are more than a few people who happen to fall into these categories and we've got the perfect solution—have an at-home date instead! They're fun, affordable and, with the right amount of pre-planning, they can be super-romantic too.
Are you ready to be inspired with some at-home date ideas?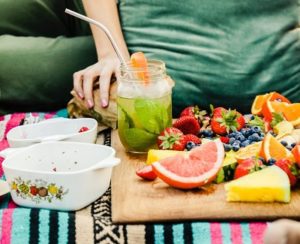 If you're into mystery games, this one is for you. Try out this game and solve the mystery of who the killer is. This is a great game for bonding while keeping you both engaged. If you and your date are a fan of spooky concepts this one will definitely be your favorite! Just order a "Hunt A Killer" box online, get it shipped to your door and you're all set for an at home date night!
Oh and use PROMO CODE: TRENDYMAMI at checkout for 20% OFF your Hunt A Killer Box!
Also, be sure to check out Cratejoy for some fun date night subscription boxes! They have an abundance of choices to choose from for pretty much anything you can think of. Plus, they can ship right to your door!
One of our favorite at-home date options is having a picnic indoors. Grad a bottle of wine from Vivino, Martha Stewart Wine Co., or Winc. Order some of your favorite takeout, put on some soft music, pull out a blanket and enjoy a great meal with a glass of wine. You can even take things up a notch by building a tent for the two of you to hideout in.
Use PROMO CODE: AWESOMEREADER5 for 5% OFF your Vivino order!
Or make a cocktail, here are a few cocktail recipes!

Replay your first movie date.
If you've been together for a while, something that can bring the old magic back is taking a stroll down memory lane. One idea is to watch the first movie you ever saw together. Don't forget to have some popcorn, dark chocolate candy and homemade soda on hand. For the soda, all you need is some sparkling water, juice a Big Blanket and you're all set!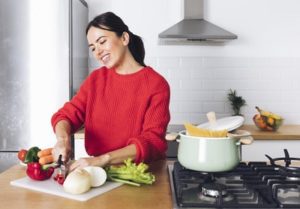 Cook each other's favorite meals.
When you're alone in the kitchen, cooking can sometimes feel like work. But when your sweetheart is standing beside you helping, it can give you both some of the quality time that your relationship needs. Either each of you can make one another's favorite dish or you can agree to make something together that neither of you have ever had before (firsts in relationships are always something that adds spice to it!).
Don't have a favorite meal, need some ideas? How about some spinach gnocchi, or even zucchini pasta!
Hire an indoor chef.
If it's a special occasion but you'd still prefer to stay close to home, instead of cooking, hire an indoor chef. Most are pretty affordable and you'll be able to get the five-star treatment from the comfort and convenience of your own home.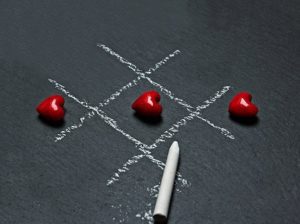 Play some board games.
If the kids are away or asleep, pull out a few board games. We're not talking about Monopoly or Trouble. What we have in mind are the kind of games that tap into your more intimate or even kinkier side. Some fan favorites include The Discovery Game, Bedroom Battle, The Kama Sutra, Our Moments and Better Now Than Later. Turn things up a notch by playing the games in some sexy sleepwear or…even nude.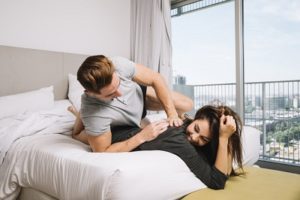 Have a romantic couples massage.
There are literally dozens of health benefits that come from getting massages on a regular basis. They relieve stress and anxiety, reduce headaches, increase blood circulation and flexibility, improve one's quality of sleep—the list really does go on and on and on. Although it's a good idea to get one from a professional every once in a while, it can be uber-romantic to get one from your partner and give one to them in return.
All you need is a little sweet almond oil and jasmine essential oil warmed up to make a sensual massage oil. Then you can click here for tips on how to give each other a massage that is truly unforgettable.
Don't know what the benefits of using essential oils are? Click here to read more!
Or check out these face masks you can pair with your massages!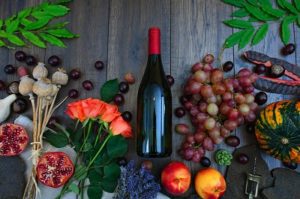 DIY a bottle of wine.
If you'd love nothing more than to light some scented (soy) candles, break open a bottle of wine and just chill, surprise your partner by handing them a glass of wine that was literally customized just for them. Contrary to popular belief, making wine (or even champagne) is not super difficult. Click here for an easy wine recipe and here for a fun champagne one.
Find your favorite wine from Vivino!
"Quiz" each other.
One of the main causes of divorce is a lack of clear and honest communication. Get to know your spouse/partner even better by asking them some deep questions. Keep it from feeling too much like an interrogation by creating your own form of "strip questionnaire" or rewarding each other with some sexy coupons or "sex checks" every time you tap into your vulnerabilities.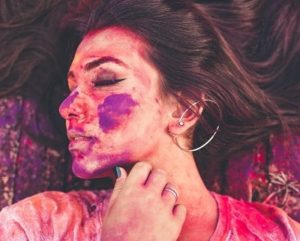 Do some body painting.
Break out the inner artist in the both of you by doing a little painting. Make it erotic by using each other as canvases. You can either purchase some body paint that glows in the dark (very cool) or you can make some of your own that's, umm, edible and chocolate flavored.
Go glamping (in your backyard).
Glamping is something that's become all the rage for the past several years. If you can't afford to take a trip in order to do it, do some glamorous camping in your own backyard with the help of a bonfire, some s'mores, a two-room solar-heated camping tent and…whatever else you think would make a night underneath the stars extra awesome.
Have (lots and lots of) fun! And don't forget to fit a date night into your busy schedule at least once a month!