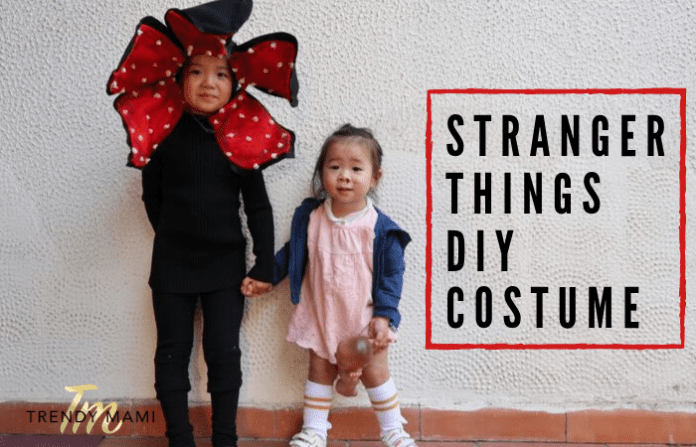 We hope you love the products we recommend! Just so you know, Trendy Mami may collect a share of sales or other compensation from the links on this page.
With Halloween weekend just around the corner, trust us, it'll be here in the blink of an eye, and we're certain that we can all admit we've binged the third season of our favorite Netflix show…Or maybe binged the entire series again. Either or. If you can relate, that means it's the perfect time to start preparing your Stranger Things costumes for Halloween.
But who said you need to go browsing all the overpriced online costume shops? *crickets* No one, that's who. Instead, opt for the much cheaper, rewarding and fun option of making your costumes yourself. Trust us, DIY'ing our two Stranger Things costumes will be a piece of pie. If you do need a little extra help, follow this video tutorial! Let's get spooking!
Stranger Things – Demogorgon Costume
Stand out from the crowd in this awesome Demogorgon costume! You won't have to worry about people knowing what you are, because they'll be running in sheer terror. Everyone knows a Demogorgon when they see one. Mwahaha!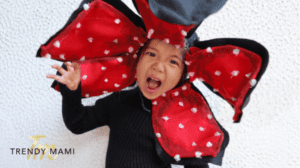 What You'll Need: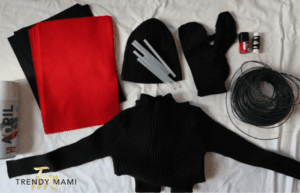 What To Do:
Take a plastic sheet or even better, a metal sheet.
Leave a few drops (4 at a time) of hot glue to dry (1 min-1:15), enough to get it a tad hard, but you're still able to shape it before it completely cools down.
Repeat the steps till you have 100 drops (they will be used as the teeth of our Demogorgon). Creative huh?
Spray in white with white spray paint and let them dry.
Moving on, cut the black felt sheets into 5 big flower petals.
Then, cut the red felt sheets into 5 petals, same size as the black ones.
Take your gardening wire and shape it onto the red petals. Use hot glue and fold the edges of the petal's inwards, to keep the wire in place.
Fold the bottom of each red petal to close the wire in, then use the ends of each wire to combine the petals together.
Once the shape is formed, glue the black petals to the red petals. Making sure the black is underneath.
Then, glue the beanie onto the black petals.
Take your painted 'teeth', once completely dried, and use hot glue to attach the teeth onto the petals.
Use hot glue to create thin drool lines from teeth to teeth across the petals.
Finally, use colored markers (green, brown, black, blue) to create depth and shadow on each of the petals.
Voila! Enjoy being a Demogorgon!
If you are in need of some spooky decorations to match your spooky costume design, check out Windy City Novelties. And if you are looking for more costume ideas to match your theme this year, great places to look are Halloweencostumes.com, Halloween Spot and even Halloween Express! You are sure to find everything you need to make this years Halloween spooky!
Stranger Things – Eleven Costume
This simple Halloween costume will prove to be a knockout this year! Although it's only a pink dress, a wig and a bloody nose, everyone will know who you are! So, if you're looking for a super recognizable and incredibly simple and cheap Halloween costume, Eleven is the way to go! Pssst, we went for Season 1 Eleven.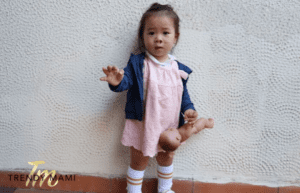 What You'll Need:

What To Do:
Get dressed in your pink dress.
Put on the fake blonde wig, try and get one that is short-medium length, to replicate the one Eleven wears in Season 1.
Take a tiny bit of fake blood and place it under one of your nostrils. Her nose bleeds when she uses her powers!
Put on your green and yellow striped socks, they should be knee length, along with some plain white canvas shoes. Any will do.
Grab a fake Eggo waffle, or a real one, whichever you prefer. This will really make the Halloween costume recognizable! Everyone knows Eleven is crazy about Eggo waffles.
You're all done! How easy! Go out trick or treating and enjoy!
Lastly, to add to the Stranger Things theme, you can decorate your house with the Stranger Things alphabet lights!. If you are looking to make your own, check out GlowCity for some awesome lights!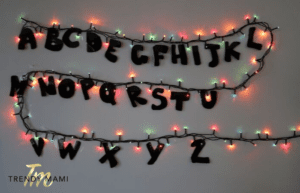 We really hope you enjoyed reading our article on unbeatable DIY 'Stranger Things' Halloween costumes for your youngin and appreciated our video tutorial on how to make the Demogorgon costume! If you did enjoy, please check out one of our other Halloween themed articles, Halloween Cookies — The PERFECT Trick-or-Treat Treat! Video Included! You'll be the favorite house on the block with these treats! Or better yet, if you're looking for another great Halloween DIY we have a few more costume ides here!
Also be sure to check out other Halloween costumes here if you're not into DIY'ing a costume this year or just simply don't have time!