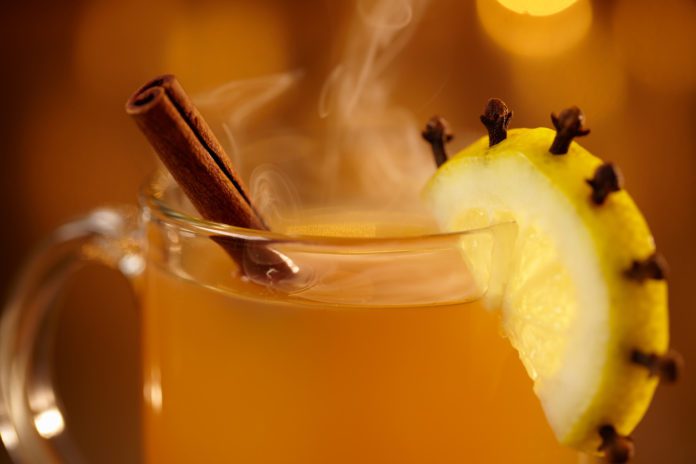 We hope you love the products we recommend! Just so you know, Trendy Mami may collect a share of sales or other compensation from the links on this page.
The seasons are changing and fall will give way to winter soon. With that comes all the seasonal drinks: pumpkin spiced lattes, hot chocolates, eggnogs, and the like. Yeah they're great, but the selection makes you wonder if there's something more — adult.
I stumbled into a small speakeasy one night and they had exactly that: an adult menu full childhood holiday drinks spiked with alcohol. It was the perfect blend of childhood and slightly older childhood.
One of my favorites off that menu is their hot buttered apple cider with rum. Perfect for a wintry night.  
Great thing is, you don't have to be a bartender to serve one. Curl up with your special someone at home after the kids are tucked in waiting for Santa and enjoy this spiked holiday drink. Thanks to Once Upon a Chef for this recipe.
Servings: 8
Ingredients
Half-gallon (64 ounces) all natural apple cider

1 stick (1/2 cup) unsalted butter, cut into tablespoons

1/4 cup dark brown sugar, packed

1-1/2 teaspoons ground cinnamon

1 teaspoon ground nutmeg
1/4 teaspoon ground cloves

1/8 teaspoon salt

Rum (or apple brandy)

Cinnamon sticks (optional)
Directions
Bring the apple cider to a simmer over medium heat in a large pot, then turn the heat down to low.

Stir in the butter, brown sugar, cinnamon, nutmeg, cloves, and salt. Continue stirring until the butter is melted and the sugar is dissolved.

Ladle the buttered cider into mugs. Top each drink off with a shot of rum and garnish with a cinnamon stick, if desired. Serve hot.
There's nothing like a cold winter night to curl up to a warm drink. And the best part is now that you're an adult, you can spice your drink up in more ways than one. Enjoy!
What's your favorite holiday drink? Leave a comment below!