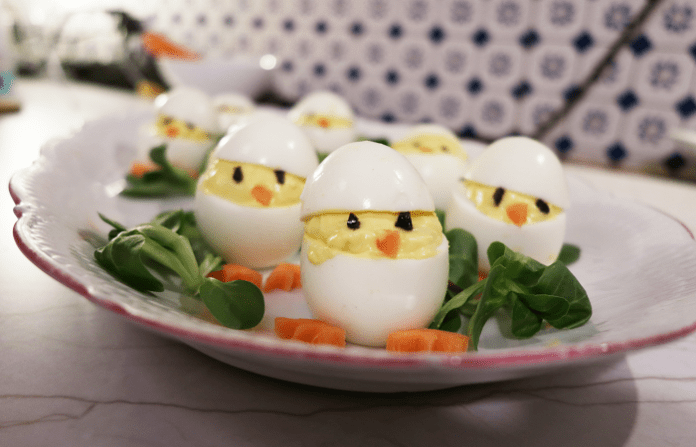 We hope you love the products we recommend! Just so you know, Trendy Mami may collect a share of sales or other compensation from the links on this page.
With Easter being just around the corner, we thought it'd be a cool idea to provide you with a quick and easy Easter-themed recipe. How about a plate of delicious (and adorable) deviled eggs? But first, a quick history lesson.
Have you ever wondered where the term "deviled" came from as it directly relates to food? Although it was first used in the 18th century, it because most popular in the 19th one. Deviled foods are all about foods that are spiced up with items like mustard and pepper. As far as where deviled eggs come from, they were first made in Ancient Rome.
Hmm. So, where does devil's food chocolate cake come from? It first premiered in a cookbook back in 1902 called Mrs. Rorer's New Cook Book. No one really knows where the devil part comes from other than it's the total opposite—flavor, texture and all—of angel's food cake.
Anyway, there's a little "something new" for the day in case there's a part of you that ever wondered. And now, to the fun part—making you and your kids the kind of deviled eggs that will make them oh so happy that Easter has made its way back around again!
Looking to take a break from cooking? Check out DoorDash for some tasty meals! DoorDash is a great place to get delivery from some of your favorite local restaurants!
Deviled Eggs
The Recipe Calls For:
12

E

ggs, hard-boiled and peeled

1/2

C

up of mayonnaise

2

T

easpoons of yellow mustard

1

T

easpoon salt

1/2

Tablespoons of apple cider vinegar

1

C

arrot, peeled and julienned (for the beaks)

3

B

lack olives, diced small (for the eyes)
Don't have time to go to the store before the weekend? Check out Instacart for same-day grocery delivery! Being a parent is time-consuming, but Instacart can help you get those Easter groceries from your favorite supermarket, right to your door.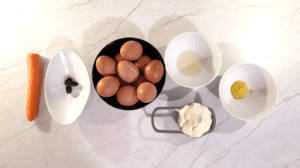 Step One: I take each hard-boiled egg and I cut it…not in half. It's more like I cut it so that the bottom part of the egg will have a "hat". (You'll see what I mean if you keep watching the video).
Step Two: I use a spoon to take the yolk out of the top and bottom part of the eggs. Then I put all of the yolks into a bowl.
Step Three: I add the mayonnaise, mustard and apple cider vinegar and mix it all together until it turns into a smooth creamy texture. Then I put the mixture into a bottle that has a pointed tip on it (you'll see why in just a sec).
Step Four: Next up, I peel my carrot and then use a really sharp knife to create my own little beaks and little feet. (This might require a little trial and error, so don't feel bad if you go through a carrot or two before you are truly happy with the results.)
Step Five: With the black olives that I have, I cut them in half and then the halves in half and those halves in half so that they look like tiny eyeballs.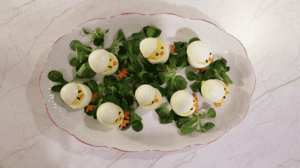 Step Six: Now it's time to bring the egg whites back into the picture. For the bottom of each of them, I use my bottle to squeeze the egg yolk mixture into them.
Step Seven: Then I carefully position the beak (made out of carrots) and eyes (made out of black olives). The beak should rest on the bottom of the egg and the eggs should go into the mixture above the beak. Then I put the hat (the "shorter" white part of the egg) on top.
Step Eight: Then I position a pair of feet (also made out of carrot) underneath the bottom of the egg and…I've got some of the cutest deviled eggs that you ever did see.
Happy Easter! Enjoy every bite of this Easter-themed deviled eggs recipe!
Oh and don't forget to check out our Easter Eggs Hunt Guide for some awesome eggs hunt ideas!!