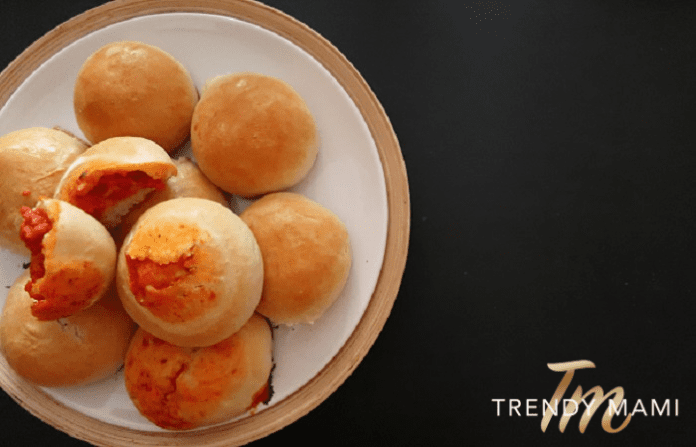 We hope you love the products we recommend! Just so you know, Trendy Mami may collect a share of sales or other compensation from the links on this page.
There's nothing quite like a good old fashioned Super Bowl Party, with good friends, cold beers, and of course, mouthwatering game day snacks. While you're cheering on your favorite team, whip up a few of these easy-to-make homemade pizza bombs, which are guaranteed to please even the toughest of fans. They'll love this pizza bomb recipe!
The best thing about this pizza bomb recipe is that you can customize the filling with your favorite ingredients. Go with a traditional flavor like ham and cheese and veggie, or try something unique like brie and walnuts or baked seabass. Even if you've never made your own pizza dough before, this fun and easy recipe will have your entire family cheering by the sidelines.
Ingredients for Homemade Pizza Bombs
Dough Ingredients
1 cup warm water
½ teaspoon kosher salt
1 tablespoon of brown sugar
1 teaspoon active dry yeast or 3.5 g of fresh yeast
2½ cups all purpose flour (plus 2 tablespoons for dusting, when shaping the buns)
1 tablespoon of vegetable oil
1 egg (for the egg wash)
Filling Ingredients
Ham and Mozzarella
⅔ cups of Tomato
¼ cup of Parmesan
⅛ cup of Mozzarella
Slices of deli ham
Vegetable Mix
Sauteed and chopped vegetables of your choosing
Brie
1 brie wheel (cut into small chunks)
½ cup chopped walnuts
½ cup raisins
Seabass
Baked seabass cut into chunks
1 garlic clove (minced)
1 tablespoon chopped parsley
Drizzle of olive oil
Missing some ingredients? Crowd Cow will ship fresh meat, poultry and seafood to your door! For dry ingredients, Thrive Market has you covered! Also, check out a subscription from Farm Fresh to You to have fresh produce sent to your doorstep.
Making the Dough for Pizza Bombs
In a large bowl, mix the water and brown sugar and then add the yeast. If you're using fresh yeast, wait until the mixture is completely dissolved. If you're using dry yeast, wait until the yeast starts to foam and float at the surface. This could take several minutes.
Add the salt and vegetable oil and stir until thoroughly mixed.
Next, measure and add half of the flour into the yeast and water mixture. Stir until completely integrated before adding the rest of the flour.
In this pizza roll recipe, you will need to knead the dough with your hand for about two minutes, or until there are no clumps and the dough is smooth bouncy. While the dough should be a little sticky, you can always add more flour if it's too sticky to peel off your fingers.
Form the dough into a ball, cover the bowl with a towel or board, and sit for one hour or until the dough has risen.
After an hour, deflate the dough and knead again for another two minutes.
Now, the dough needs to sit again for another hour. Form the dough into a ball and cover in a bowl with the towel or board.
Deflate the dough and knead it once more on a countertop surface. Feel free to sprinkle flour onto the surface to prevent it from sticking.
Cut the ball into smaller chunks of equal size. For larger homemade pizza rolls, each ball should be around 50g. If you want to make smaller homemade pizza rolls, cut the dough into 25g each. Use a kitchen scale to measure out the balls.
Roll each piece of dough until it's a smooth, round ball.
Using your hands or a rolling pin, flatten each piece of dough into a round circle. Try to make the dough thicker in the center and thinner around the edges (so you can easily seal them once the filling is added).
Adding the Filling for Homemade Pizza Bombs
In this pizza roll recipe, we'll be making vegetable pizza bombs and ham and mozzarella pizza bombs, although you can add any topping or filling of your choice. Place a spoonful of the filling mixture into the center of the flattened dough circle. Be careful not to place too much filling, or else you'll have a tough time closing the pizza bombs.
With your fingers, lift the edges of the dough and pinch together, sealing the filling inside.
After the homemade pizza rolls are completely sealed, flip them upside down, so the seam is facing down. With your hands, shape the balls into round circles, pinching together any holes or weak spots. You want to try and make them tall (like little mountains), as the pizza bombs will flatten a little while baking.
Place all the completed pizza bombs one inch apart onto a baking pan lined with parchment paper (or a silicone mat).
Cover the homemade pizza rolls with a cloth and let sit once more for another hour.
Baking the Pizza Bombs
Preheat your oven to 350°F or 180°C.
Crack one egg into a small bowl and beat with a fork or whisk.
Add a teaspoon of water and mix.
This pizza roll recipe calls for a clear egg wash, which means you'll want to strain the beaten egg mixture through a colander. Discard the foam/remnants of the egg that did not pass through the strainer.
Using a silicone kitchen brush, lightly cover the pizza bombs with the clear egg wash.
Place the tray in the oven and bake for approximately 25 minutes, or until the pizza bombs are golden brown. Then, serve on your favorite serving tray.
Watching the game is only half the fun of Super Bowl Sunday. The real MVPs are in the kitchen, whipping up delectable game day treats for friends and family. If you're looking for something on the lighter side, then feel free to also check out our list of healthy DIY snacks!