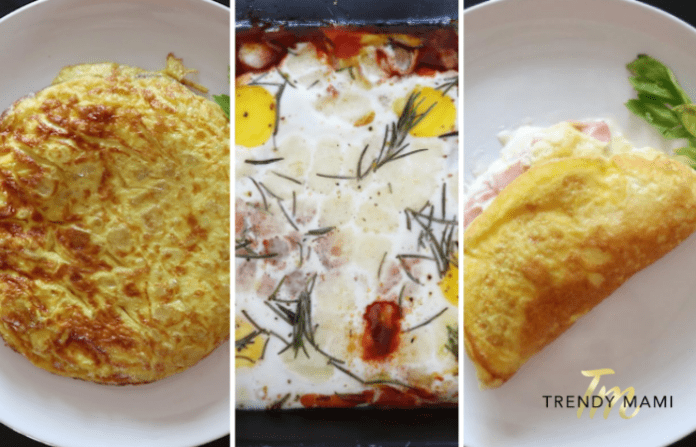 We hope you love the products we recommend! Just so you know, Trendy Mami may collect a share of sales or other compensation from the links on this page.
If the only way you have your eggs is on toast for breakfast, you're seriously missing out! It's 2020, time to shake it up with how you cook your eggs ladies. Maybe it's time to try an avocado toast recipe paired with a new egg recipe instead! If you want to experiment with how you have your eggs, check out our 3 ways to cook eggs below. Whether you're feeling like an Italian dish, a Mexican cuisine, or a French/Korean meal, we have 3 egg recipes that will satisfy your taste buds! You can get fruits and veggies for these recipes straight to your door from Farm Fresh To You! Gear up with the Best Egg Gadgets for the Kitchen, too!
3 Ways To Cook Eggs – 3 Egg Recipes You Need To Try!
Uova Alla Contadina (Eggs in Tomato Sauce)
Here is an Italian egg dish that will knock your socks off! Feel free to add some pesto for some extra flavor!
Ingredients:
Tomato sauce 300g
Olive oil 2 tbsp
Pinch of himalayan salt and black pepper
4 eggs
Scamorza cheese 90-100g
2 small bunches of rosemary
Instructions:
Pour half of your tomato sauce into a baking pan.
Add the olive oil and salt.
Add the rest of your tomato sauce.
Spread it around evenly.
Add the eggs to your baking dish.
Add the cheese evenly around the pan.
Break rosemary bunches up and add to the dish.
Add another sprinkle of salt and pepper.
Bake at 350°F for 20 mins.
Enjoy!
Tortillas De Patatas
Craving a Spanish/Mexican meal for dinner tonight? This recipe is just what you need! And if you want to spice it up a bit add some salsa!
Ingredients:
Potato 200g
Onion 80-100g
4 eggs
Vegetable oil 4 tbsp
Himalayan salt 1/2 tsp
Instructions:
In a pan, add 3 tbsp of vegetable oil and toss in your chopped potato cubes. Add your himalayan salt and cook for 5-10 mins.
Add your chopped onion into the pan and cook for another 5-10 mins (for a total of 15-20 mins).
Turn off the heat and let the potato and onion cool once it has fully softened.
Beat the eggs in a large bowl, add a pinch of salt and mix in your potato and onion.
In a small pan (7-8 inches), add 1 tbsp of vegetable oil, let it warm up on high heat and pour the mixture in. Cover the pan with a lid and cook for a couple of mins on low-medium heat.
Make sure that the egg hasn't stuck to the pan, then let it cook till the bottom has completely cooked.
With the help of a plate, flip the tortillas and place it back in the pan to cook the other side for an additional 2-3 mins. Make sure to cover with a lid.
Serve and enjoy!
Fluffy Omelette
If you are feeling like a French/Korean dish, be sure to try out this recipe. If you want to pair this omlet with something sweet, try crepes!
Ingredients:
2 eggs
Himalayan salt ¼ tsp
Sugar ¼ tsp (optional)
Slice of ham
Slice of cheese
Pinch of butter (to grease pan)
Instructions:
Divide the egg yolks from the whites.
Beat the egg whites with an electric mixer. Beat until fluffy.
Combine the egg yolks to the whites.
Grease a 20-22cm pan with a pinch of butter. Once it's heated, add your egg mixture.
Cover the pan with a lid and let it cook for 3-4 mins on a low heat.
Add your cheese and ham.
Fold the omelette in half and hold it for a minute.
Serve and enjoy!
Grab any ingredients you don't have and more from Thrive Market!
If you've been looking for new ways on how to cook your eggs, we hope you enjoy these different ways to cook eggs and enjoy them for breakfast, lunch or dinner! If they didn't here are 5 Different Methods of Cooking Eggs for you to checkout! Inspired to cook more? Get a monthly cooking subscription from Cratejoy with new ingredients and recipes to try! You could even have food delivered and ready to eat, like the Food Subscription Boxes from Cratejoy
If you did enjoy these 3 egg recipes, you may also want to check out The Best Cookbooks Of All Time and Learn to Make the Perfect Poached Egg! It's Easier Than You Think. Maybe you'd rather bake for breakfast and try out a Gluten-Free Muffins Recipe.