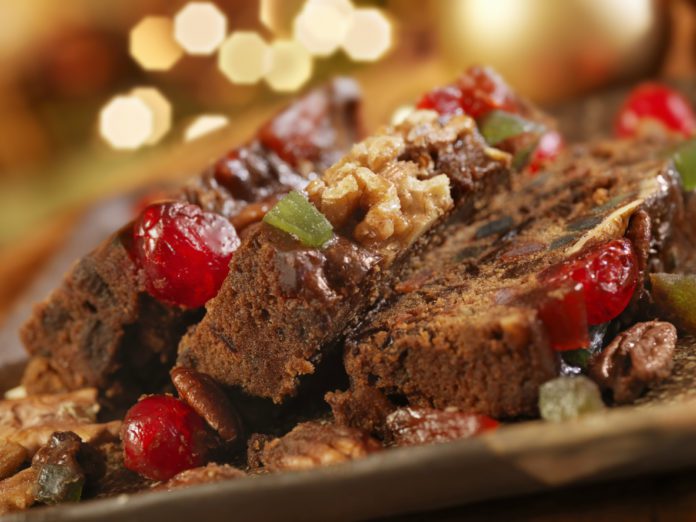 We hope you love the products we recommend! Just so you know, Trendy Mami may collect a share of sales or other compensation from the links on this page.
It seems like the fruitcake is the Rodney Dangerfield of desserts: It gets no respect. And unlike Mr. Dangerfield, many people bring fruitcake up only around the holidays — to malign it even more.
But who's can blame them? Fruitcakes are good to some, but let's face it — you'd never ask for one or be excited to receive one in your stocking. And baking one? That will put any self-respecting chef on the naughty list.
Well, maybe you just haven't had a good fruitcake. After all, do any of us really know how to bake one?
With this recipe, not only will you be able to bake a fruitcake that tastes good, you might be able to convince your Christmas party that these things deserve some respect after all. Thanks to AllRecipes.com for this concoction.
Total time: About 1 hour
Fruitcake ingredients
1/8 cup chopped dried cherries

1/8 cup chopped dried mango

1/4 cup dried cranberries

1/4 cup dried currants

2 tablespoons chopped candied citron

1/4 cup dark rum

1/2 cup butter

1/4 cup packed brown sugar

1/2 cup all-purpose flour

1/8 teaspoon baking soda

1/4 teaspoon salt

1/4 teaspoon ground cinnamon

1/4 cup unsulfured molasses

2 tablespoons milk

1/4 cup chopped pecans

1/4 cup dark rum, divided
Directions
Soak cherries, mango, cranberries, currants, and citron in 1/4 cup rum for at least 24 hours. Cover tightly, and store at room temperature.

Preheat oven to 325 degrees F. Butter a 6×3-inch round pan or loaf pan and line it with parchment paper.

In a large bowl, cream together butter and brown sugar until fluffy.

Beat in egg. Whisk together flour, baking soda, salt, and cinnamon; mix into butter and sugar in three batches, alternating with molasses and milk.

Stir in soaked fruit and chopped nuts.

Scrape batter into prepared pan.

Bake in preheated oven for 40 to 45 minutes. Cool in the pan for 10 minutes, then sprinkle with 2 tablespoons rum.

Cut out one piece of parchment paper and one piece cheesecloth, each large enough to wrap around the cake. Moisten cheesecloth with 1 tablespoon rum.

Arrange cheesecloth on top of parchment paper, and unmold cake onto it. Sprinkle top and sides of cake with remaining rum. Wrap the cheesecloth closely to the surface of the cake, then wrap with paper.

Place in an airtight tin, and age for at least 10 weeks, spritzing with rum every other day. If storing longer, douse with additional rum for every 10 weeks of storage.
Fruitcake might not be everyone's favorite holiday food (to say the least), but it doesn't have to be consumed as a doorstop or a flimsy paperweight. Fruitcake can taste good, and with this recipe, your guests will be looking forward to having these fruitcakes in their stockings this season.
Do you have a favorite holiday treat? Let us know in the comments below!