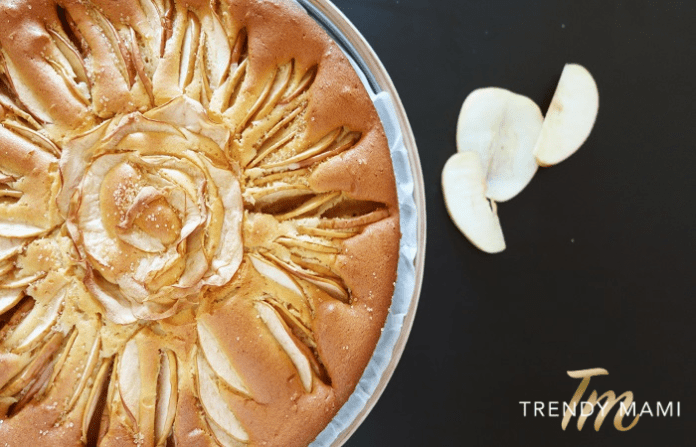 We hope you love the products we recommend! Just so you know, Trendy Mami may collect a share of sales or other compensation from the links on this page.
Think baking a homemade cake will take you all day? Well, think again! This perfectly sweet apple cake recipe is an easy and quick home-baked treat that you need to enjoy during lockdown. Warm apples and sticks of cinnamon will leave you with a haunting aroma, making this time-tested recipe truly irresistible. Follow along with our video tutorial and bake this easy apple cake recipe, ideal for an after-dinner dessert. Pssst, this cake would taste even better with a dollop of cream or vanilla ice cream!
For this recipe, you'll need a good mixer to whip up the cake batter. Here is a perfect stand mixer that's budget-friendly, lightweight and easy to move around. Or, be sure to check out Sur La Table for some high quality kitchenware. If you don't like baking from scratch, Stonewall Kitchen has great baking kits that are amazing.
On a side note: If you would like to take the night off from cooking, but are still looking for some tasty dessert or snack, give GrubHub a look and order from your favorite local bakery!
Apple Cake Recipe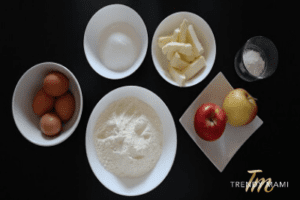 OR
Instructions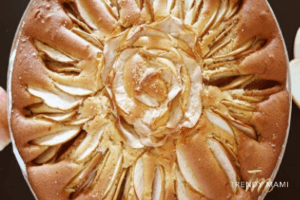 In a mixing bowl, mix together the butter and eggs, and then add the sugar and the vanilla stick (if you have some). Or, use a food processor to mix everything together.
Sift the flour and the baking powder into the mixing bowl.
Add a pinch of salt and some milk (half).
Then whilst it's mixing, add the remainder of the milk.
Pour the mixture into the baking pan.
Take the apple and cut it in half, making sure to remove the seeds. Then, cut the apple into thin slices.
Place them in a radius design leaving the center clear.
Cut the apple into even thinner slices and place them in the center of the baking pan and create a flower. You can either sprinkle brown sugar on top before baking or after (like we did).
Bake in the oven at 180°C /350°F for 50 mins.
Serve and enjoy!
If you're looking for a quick dinner delivery, give Seamless a look! You can even get 25% off first order of $15+ while ordering from their app with code AFF25!
Are you finding that you're in your kitchen a lot more now that you're in isolation? If the answer is yes and you need some new recipes to experiment with, try out our Gluten Free & Vegan Oatmeal Cookie Recipe.
Struggling to keep the kids entertained in isolation? Try out this fun DIY Felt Food activity!
We hope you enjoyed reading our apple cake recipe, be sure to stay tuned for more delicious recipes on Trendy Mami.