We hope you love the products we recommend! Just so you know, Trendy Mami may collect a share of sales or other compensations from the links on this page.
–
Updating your nails for the seasons is a fun way to stay up with the trends. Here are some fun acrylic nail ideas for fall that you can do yourself or get done professionally. We'll break down what you'll need to do to achieve these fun fall designs.
Acrylic Nail Ideas for Fall
First, before painting your fall-themed acrylic nails, you'll need to gather some supplies and prepare your cuticles. Grab some cotton pads, the nail polish or gel colors that you want to use, a nail art set, and nail art brushes. You should also get some nail sample sticks from Etsy for practicing or laying new designs.
Once you have all your supplies, begin by filing, smoothing, and shining your nails so they're salon ready. We recommend this great manicure tool from Joann. It has six settings all in one!
After your nails are prepped and ready, you're set to start painting. Get creative, or choose from our four acrylic nail ideas for fall.
1. Plaid Nail Designs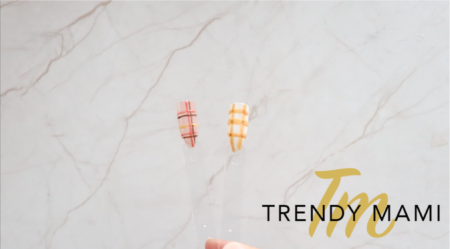 Nothing screams fall quite like plaid, so why not get festive by painting your nails plaid? It's a stylish design that could match your fall outfits, making it one of our favorite acrylic nail ideas for fall.
It's not too hard to create as long as you have some patience! Use a manicure set to prep your nails, and then paint them a solid color. Using a small brush, paint lines on your nail to create a plaid design. Paint a few vertical lines, let dry, and then paint some horizontal lines over top.
Get creative with your color choices! The hardest part of this design will be waiting for each set of lines to dry before going over them again. Otherwise, it's a simple yet impressive fall look!
2. Sage Green Nails
Doing your nails in fun fall colors can be an easy way to achieve fall themed acrylic nails. Sage green is a great color for fall.
To create a sage green design, start by painting half your nail sage green and the other half light pink with Essie nail polish from Target.
Use a nail brush dipped in gold polish to draw lines, creating an abstract take on autumn leaves. Keep that same pattern on each nail, or play around with color choices. Other great color combinations include pale pink and dark pink or pale pink and soft yellow.
You could even paint all your nails sage green and do one nail as an autumn leaf accent. The possibilities are endless!
3. Freestyle Nails
Get creative with your nail designs and do your own fall freestyle! Paint a pumpkin for Halloween and Thanksgiving gatherings. Or, paint an abstract homage to autumn colors.
If you're not artistically talented, you can still create a fun fall look using nail tattoos. Just cut out the tattoo you want and apply it to your nail.
Etsy also has holiday-specific nail stickers, like these fun Thanksgiving packs. Your fall themed acrylic nails will look professionally done and will be very festive. You're bound to get tons of compliments!
4. Garden Nails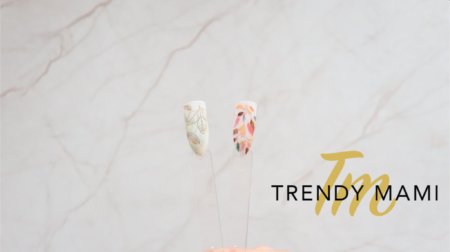 A simple yet effective way to style your nails, these leafy designs can quickly spice up any solid color manicure. You can get creative with your color choices and your designs. Use this nail stamp set from Etsy to easily achieve a nail salon quality look. It includes all kinds of different leaves and fall patterns. Do the same design on all your nails, mix up your designs, or do a design on an accent nail. Or, if you're feeling bold, paint a leaf pattern on your nail using a detail nail art brush to create fine designs for the fall season.
More Nail Ideas
If you're looking for more acrylic nail ideas for fall, check out our list of trending fall nail colors. Pick your favorite from the list and pair it with one of our fall themed art designs! Also, you'll want to make sure your nails are strong going into fall. One way to do that is by using a DIY nail growth serum. Once you've got your nails done for fall, read up on some of the fall fashion trends. You'll be looking stylish and festive as soon as fall begins!