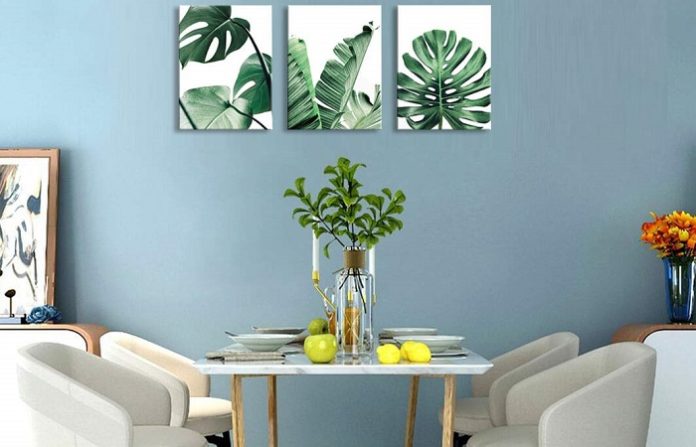 We hope you love the products we recommend! Just so you know, Trendy Mami may collect a share of sales or other compensation from the links on this page.
One of the best things about having your own place is you have the freedom to decorate it—both inside and out—however you want. You can select a color palette, you can go with a particular theme for example a tropical touch or you can even make minor adjustments based on the particular season that you're in.
Take summer, for example. If ever there's a time of year to add a few a tropical touches here and there, right now, in the weeks leading up to summer, would be it. It can be super festive if you plan on doing a lot of entertaining over next several months. It can be even better if you happen to live in a place where the climate (and temperatures) are a little on the cooler side, but you want to feel as if you're in Hawaii or the Caribbean.

Does all of this sound tempting? If so, guess who has some of the best tropical décor items? Amazon! What we especially like is actor Drew Barrymore's signature collection that's featured there. Although Amazon has a ton of options to choose from, we selected some that will make you feel like you are in your very own beach house without breaking the bank in the process.
Before we get too into it, if you're looking for topical images to showcase around your house, you can check out Shutterstock, they have plenty of photos to choose from. You can also save these photos to your phone or device and play the album on your TV on rotation.
Also, if you're interested in improving your interior design skill, Kelly Wearstler, the famous designer, is actually teaching interior design in Masterclass! All classes are available On Demand for just $90 USD. The excitement doesn't just stop at just 1 class – your audience can pay $180 for an All Access Pass, which allows for access to ALL MasterClass content for 1 year!
Okay okay now on to the rest of the tropical decorations! Enjoy!
The Perfect Tropical Decorations: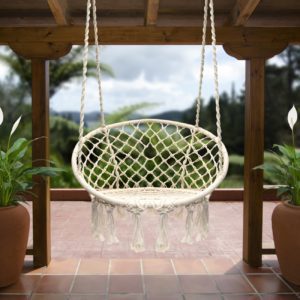 Although most people would probably put a swing outdoors, this adorable macramé one is something we think would be cute underneath a tree, on your back deck or even hanging near a window in your home. The best thing about it is it's just enough "tropical" and just enough "boho chic" at the same time to be fitting all year long.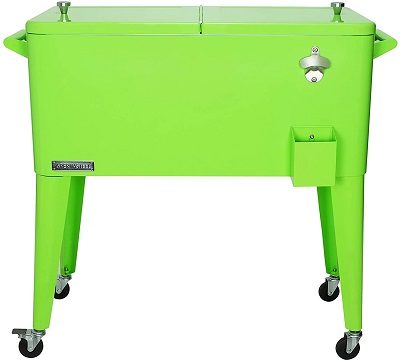 Whether you're planning to add a lounge seat in your backyard or you simply love wicker and want to add a touch of it to your kitchen or living room, this rolling cooler is modern enough (and classic enough) to be the perfect summer—and rest of the year—addition.
Looking for a different cooler, perhaps a more convensional cooler? Yeti Coolers are extremely known for their quality and ability to keep drink cool for quite some time! Check out all the coolers Yeti has to offer!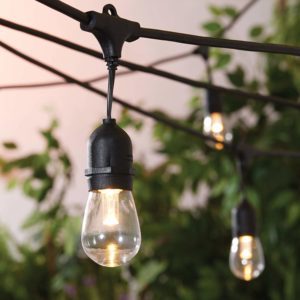 Do you have some outdoor parties coming up? If so, you'll need some string lights so that you and your guests can hang out all hours of the night. The cool thing about LED lights is they last long and they're better for the environment than standard ones.
Also, if you're looking for more home decor or home improvement products, Ace Hardware is our go to, we highly recommend checking them out!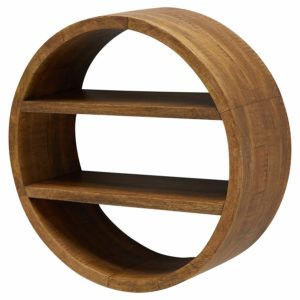 Wood provides a nice all-year-round tropical touch. If you need an extra shelf for nick nacks, this particular shelf is creative because it's round and efficient because it hangs up on the wall.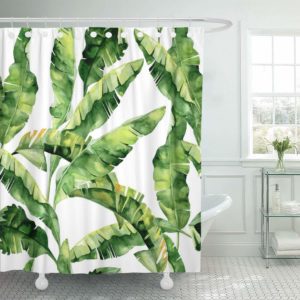 The most water in a home is used in the bathroom, right? Step into the tropics with a brand new tropical leaf shower curtain. (Especially if you have some scented soy candles in citrus scents burning while you're in there!)
Looking to get new blinds for your bathroom or house in general? Check out Americanblinds.com for great prices and designer looks!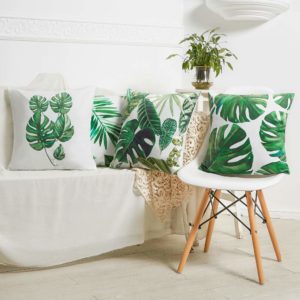 If subtle accents are what you prefer, throw pillows will scratch that itch. These have beautiful tropical prints and, since they come in sets of two, they are super affordable too.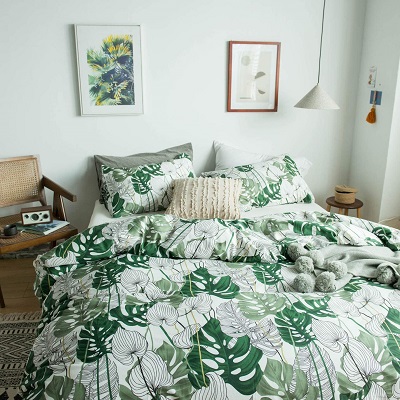 Did you know that if you purchase a quality comforter (and you cover it and air it out on a regular basis), it should be able to last you no less than 15 years? While that's certainly good to know, looking at the same bedding, day in and day out can get to be a little…boring. Spice things up by getting one comforter for fall and winter and another for spring and summer. This watercolor one, featuring prints that look like palm tree leaves, is one of our favorites.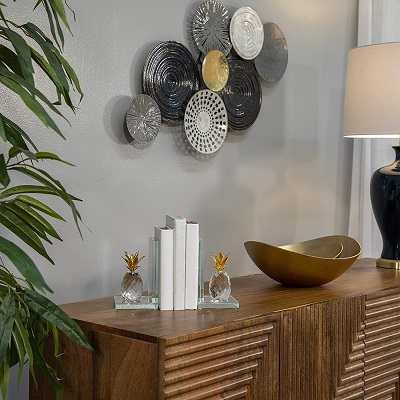 There's no way that we can talk about tropical décor without mentioning pineapples! This set will brighten up your home and, being that they're backed with a solid piece of plastic, you can be sure that they'll last a really long time.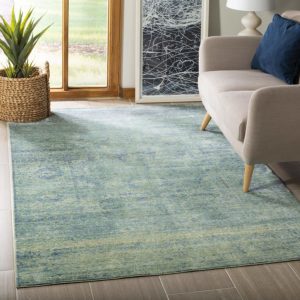 Whether you can make it to the pool or beach or not, provide a "pool effect" on one of your hardwood floors by investing in this blue area rug. If you look at it hard enough, the pattern might even make you feel like you're catching a wave or two.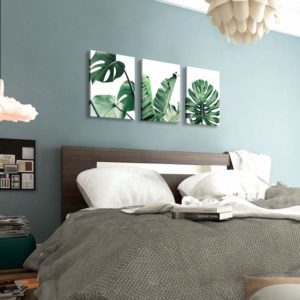 This is one of our favorites of the bunch because the botanical prints are perfect in the kitchen, the living room, your home office or your guest bedroom. It's the kind of tropical décor that is just enough without being over the top.
One a side note: If you are looking to create your own art piece that are tropical or perhaps just simply learn more on graphic design, you can do just that with Canva. Canva is a user friendly editing software that can help you create just about anything digitally.
If you're tired of your dining room set, here's an idea. Instead of getting a totally new one, consider swapping out the chairs instead. As far as tropical themes go, these leaf-pattern trees are absolutely adorable; especially if you get them in green.
Tropical Plant Collection: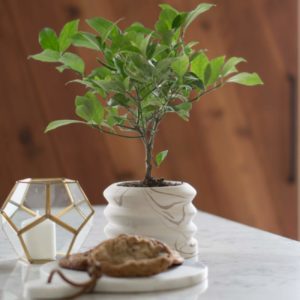 Giving your home a tropical touch doesn't just consist of how things look but how they smell as well. Just think about how both relaxed and lush you'll feel if you've got a couple of real lime tree plants, either on your back deck or in your kitchen. These miniature ones are pleasing to the eye and pretty easy to take care of too. Perfect.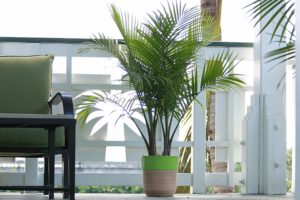 Unless you live in a climate where palm trees are abundant, you're going to have to look for an alternative. Our recommendation is something like a majesty palm plant. They're large, relatively low-maintenance and just one more way to give your home (whether it's indoor or out), the feeling of being in a tropical space.
Looking for more backyard decorations? Here are some cute gardening decor ideas!
Welcome to summer!