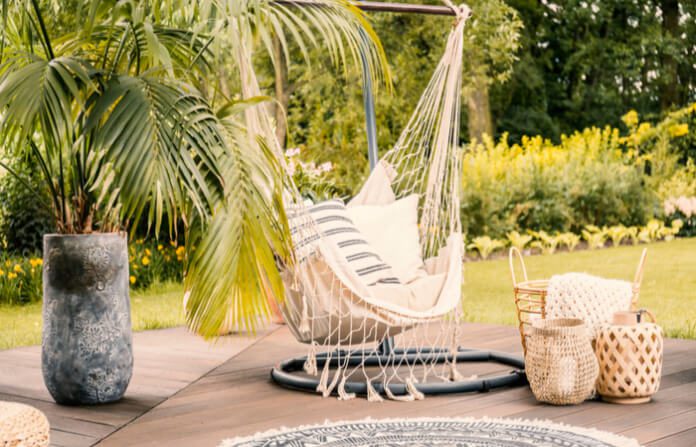 We hope you love the products we recommend! Just so you know, Trendy Mami may collect a share of sales or other compensation from the links on this page.
Get your backyard ready to be transformed and wow your guests at the next dinner on the patio with these outdoor decor ideas.
You know that you've been waiting all winter long to be able to go outside, sit on your deck, sip some wine and embrace the comfortably mild temperatures of spring. But if it's been more than a couple of years since you've done any sprucing up in your backyard, how about giving it a bit of a makeover first?
Little useful info before we get to it, If you're interested in improving your interior design skill, Kelly Wearstler, the famous designer, is actually teaching interior design in Masterclass!! All classes are available for a $180 Annual Membership, which allows for access to ALL MasterClass content for 1 year!
Sooo… Are you ready to use these outdoor decor ideas to turn your backyard into the kind of haven even HGTV would envy?
Also, if you're looking for more home décor or home improvement products, Ace Hardware is our go to, we highly recommend checking them out!
Outdoor Decor Ideas for Your Backyard and Garden
1. Fluff up some pillows.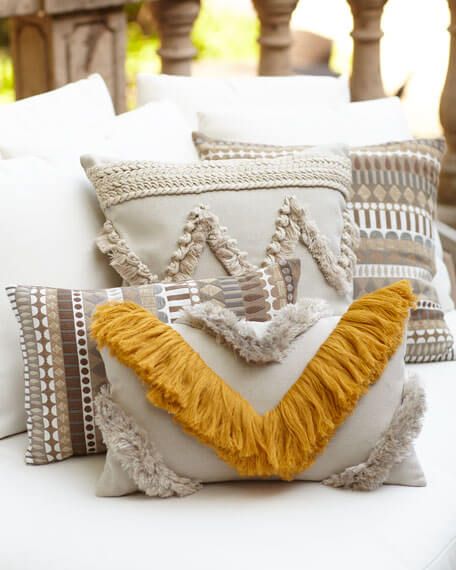 If you have any type of seating in your backyard, you can turn your garden into a cozy oasis by adding a few pillows. This outdoor decor idea is the best way to elevate your space and make it comfortable as well. These handcrafted pillows from Horchow will do this while adding a bohemian, ethnic vibe. If you're looking for a more budget friendly solution, Etsy offers a great variety of outdoor pillows . 
If you get bored of one style easily and redecorate often, consider also the Decocrated home decor subscription box, they send a box full of interior décor treasures every season. 
2. Hang a few mirrors.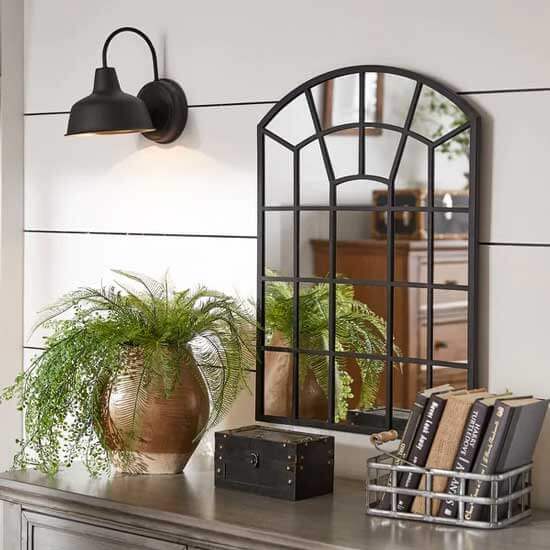 According to a lot of interior decorators, if you want to make a space appear larger than it actually is, something you can do is strategically place some mirrors. Outdoors, have them facing your garden by maybe hanging them in your patio or shed. Just make sure that you place your mirrors low enough so they won't attract birds. We found this gorgeous mirror in Overstock which is perfect for both indoor and outdoor decor.
3. Own your own chalkboard
These days, it seems like even young children are constantly connected to an electronic device of some sort. Get them interested in spending more time outdoors by adding a chalkboard to your backyard, or maybe even attaching one the backdoors of your house.
4. Surprise your kids with a wooden xylophone.
Speaking of fun things for your kids, if they will be having lots of sleep overs once the summer season hits, get on top of that now by building a few things for them and their friends to play with. A tire swing is a classic move. But one outdoor decor idea that  caught our attention this year is a wooden xylophone. All you need are some wooden planks, paint and rope and—voila! (Word on the street is you can make it for under $10 too!)
5. Make your own drop-down bar.
How cool is this? If the last thing you want to do on a beautiful day is keep running back into the house to get another glass of sweet tea or mimosa, spare yourself the trip by building your own drop down bar. It sounds complicated, we know, but it should only take you a couple of hours tops. All you need is some wood, a drill, a few screws and that's about it. Get the directions on how to do it here. If you're not into DIY, we found the cutest drop down bar on Etsy ready for you to install.
6. Customize some candles.
Soy candles smell great and are a classic outdoor decor and they're good for the environment too. Create some romantic lighting by making some of your own candles with some of the food from your garden. You can put some candle wicks and wax in seashells, cover your existing candle in cornhusks, or even wrap them in cinnamon sticks—the sky really is the limit! The key is to get uber creative and have some fun!
7. Add Lanterns to Create Ambience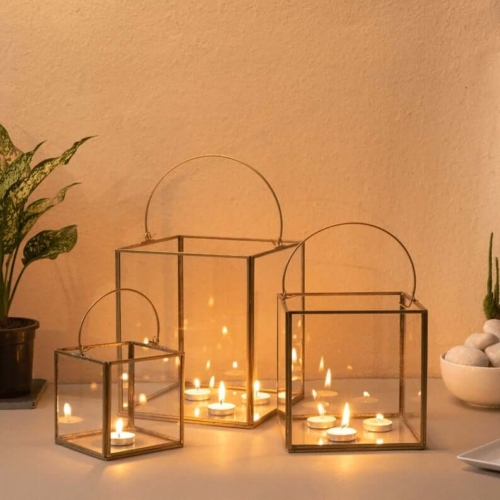 Lanterns are the kind of outdoor decor with the power to change the atmosphere, create a touch of romance and transmit calm and relaxing vibes. 
These lantern from Etsy have a sleek and minimalist design. They're perfect for your dinners in the backyard and they'll wow guests at the parties.
If you're more into rustic and bohemian style, you can make some cute lights out of Mason jars, tin cans and even wine bottles. 
8. Pick the right chandelier.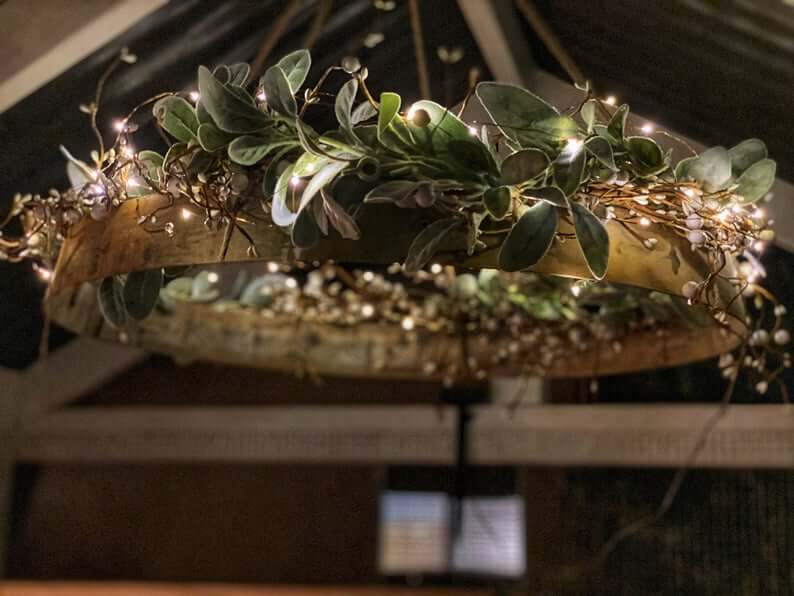 Do you plan on doing quite a bit of outdoor entertaining this spring? Wow your guests with a unique chandelier that matches the style you're going for. 
With a rustic farmhouse vibe, this handmade chandelier from Etsy will create a whimsical atmosphere and have people stare at it for hours.
9.Arrange your garden as the focus point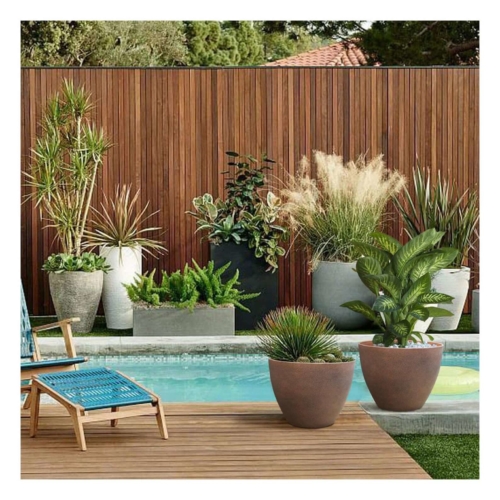 Show off your plants and flowers making them a part of your focus point of your garden decor. Out of all the suggestions that we made, this one is probably the easiest. All you need to do is mix and match different planters to hold your gorgeous flora and you're good to go. 
10. Add a fairytale touch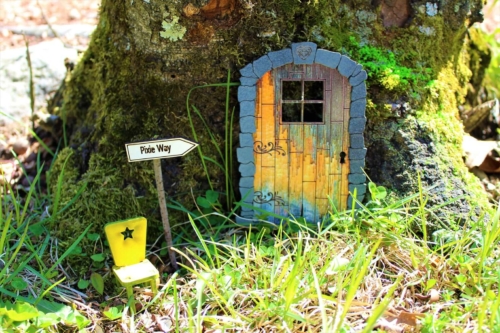 Enchanting for both adults and kids, garden decor ideas such as these fairy doors on trees are guaranteed to draw attentions and compliments, as well as gnomes, elfs and leprechauns. They're the perfect way to give personality to your backyard without keeping it too formal.
11. Pick the right Table Settings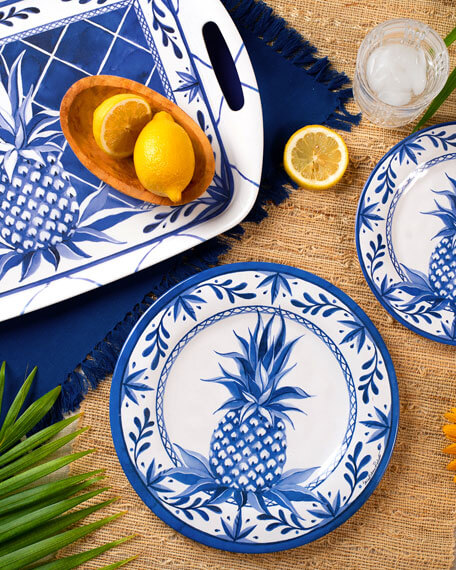 Table settings is an essential part of decorating your outdoor space and there's a wide variety of styles you can pick from. We love these plates from Horchow because they mix traditional with a summer vibe to it. They're also made of bamboo, which makes them shatter resistant.
If your decor of you outdoor space is all set and you'd like a little more greenery, check out our herb gardening tips. You can have yourself a cute little herb garden in no time!
Enjoy this already beautiful spring season!