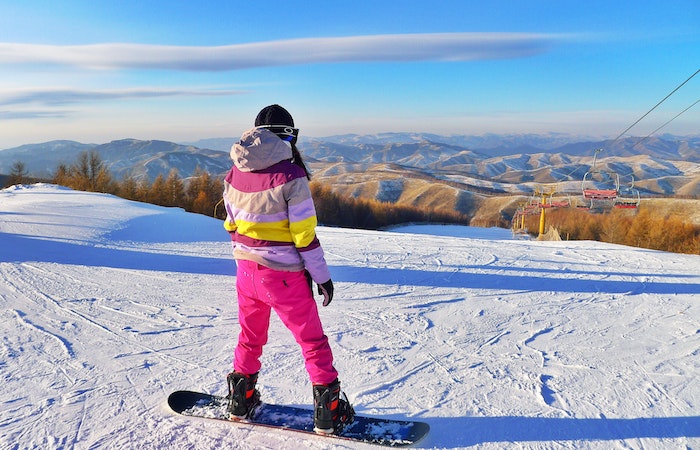 We hope you love the products we recommend! Just so you know, Trendy Mami may collect a share of sales or other compensation from the links on this page.
If you love adventure, one of your favorite vacations may be skiing. Hitting the vast white slopes, gazing across wide open blue skies, and then chilling out at your lodge or chalet is satisfying in a way most vacations aren't. But you should be able to do all this in style, which is why ski outfits for women are so important.
When we first go skiing, we're usually just worried about staying upright. By the second time, we're hooked and ready to look as good as everyone else out there racing down the slopes. Skiing is certainly a fashionable sport! 
Whether skiing or snowboarding is your thing, here are some of the best ski outfits for women that combine style with practicality. 
5 Best Ski Outfits for Women 
1. Jacket and Matching Pants
Probably the most classic ski outfit is a women's ski outfit set that includes a jacket with matching pants, and the good news is that there are plenty of women's ski outfit sets out there that will give you instant style on the slopes. 
Stand out in the crowd with this stylish printed puffer and matching printed ski pants from FP Movement. Fully insulated and water resistant, they pair well with all important base layers. This ski outfit set will keep you warm and stylish even when the sun isn't shining.
Don't forget your ski goggles, which will keep you protected! We like these Smith ski goggles available at Nordstrom. There are many out there to choose from, depending on your style preference and lens needs.
2. Patterned Bib Pants with a Solid-Color Jacket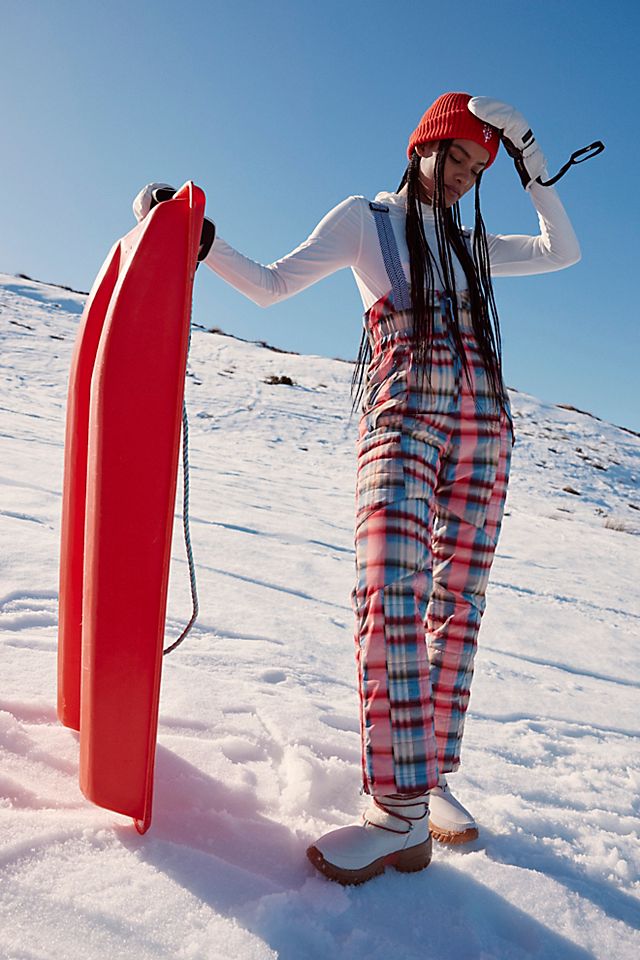 If you want pants that you can be sure will stay secure throughout your day on the slopes, this printed bib from Free People will keep you covered. With a high, fitted waist and elastic suspender straps, these pants will make sure you are ready for anything that comes your way. 
Pair with ski goggles and a long-sleeve layer to ensure you are protected against the cold, and a solid-color jacket like this Black All Prepped Ski Jacket to prevent your outfit from looking too busy. 
3. Instant Style Ski Suit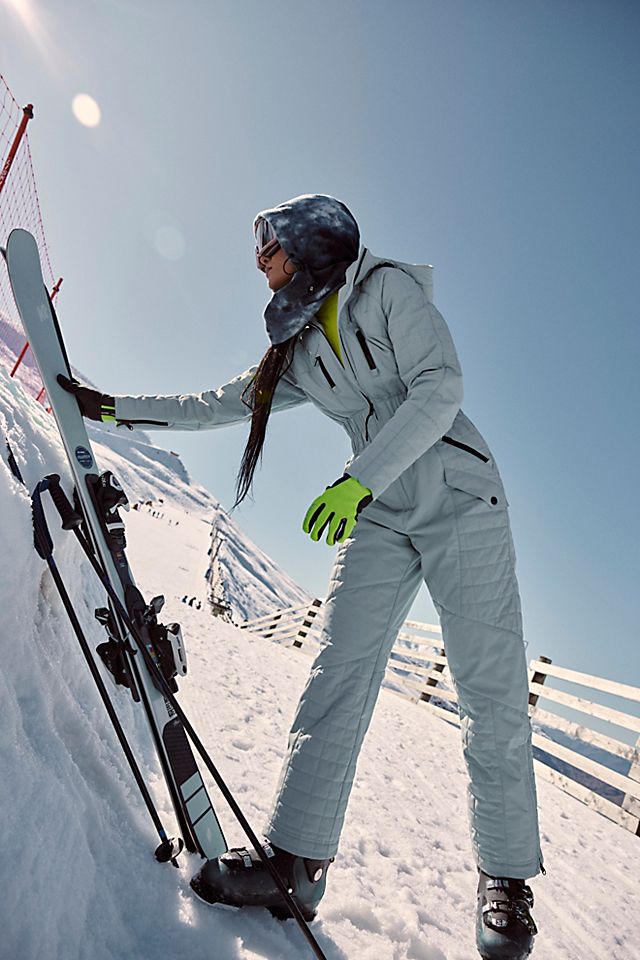 Prefer to keep things simple? If you want to look stylish and stay warm this All Prepped Ski Suit is an absolute must for your trip. With a cinched waist, it will keep draughts out and give you a feminine shape. This helps you avoid that Michelin Man look that can come with puffer jackets! 
Again, don't forget your base layers and goggles. That way, you will be ready for a whole day out on the slopes! 
4. Après Ski Style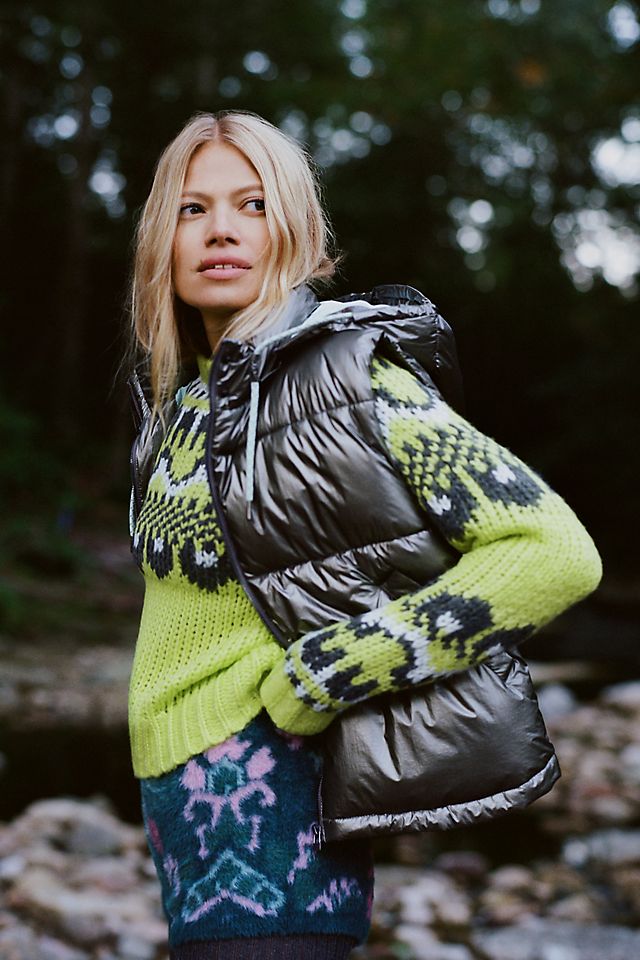 If après ski is more your scene, this John + Jenn Fairisle sweater or this fleece jacket at Anthropologie is great. Pair it with these Rossignol ski pants, available at Nordstrom. That way, you'll have the perfect ski outfit to ensure that you stay warm and comfortable. Add a beanie or earmuffs to finish off your outfit. Then, add some extra warmth as you travel between lodges or go into town. 
5. Cozy Lodge Vibes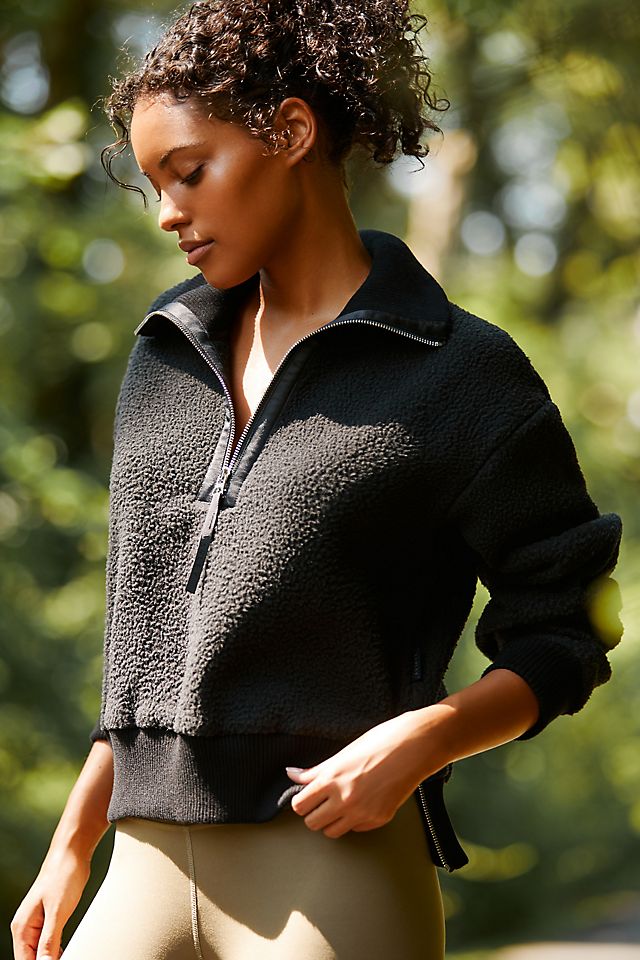 For those days when you just want to relax in your ski lodge or chalet, you will need an outfit that will keep you warm and comfortable. Grab this cozy fleece from Anthropologie with a pair of leggings or sweatpants and a pair of super thick, warm socks like these, and don't forget your hot cocoa!
It's Time to Hit the Slopes!
Your ski outfits need to be practical, but you'll find most ski outfits for women also allow you to stay stylish, too! So, make sure you take enough outfits that you won't have to wear clothes again if you've sweat through them, which is inevitable if the sun is warm and you're hitting the slopes hard. 
So, what about going beyond ski outfits for women as you travel? See our 11 Outfit Ideas for What to Wear on a Flight and our top pick of Winter Boots Women Love for some great ideas for footwear to take with you.