We hope you love the products we recommend! Just so you know, Trendy Mami may collect a share of sales or other compensations from the links on this page.
–
You can never own too many knee-high cowboy boots for women! These miracles of shoes are perfect for when the weather starts getting a bit more chilly, as they add an extra layer of warmth. 
But apart from functionality, they're just hard to resist since they make every outfit effortlessly chic. This fashion trend tends to come back so often that you're likely to have already a pair of western knee-high boots organized in your closet. Or perhaps you've always had a love for western flair. Whatever the case, we've started noticing more and more people pulling their knee-high cowboy boots out of their closets, and the outfits make us swoon.
So as we're approaching the heart of autumn, western knee-high boots are a staple that can turn simple outfits into bold and exciting pieces. In this article, we'll explore the most stylish western knee-high boots to help you pick the best one for this fall. Let's dive in!
Top 5 Knee-high Cowboy Boots for Women
We're kicking off our list with a strong pair of western knee-high boots in beige or black that pretty much goes with every outfit. Decorative stitching graces the supple suede above a timeless almond-toe western boot. Wear them with long denim shorts, a t-shirt, and an oversized blazer for a modern, relaxed look. This edgy, on-trend footwear gives a bold voice to versatile basics and is perfect for everyday use. The 2 1/4″ heel makes it easy to walk in the boots all day while feeling stylish.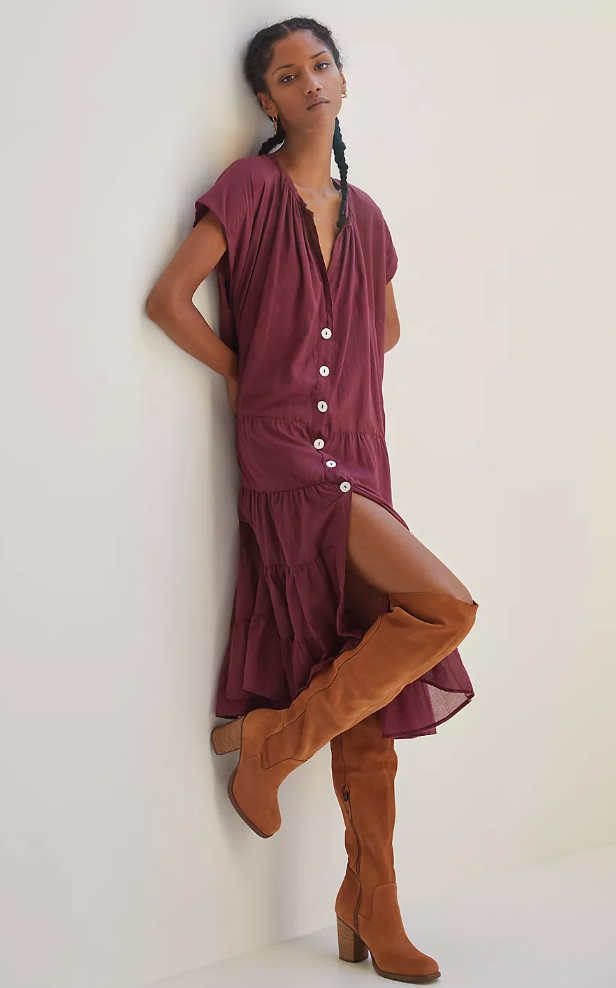 Dresses and knee-high cowboy boots for women are a match made in chic western heaven! There's something magical about pairing a hyper-feminine dress with rustic cowboy boots. Especially if you can find a dress with dramatic puff sleeves to contrast with the boots. Mini dresses also work wonders, as you get to show more of these amazing legs. 
However, keep in mind that cowboy boots are unique pieces and should be worn with clothes that complement their aesthetics. Instead, wear your Kelsi Dagger Brooklyn boots with airy, girly, and minimal dresses to match the vibe.
Master the lug sole trend with the 5050 KNEE-HIGH LUG BOOT, a to-the-knee take on our iconic back-stretch 5050 boot. This boot from Stuart Weitzman defines timeless, minimalist design embodies fashion and function: It features our signature microstretch back for a flawless and comfortable fit, and its lightweight lug sole instantly infuses modern edge into any look.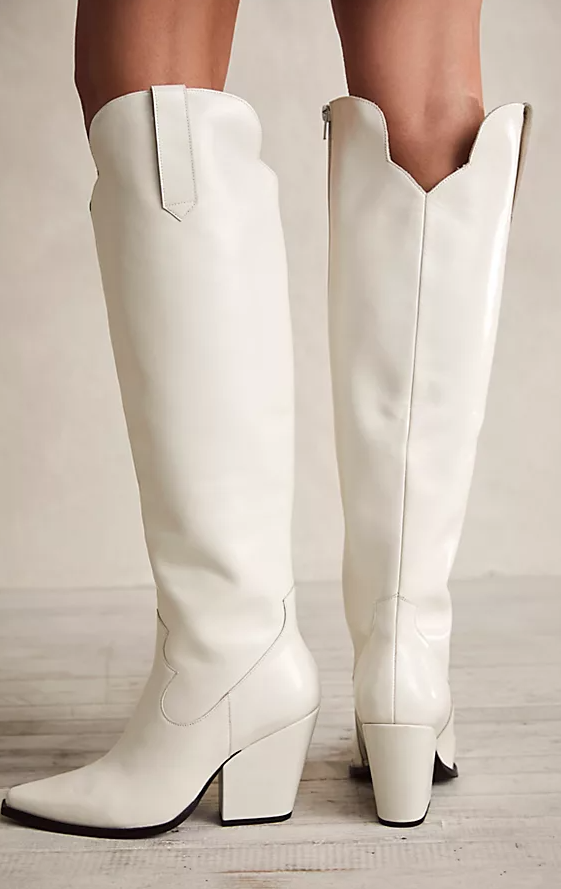 White knee-high cowboy boots for women are true statement pieces that we never get tired of recommending. Especially these sleek, western-inspired beauties from Free People are to die for. Pair them with a long denim skirt and a small tank top, and you'll indeed have an outfit that'll last from morning to night. Because the outfit is effortless, the boots add an extra flare of boldness that draw all eyes to you. The pull-on style over-the-knee silhouette with a bold block heel and pointed toe makes us drool over these boots!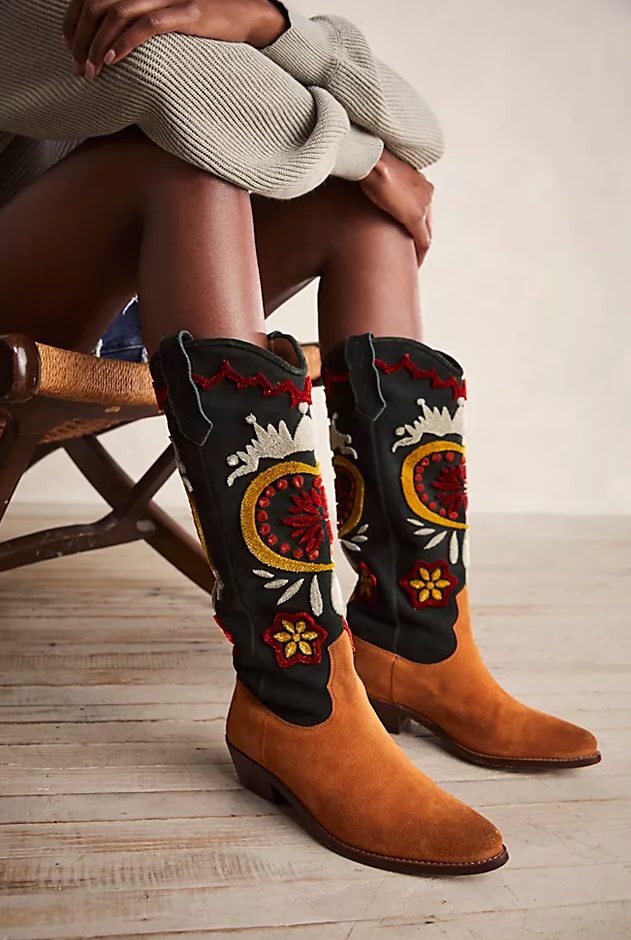 If you're looking for boldness with a touch of creativity, this gorgeous western-inspired pair with embroidered details will wow you. Their relaxed, pull-on fit and soft leather material make them ideal for special occasions. You can pair them with your favorite cold weather sweater and denim jeans, and you're ready to go. Just make sure that the rest of your outfit is minimal since these beauties are not to be overshadowed. One thing we can guarantee: you're bound to get some compliments!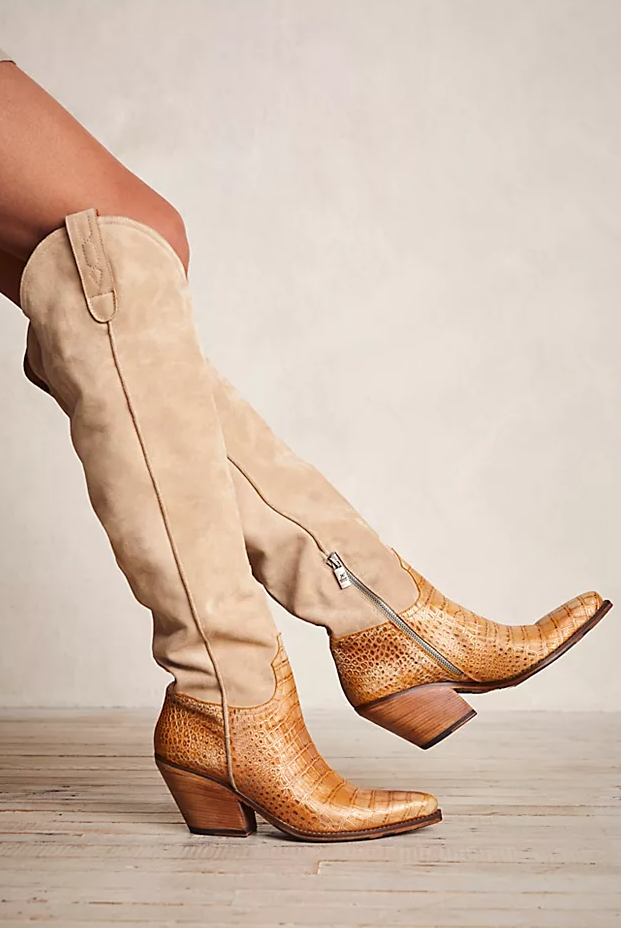 We know that sometimes styling your favorite knee-high cowboy boots for women without looking like Daisy Duke is tricky. But with these Midnight Magic Over-the-Knee Western Boots, curating the perfect look will feel like a breeze. They go well with animal prints, patterned coats or bags, and solid-hue dresses. Their stunning, striking silhouette will give your outfits the va-va-voom element you hoped for. Additionally, their relaxed fit with python leather, soft suede shaft, and eye-catching pointed toe will add the perfect western touch to your wardrobe.
Have You Picked Your Western Knee-High Boots Yet?
Knee-high cowboy boots for women are bold pieces that allow room to have fun with your clothing. They can be used as your go-to pieces or statement favorites, even if that means tucking denim into cowboy boots and topping them with animal print coats. In any case, western footwear has been steadily on the rise in this fall's fashion trends. So make sure to jump on the trend and invest in classic pieces that'll last for years.