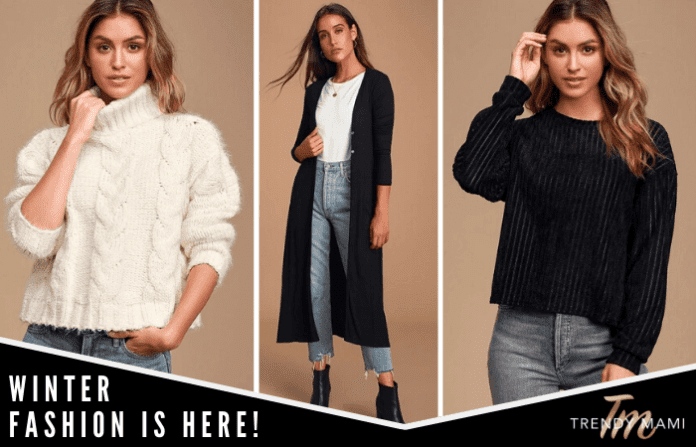 We hope you love the products we recommend! Just so you know, Trendy Mami may collect a share of sales or other compensation from the links on this page.
Just because it's getting colder outside doesn't mean you can't have as much fun getting dressed as you did throughout the warm summer months. While we love our maxi's and sundresses that get us through summer, there are plenty of killer winter outfits that shield us from the cold winter air. From coats, to sweaters, to boots, winter wardrobes really are the best. Plus, a season of layering means you get to wear more of your favorite pieces all at once. Check out our top picks of gorgeous winter sweaters and jackets that'll give you a winter wardrobe to die for! We've also included some hats and scarves that look great with these winter items. Your winter wardrobe inspo awaits…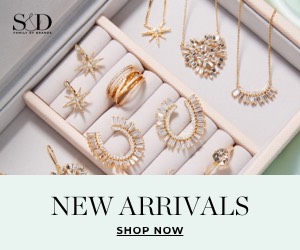 Also, if you're planning to hit the slopes this winter be sure to check out Christy Sports for some more winter fashion or gear!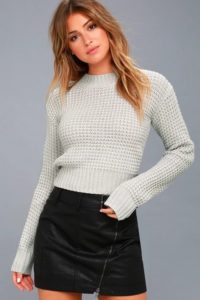 This medium-weight cropped knit top has a round neckline, long sleeves, and a wide-cut. With ribbed detailing on the cuffs, neckline, and hem. Throw this on with some high-waisted black jeans, cute little booties, and add a pop of color with  a Multi Plaid Oversized Scarf. There you have it, one cozy, killer winter outfit for number one. Perfect for going out for coffee with a girlfriend, or even a chilly date night out on the town. You decide.
If the weather doesn't allow for a skirt, check out Spanx for some dressy pants that are sure to fit this outfit!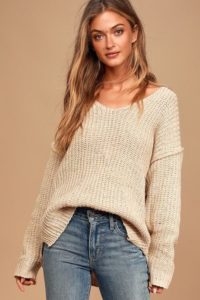 This sexy oversized V-neck sweater shows off the perfect amount of skin for the cold winter weather. You'll look totally tantalizing, whilst still being cozy and warm! Perfect winter sweater for your wardrobe? We think so. We also think this Cat Out of The Bag Brown Leopard Print Scarf would look amazing with this sweater. If you're feeling a little chilly.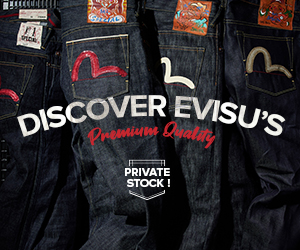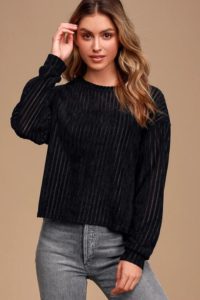 This sweater top is a cold-weather essential! Soft stripes of chenille and sheer knit make up this cozy sweater with a rounded neckline, long sleeves with banded cuffs, and a relaxed boxy bodice. Layer this sweater top over a lace bralette or basic cami and pair with high-waisted jeans for a perfect put-together winter look. Oh, and you can't forget this gorgeous Tip Top Black Corduroy Baker Boy Cap to go with!
And if you're planning on being in the snow this winter, make sure you check out Buckman's for all types of different heavy duty winter-wear.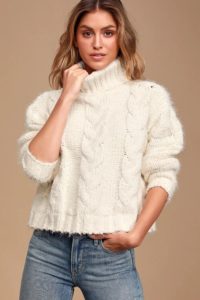 This is a sweater for the ultra-chic and sophisticated. Pair this chunky turtleneck sweater with denim and ankle booties for an adorable winter outfit! Super soft and chunky eyelash knit with a cable knit design shapes a turtleneck, drop shoulders, and long sleeves. Relaxed-fit pullover silhouette is finished with a slightly cropped hem, perfect to pair with high-waisted bottoms. You can also throw on a Got a Feeling Black Fedora Hat or a Kimono by Johnny Was for an even more sophisticated look.
And check out Bloomingdale's for tons of women's clothing's, shoes, accessories, jewelry and more!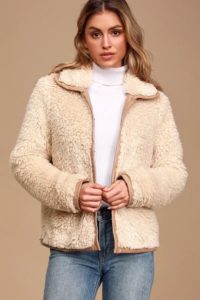 Keep warm and cozy on the coldest of days in this cream faux-fur jacket! Soft faux sherpa embodies this adorable jacket with a collared neckline, long sleeves, and a boxy silhouette with hidden clasp closure down the front and twin welt pockets. Tan vegan leather trim lines the collar, cuffs, bodice, and hem. Throw this over an adorable ribbed sweater and some high-waisted jeans with booties, with a Genevieve Black and Beige Polka Dot Scarf. Hello queen!
If you're also looking for a fashion retailer that has clothes for all sizes and shapes, definitely check out Universal Standard.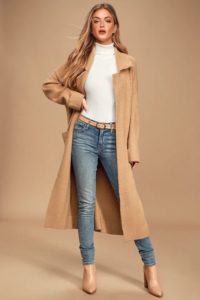 Stay chic no matter the weather with this gorgeous tan coatigan! Soft and stretchy medium-weight knit shapes this trench coat inspired cardigan that has a wide notched collar, long sleeves with drop shoulders, open front bodice, and front patch pockets. Tying waist sash and banded detail at the cuffs and hem add an extra level of class! Wear this cozy coatigan with vegan leather pants, a chic ankle bootie and a Audrey II Brown Plaid Beret for the ultimate classy look!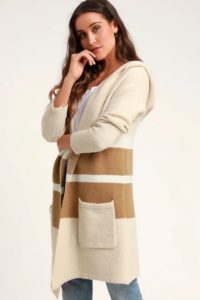 No matter what winter adventure you're going on this Carlsbad Tan and Beige Hooded Cardigan Sweater will keep you nice and cozy! It's a comfortable knit in a beige, ivory, and tan striped pattern that has long sleeves and an open front, complete with front pockets, and an oversized hood. Wearing this sweater with the Chic Finesse Black Studded Wool Boater Hat would make the cutest winter outfit!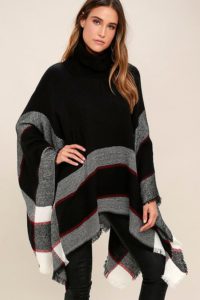 This is the perfect poncho to take out for a spin on a chilly winter day! Soft acrylic fabric, with a red, white, and black plaid print, will keep you nice and toasty as it falls from a slouchy turtleneck into a wide-cut bodice with a handkerchief hem. Pair this poncho with high-waisted jeans, thigh-high boots and this gorgeous Wilinda Burgundy Felt Hat for the hottest winter look!
Check out Spanx for cute leggings to go with this outfit!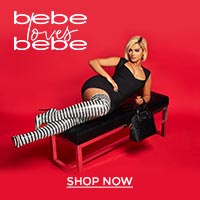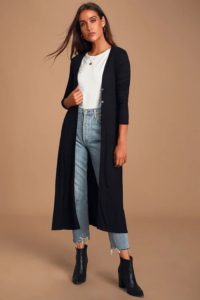 This gorgeous long and flowy sweater will give every movement you make grace, beauty and style! Ribbed knit shapes this lightweight cardigan with a long, button-up bodice and front patch pockets. Pair this sweater with booties, boyfriend jeans, a basic tee and this cute little Annalise Multi Colorblock Pom Pom Beanie for your next casual day out, fighting the cold weather.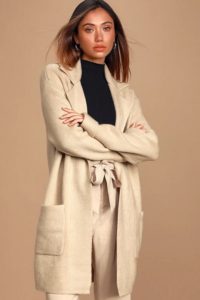 Throw this lush cardigan sweater over any outfit for a cozy upgrade and ultimate sophistication! A collared neckline and long lapels lead into a long, open front bodice, with twin patch pockets and cuffed long sleeves, all made from soft, medium-weight wool-blend knit fabric. This cardigan sweater will have you feeling like a Kardashian, that's for sure.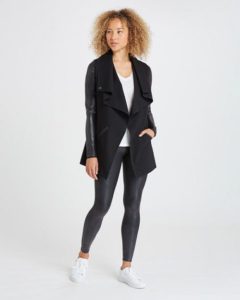 This drape front jacket will be the perfect winter essential for you this year! There's no point hanging it in your closet, because you will be wanting to wear this bad boy every second of the cold winter season. It's the ultimate throw-on-and-go companion. Looks like you've found your new best friend.

We hope you enjoyed reading our article on these gorgeous winter sweaters and jackets for the perfect winter wardrobe and that these Lulu's goodies make an appearance in your closet this cold season! Don't forget to also check out some of our other articles, we have more outfits for the Fall season, Christmas outfits. We don't only just have outfit ideas, but we also have food and dessert articles and even a few game articles you should check out!