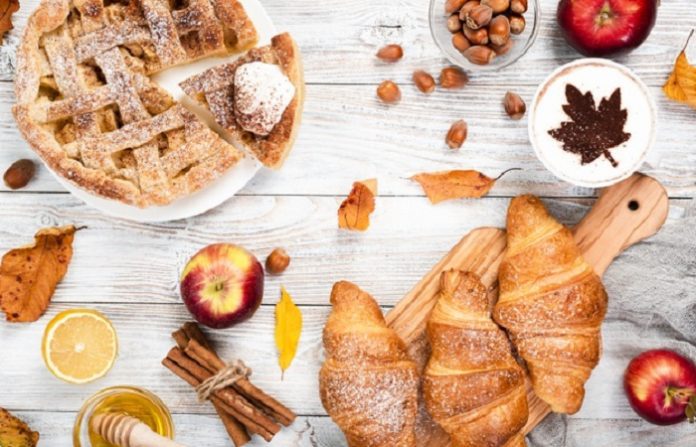 We hope you love the products we recommend! Just so you know, Trendy Mami may collect a share of sales or other compensation from the links on this page.
With fall in full swing, that means you'll be drinking a lot more pumpkin spice lattes, living in your cozy sweaters and showing off those booties you've been dying to wear all year! And let's not forget about the mouthwatering desserts! We love our spicy, sweet and pumpkin-y treats to go with our coffee in the mornings. We've rounded up all of our favorite fall desserts (12 in fact!) so you don't have to go hunting for them! We hope you try and enjoy each and every one of these fall dessert recipes.
1. Pumpkin Crunch Cake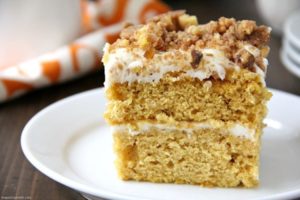 This pumpkin crunch cake is the perfect fall dessert for a party or holidays, as it will feed a whole crowd! This easy homemade layered pumpkin cake recipe has a tasty cream cheese frosting and a crunchy topping. So, if you like your sweet and pumpkin-y treats with a little crunch, this is the perfect fall dessert for you! You can find the recipe here at Snappy Gourmet.
Or even a Pumpkin Almond Cake! Yum, Check out recipe here!
2. Vegan Apple Crumble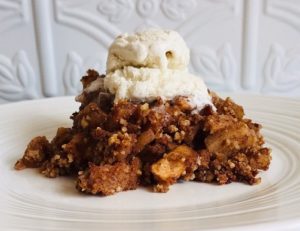 Vegans, gather around for the best apple crumble you have ever tasted! This vegan apple crumble recipe makes for a cozy fall dessert. To make it even tastier, it's recommended with a scoop of vegan vanilla bean ice cream. As if this dessert couldn't get any better, it's also gluten free! You can find the recipe here at A Sweet Alternative.
3. Vegan Pumpkin Pudding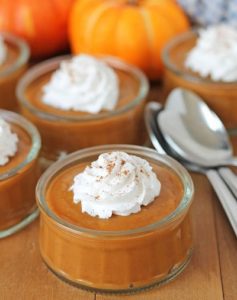 This delicious dairy free pumpkin pudding will make everyone happy (yes, even the non-vegans) and satisfied at the end of a fall or holiday meal. What's great about this dessert is that you can whip it up in 10 minutes (plus some chilling time) and you only need 6 simple ingredients to make it! Pumpkin pudding, we're ready for you. Find it here at Delightful Adventures.
4. Pumpkin Cheesecake Bars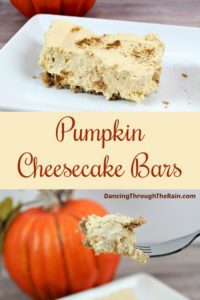 The first think that comes to mind when you think of pumpkins is probably autumn and Halloween. However, you can bake with pumpkin all year long! Trust us, you'll want these pumpkin cheesecake bars all year round, they're that delicious. These are ideal for a party as you can make large batches easily. Get the recipe here at Dancing Through The Rain.
5. Autumn Leaf Apple Pie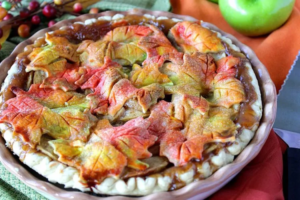 This aesthetically-pleasing colorful autumn leaves apple pie may look like it's difficult to make, however with a few simple tips and tricks, you can master this adorable (and delicious) easy pie crust design! Since this fall dessert recipe takes advantage of store-bought pie dough and requires no painting or artistic ability (honestly), anyone will be successful at baking this autumn leaves apple pie! Get the recipe here at Kudos Kitchen by Renee.
6. Apple Walnut Cake with Honey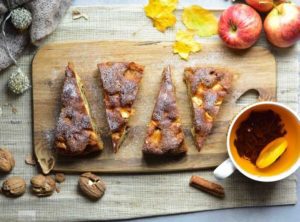 This fall-festive apple walnut cake is perfect for your afternoon tea time. It's fluffy, super moist and loaded with apples, nuts, and cinnamon. It's also simple and quick to make. Thanks to the helpful ingredients, this cake will stay moist – even on the second and third day! Get the recipe here at Everyday Delicious.
7. Pumpkin Cake Roll with Orange Cream Cheese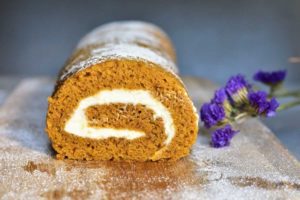 The recipe for this very popular pumpkin roll cake is pretty much the same on every website. But, don't be fooled, it's been modified to taste – with added orange zest and gingerbread spice to the dough. This makes for a cozy and creamy fall dessert! Find the recipe here at Everyday Delicious.
8. Pumpkin Cupcakes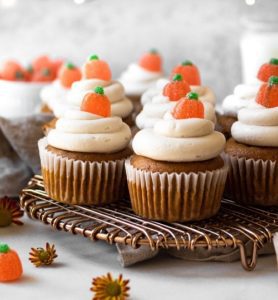 These healthy pumpkin cupcakes are possibly the cutest fall dessert we've ever seen and would be great for a holiday party or gathering! They are full of warm spices and sweetness and topped with a vegan cream cheese frosting that is absolutely to die for. Find the recipe here at The Banana Diaries.
9. Pumpkin Brownies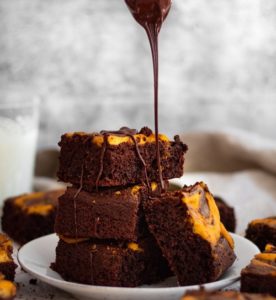 The ultra-rich and festive pumpkin brownies, swirled with a vegan pumpkin cheesecake for the ultimate pumpkin dessert! You'd never know these healthy brownies are paleo and lower in sugar, they are that tasty! Find the recipe here at The Banana Diaries.
10. Vegan Carrot Cake Cupcakes
These vegan and gluten free carrot cake cupcakes with dairy-free cream cheese frosting are an amazing fall dessert. They're equally delicious, easier than making a layer cake, and a healthy vegan treat! Find the recipe here at Crowded Kitchen.
11. Caramel Apple Pie Bars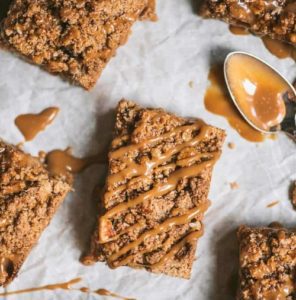 These tasty caramel apple pie bars are gluten free, vegan, and absolutely decadent! They're such a delicious fall treat. It's recommended to eat these bad boys with a huge scoop of vanilla ice cream and some coffee! Get the recipe here at Crowded Kitchen.
12. Gluten Free Eggnog Pie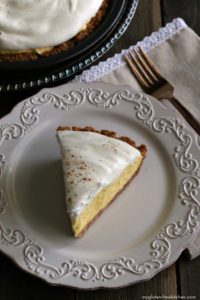 If you're looking for a unique, creamy pie to add to your holiday dinners or parties, this is it! This gluten-free eggnog pie is a creamy, flavorful dessert that eggnog lovers will go crazy over! Get the recipe here at My Gluten-Free Kitchen.
We hope you enjoyed our article on these 12 mouthwatering fall dessert recipes! Keep this article handy for the next time that you have a hankering for a festive treat or your next holiday party so that you can easily whip up one of these delicious fall-inspired desserts. And if you would like even more fall recipes, we have a few aswell!
Check out a classic pumpkin pie recipe here, or even a ginger bread cake recipes here, and lastly, a yummy light cheesecake recipe here!
And once you have your dessert figured out, give our holiday appetizers, turkey recipe, gravy recipe and even the mashed potato recipe a look! You will thank us!