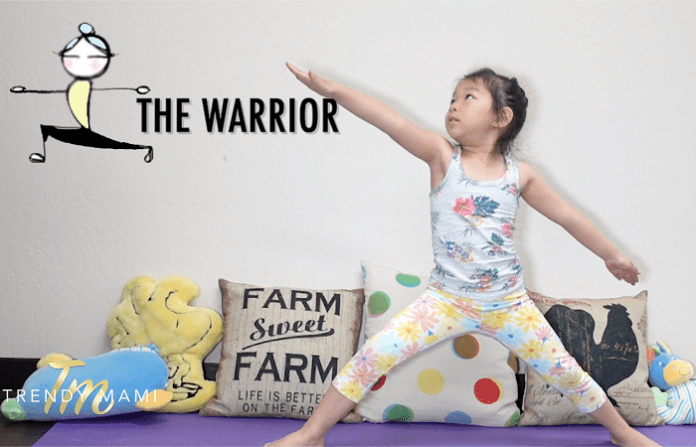 We hope you love the products we recommend! Just so you know, Trendy Mami may collect a share of sales or other compensation from the links on this page.
There are a billion-and-one articles out in cyberspace that explain how yoga is beneficial to adults. But have you ever stopped to wonder why it's something that you should get your kids involved in too? Aside from how it can lower stress levels, teach balance and benefit their posture (just like it does for us), yoga also helps children with developing a healthy sense of body awareness, while building their level of concentration, giving them a positive self-image and (yay!) helping them to learn the art of being still.
If all of this has suddenly inspired you to turn your son or daughter into a yogi, but cash is tight, there are some poses—and videos like the one we are featuring in this story—that can introduce your little one to some of the most popular yoga exercises around.
On a side note, if you're looking for great yoga poses to learn, be sure to also check out Yoga Download! They even have an app for all their yoga classes that your can stream or download straight on your device!
If you are looking to learn more yoga poses, go on over to Yoga Class Plan, they have amazing yoga classes you can follow or create yourself right from your home. Yoga Class Plan offers 400 pose illustrations and access over 6000 shared class plans! Oh and they even have a free 14-day trial, so there is not risk in trying them out!
Things Your Yoga Child Needs:
I would personally recommend checking out Fabkids for all the yoga gear above! They have a wide selection of high quality products and clothing that my kids love. My kids use them more than any other clothes in their closet as they love to play outdoors and run around all day and the Fabkids clothes let them do just that!
If you're looking for more advanced gear for your kids or even yourself, check out Gaiam! They have a variety of things, you are sure to find just want you need!
Let's begin with the following eight (make sure that they hold each pose for 30 seconds; a minute if they can!):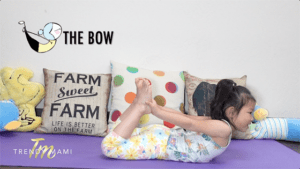 The Bow (Dhanurasana)
The bow is the kind of yoga position that everyone should try to master because it strengthens the entire body, stretches back muscles and stimulates the neck and abdomen. It also improves one's posture over time. To achieve this pose, all your child needs to do is get on their stomach, bend their legs and use their arms to grab a hold of their ankles (chances are, they've been doing this for a while now and simply didn't know what to call it!).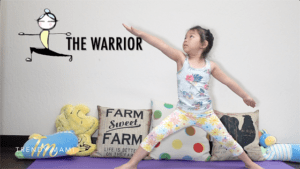 The Warrior (Virabhadra II)
Basically, the warrior position is all about increasing stamina. To get into this particular kind of warrior pose (there is more than one kind), your son or daughter needs to firmly stand, with their legs spread apart, then leaning to one side…then the other. Their arms need to be stretched out on both of their sides with their palms facing down and you will nail this yoga pose.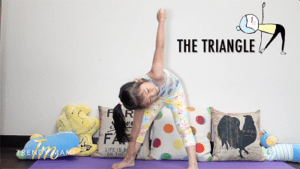 The Triangle (Trikonasana)
There are a ton of health positions that come with the triangle position. It strengthens their thighs, knees and ankles; it stretches their entire body; it improves their digestion and it also relieves any anxiety that they might have—and that's just for starters! Getting into this position is all about your child standing, with their legs spread apart and them leaning, first to their left side with their left hand placed firmly on the floor behind their leg, holding that pose for as long as they can, and then switching over to the other.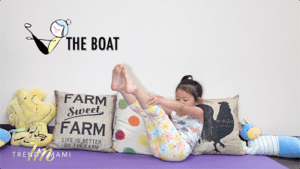 The Boat (Paripurna Navasana)
It's not like kids are sitting around worrying about what they should do in order to have stronger abs, but strengthening that area matters, even for them. Why? Because it can help to prevent bodily injury as they get older. It can also help them to breathe easier too. To achieve this pose, all they need to do is sit on the floor, with their legs fully extended in front of them. Their tailbone will be what helps them to maintain their balance.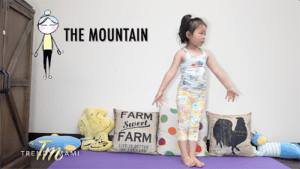 The Mountain (Tadasana)
Definitely, as the "grandfather" of all poses, there isn't too much to the mountain position. This yoga pose is simply all about just standing still, making sure that your child's back is as straight as possible. It gives them great posture and good balance when they do this.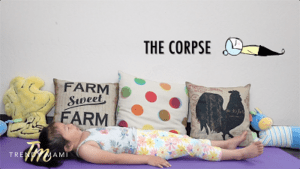 The Corpse (Savasana)
The name sounds pretty creepy, we know. But don't let the corpse position spook you. It's called this because it's all about getting your child to lie as still as possible (a feat that is a challenge even for us big people!). There's not much to it; just laying on the floor with their palms facing upwards. Deep breathing while in this pose is good for the respiratory system. It calms and relaxes children too.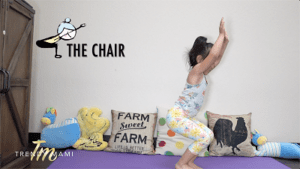 The Chair (Utkatasana)
You can tell, just by looking at this chair position, that it's really good at strengthening your child's arms and legs. But what might surprise you is that it's also great at stimulating their diaphragm and heart as well. The easiest way to describe this pose is your son or daughter should squat and then straighten their arms with palms touching. Then they should extend both arms out in front of them.
The Unicorn
Whenever your child gets into the unicorn position, it does wonders for their hip flexors and shoulders. If you want to ensure that they develop good posture and a great sense of balance, this is the kind of position that will definitely do it. It consists of them kneeling on one knee, slightly moving forward, putting both hands together and pointing towards the sky. The end result is…you guess, it. A unicorn!
Looking for more yoga poses your kids can try out! Check out Amery do a few more for you!
Happy Yoga-ing!