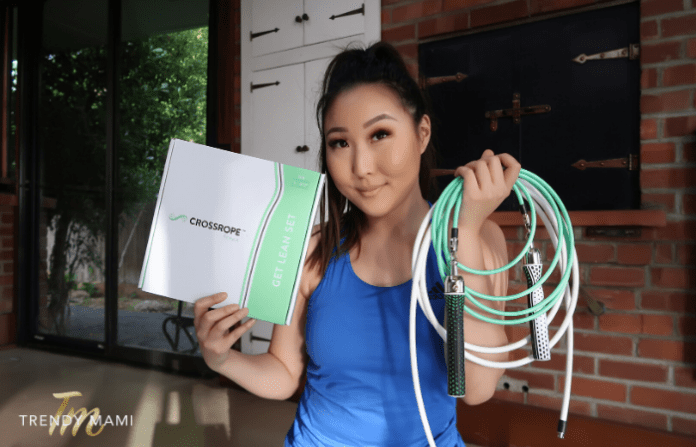 We hope you love the products we recommend! Just so you know, Trendy Mami may collect a share of sales or other compensation from the links on this page.
If you're looking for an effective workout you can do almost anywhere, jumping rope is the way to go! In fact, jumping rope does wonders for your body, it builds strength, endurance and improves your cardiovascular health and overall muscle tone.
Since gyms are still closed, We were looking to incorporate Crossrope Jump Ropes workouts into our routine. We did our own research online and found that Crossrope Jump Ropes are the best option for weighted jump ropes currently available, so we decided to have our Jinny put it to the test.
Keep reading for our Crossrope jump rope review, and be sure to tune in to our YouTube video for a fat-burning workout!
Our Crossrope Jump Rope Review
What We Liked About Our Crossrope Jump Rope's
Crossrope is not just your typical jump rope, as the ropes from Crossrope are weighted throughout the whole rope, rather than just the handles themselves. This allows you to get a full body workout since the weight of the ropes pushes your body to swing them over. Crossrope handles also have a 360-degree rotation, which allows for a smoother jumping experience. They also include metal clamps on each end of the rope for ease of switching from one weight to another.

Another great feature of our jump rope sets (Get Lean set and Get Strong set) came with a workout app that you can download onto your phone from the app store. The app features a number of different workouts from beginner to advanced that range from 15 to 30 minutes. Each exercise and rest is timed, so it's very easy to follow along with. And, best of all, the ropes are not one size fits all. Crossrope has sizes from S-XL based on your height, that way each person can have a seamless jumping experience. Lastly, if you run out of workouts and want to try new ones, you can find more great full body workouts on  Openfit.
The Quality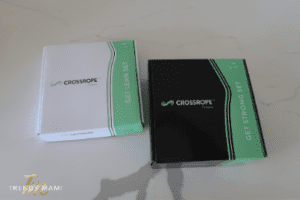 Let's go on and talk quality. We found that the products from Crossrope were high quality. The ropes are thick and durable with a sturdy coating that prevents them from tangling, unlike your traditional jump rope.
In addition, the handles don't feel cheap or plastic-like. Instead, they have a nice grip and weight to them. The rubberized grips prevent them from easily slipping out of your hands while jumping. The clamps on the handles where you switch out your ropes are metal and designed for an easy and quick change for your ropes. The handles have a nice width for a firm and comfortable grip throughout your workout.
How The Product Works
If you just take a second and think about it, your body works a lot harder trying to swing over a weighted rope compared to a light and flimsy rope. Make sense right! We agree! With a weighted rope, it engages more muscle groups in your body, resulting in a higher intensity workout. With more resistance from the weight, the more muscle engagement you will get. This means more calories you burn, the faster you will get results you are looking for. In addition, the weight of the ropes also helps your body find its balance so there are less trip-ups when jumping. If you decide to give Crossrope a try, you will easily physically feel your entire body engaging and working while jumping with a Crossrope. I know we sure did!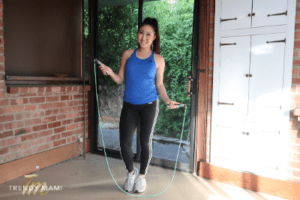 Above all, Crossrope has exceeded our expectations all around! If we had to pick an area for improvement, it would be that they could put more thought into the travel bag quality to match the quality of the rope. The bag is very thin and we can easily see the material tearing after just a few uses. In which we can say would probably be due to the weight of the ropes.
Our Final Thoughts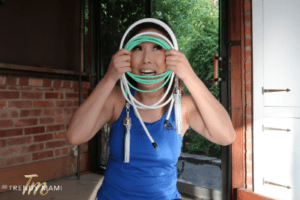 At first, the price for these ropes felt a little steep, as we didn't understand what difference a weighted rope would make to a workout. But, after our Crossrope review we definitely love jump ropes! Let's be real, not just regular ropes, but perfectly weighted ropes!

After using these Crossrope Jump Ropes, we found that they were very efficient in burning more calories in a shorter amount of time. The ropes are super easy to change between light and heavy, especially during interval training where you have short rest periods. Crossrope has two different jump rope sets available based on your fitness goals. The "Get Lean" set gears more towards burning fat, boosting cardio, and building lean muscle. The "Get Strong" set helps you target more muscle groups and build strength since the ropes are heavier.
We also found that the workouts in the Crossrope's app surprisingly incorporated other exercises like squats, planks and pushups, which changes things up and makes your workout more challenging! Overall, our CrossRope review is great!
In addition, if you are looking for other workout products that will engage all your muscle groups and help burn more calories in a short amount of time like Crossrope does, check out Hydrow. Hydrow is a great product as it engages 86% of your muscles and burns up to 400 calories in a 20 minute workout. Hydrow is also great if you enjoy working out at home.
Effectiveness Of The Products
The day after our Crossrope's workout, our upper body and calves were fairly sore. It really feels like you are working out your entire body and we can surely attest to that! The weight on the ropes really do make a huge difference. After completing an exercise in the app, it gives you an estimate of how many calories you burned. The workouts definitely help you get your heart rate up due to high intensity training, resulting in fat burn.
We hope you enjoyed our Crossrope jump rope review and workout. If you are looking to work towards a healthier lifestyle, be sure to try this slow burn workout for a simple at home fat burning workout! As well as, our Noom review if you are looking to improve your overall health and perhaps loose some weight along the way!
Lastly, if you are looking for some other workouts you can do right from the comfort of your home, this best online yoga classes article is sure to have just what you are looking for! Oh, and let's not forget about looking good while working out at home! I know that's for sure a must for us, which is why are shop at places like Steep and Cheap, Adidas, Fabletics, or Columbia for our athletic gear needs. As well as ff you're looking for even more athletic wear to get your workouts started in, give Reebok a look! They have footware and appreal for just about any sport! All of which are great places to get your cute, yet high quality workout clothes at!