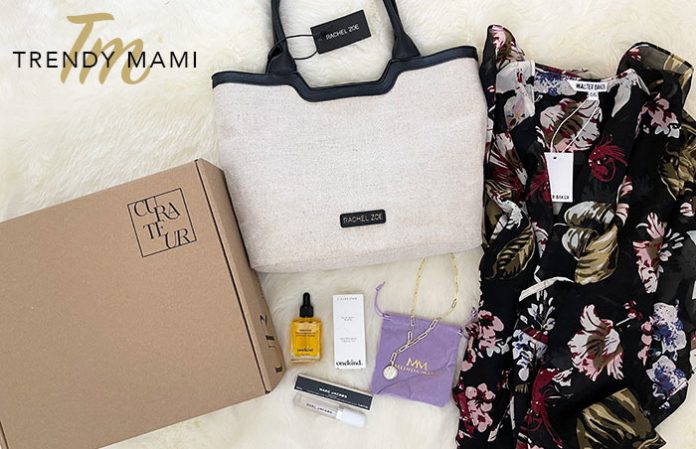 We hope you love the products we recommend! Just so you know, Trendy Mami may collect a share of sales or other compensation from the links on this page.
We decided to see for ourselves what all the buzz for the CURATEUR Summer Box was about, so here's our own CURATEUR review.
Subscription boxes have been flooding the market in the last few years, and for good reason. There's beauty boxes and beach clothing memberships and more, but some of these seem to lack something – the right eye for design. When you're looking to invest your money into a subscription box, you want to know that the right person is curating the items that will be sent to you.
To us, that's what makes CURATEUR stand out from the rest, and why we wanted to do a deep-dive CURATEUR review. CURATEUR is a luxury subscription box that contains the staples of luxe life (fashion, beauty and lifestyle) personally hand picked by the famous stylist and fashion designer Rachel Zoe, whose fashion brand is already greatly known. When you're looking for products that shout luxury, there's no better way to find them then by having a fashion designer send them straight to your door! If you're already interested, use the COUPON: SUMMER25 to save $25 off your first box!
For those of you who love the idea of a box but don't want to commit to a subscription, companies like Harry & David deliver food boxes with no strings attached. This is great if you just need a box for a special occasion like Father's Day, a holiday, or a birthday!
CURATEUR Review – Summer Box 2021
To get an idea of the contents of the box, we decided to take a look at the latest offering: the Summer 2021 Curation. Here's what we found in our box:
Curation Box:
Rachel Zoe Capri Tote

Walter Baker Tulum Caftan

Melinda Maria Star Lariat Necklace

Onekind Golden State Nourishing Facial Oil

Marc Jacobs Beauty Re(cover) Hydrating Coconut Lip Oil
Rachel Zoe Capri Tote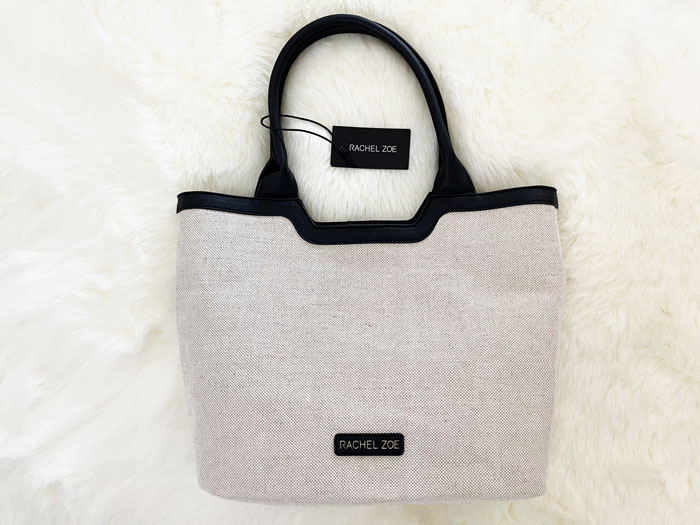 This capri tote comes directly from Rachel Zoe's brand, and is made of canvas fabric, with the trim and handles made with PU leather. The bag has a nice natural canvas look with a black trim, so it's fashionable for numerous occasions. The Rachel Zoe collection draws on vintage inspired fabrics, prints and silhouettes, and that definitely comes through in this tote bag's design. If you're fashion minded in all of your accessories, you'll certainly love this tote bag.
Retail price: $105
Melinda Maria Star Lariat Necklace
This is the accessory that will define your look. An 18k gold plated brass necklace with cubic zirconia stars, this gold necklace pairs nicely with many luxurious looks, but will not fail to present itself on its own. Designed in partnership with Rachel Zoe, this necklace comes from the collection of Melinda Maria, an up and coming LA-based jewelry designer. Her line is focused on making you feel luxurious and classy, yet sexy; and is done all at an affordable price. Her jewelry has been favored by numerous A-list celebrities, and was even featured on Oprah's favorite things.
Retail price: $120
Walter Baker Tulum Caftan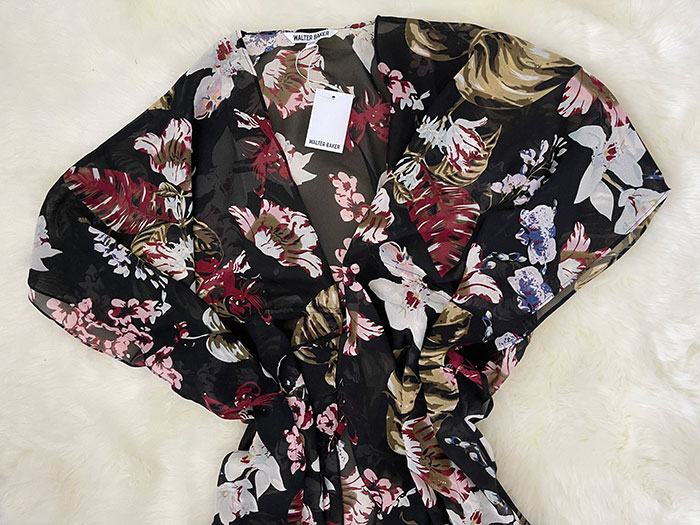 Lightweight with a beautiful tropical print, this caftan is a great piece for poolside excursions or beach-goings. Made of 100% polyester, this is a great option for a relaxing fit while still having a very luxe look. The designer is Walter Baker, who is very well known for his stunning evening dresses and trendy apparel. The brand is featured in major publications such as Vogue and InStyle, and has dressed major celebrities like Blake Lively and Kim Kardashian.
Retail price: $198
Onekind Golden State Nourishing Facial Oil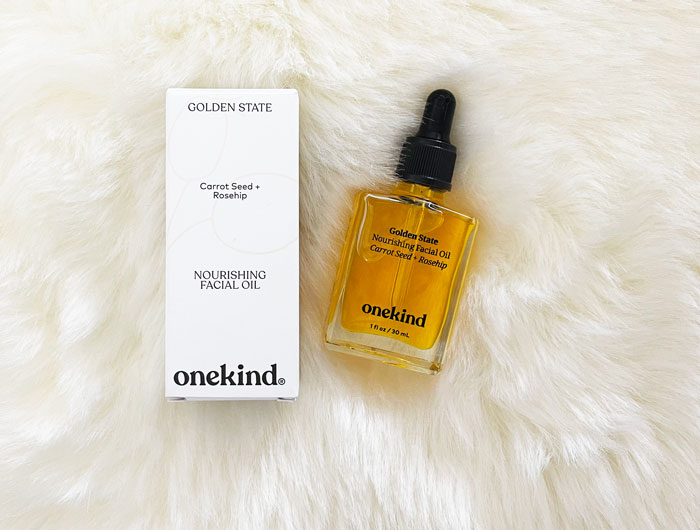 This facial oil works to repair and nourish your skin after a long day of sun-bathing. You can use it in the morning before using your standard SPF moisturizer, and at night after cleansing. Plant-based, and free of artificial colors, dyes and other nasty stuff, this nourishing oil delivers deep hydration and age fighting antioxidants to help keep your skin looking youthful and fresh.
Retail price: $45
Marc Jacobs Beauty Re(cover) Hydrating Coconut Lip Oil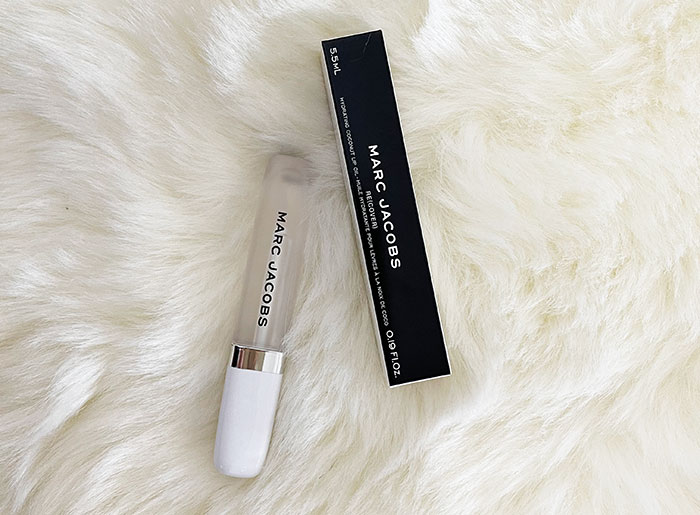 Keeping your lips hydrated during the summer is even more important, as the sun can easily damage your skin. This hydrating lip oil works to penetrate deep into your skin to create maximum hydration. The lip oil also provides a glossy look to make your lips look glamorous, smooth and full. It's also clinically proven to protect your lips instantly with all-day hydration.
Retail price: $29
CURATEUR Review of the Pricing
So all of these items scream luxury and ultra-fashionable, but how much will this all cost you? Looking at the contents of the box, the retail price of all of these items would add up to about $500, which is definitely not cheap. But here's why CURATEUR is such a good deal:
With the CURATEUR box, these items come out to a fraction of the cost of the retail price, almost an 80% savings for all of these items, and even more if you pay for the yearly membership!
So from our CURATEUR Review, does it seem worth it to try out a membership? If you're somebody that's looking for a little more luxury in their clothing, beauty and lifestyle products, CURATEUR is definitely made for you. Rachel Zoe's sharp mind for fashion and design ensures you'll be getting the best bang for your buck on a quarterly schedule throughout the year!
If you're looking for more fashion trends for your summer vacation make sure to read How to mix and Match Bikinis and the Best Beach Outfits for summer 2021.