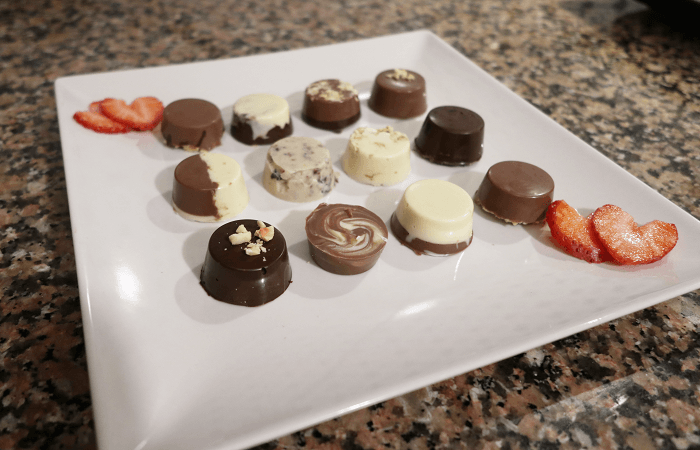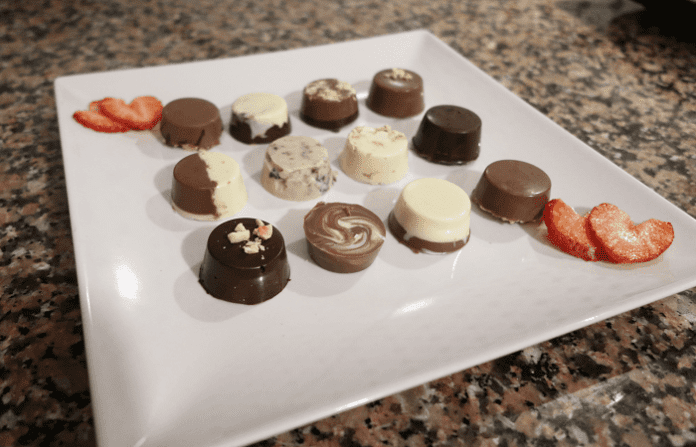 We hope you love the products we recommend! Just so you know, Trendy Mami may collect a share of sales or other compensation from the links on this page.
When it comes to Valentine's Day presents, chocolate reigns supreme, according to a 2017 Statista article. Instead of buying yet another heart-shaped box for your beloved, this year why not do something special and make him/her the sweet treats from scratch? Maybe some Valentine's chocolate bites? Trust us, it'll be more meaningful that way, and you can customize the goodies with their favorite types of chocolate and fillings.
It may sound intimidating to create your own chocolate candy, but with our help (and video!) you'll churn out a dozen little bites in no time.
Ingredients: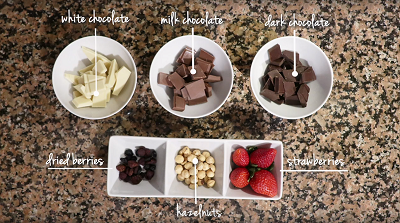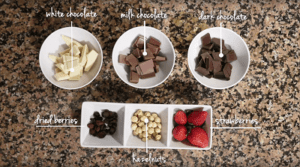 3.5 oz of white chocolate
3.5 oz milk chocolate
3.5 oz dark chocolate
2 strawberries
knob of butter
1 tbsp dried berries
2 tbsp chopped hazelnuts
2 whole hazelnuts
You can find all these ingredients at Target!
Instructions to Prepare Chocolates:


Melt the different kinds of chocolate individually, using either a microwave or double boiler. Stir with a spatula for even melting.
Tap the tray firmly on the counter surface to evenly distribute the chocolates in their molds.
Use a spatula or knife to smooth out the tops prior to refrigerating.
When they've hardened, carefully pop out the bites from the mold, and trim any excess chocolate.
Serve with slices of strawberries cut into heart shapes.
Two-Tone Chocolate Bites:
Take the double boiler and line one of the molds with a long strip of plastic wrap.
Shape a piece of aluminum foil into a half-circle that fits into the lined mold. Take the excess plastic wrap and fold over the aluminum foil to cover it. (Check out the video for more help!)
Spoon in milk chocolate next to the aluminum foil piece. Leave a little space at the top.
Carefully pound the tray on the counter surface to distribute evenly.
Refrigerate for 10 minutes.
When the chocolate has hardened, remove the foil/plastic wrap combo and add the white chocolate. Fill it all the way to the top. Again, carefully pound the tray.
Hazelnut Chocolate Bites (3 Ways):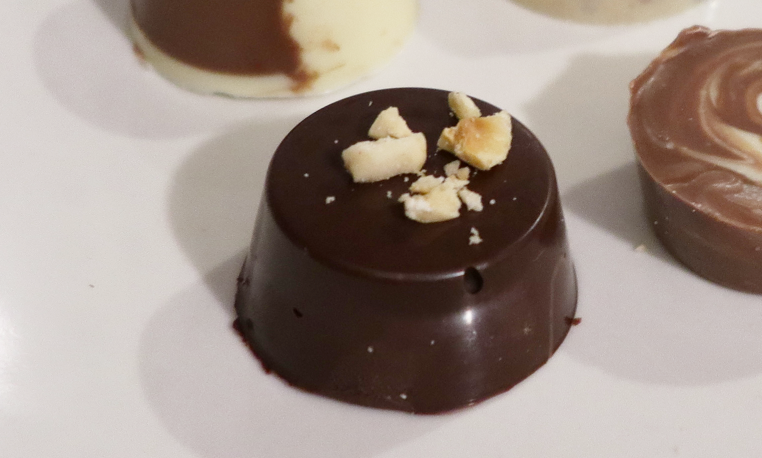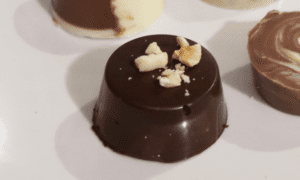 Line two of the molds with chopped hazelnuts. Fill one with milk chocolate, and the other with white chocolate.
Fill two other molds halfway, one with milk and the other with dark chocolate.
Put a single hazelnut in the middle then fill each mold to the top with more chocolate.
Fill up a mold with milk chocolate, then top with chopped hazelnuts.
Berry Flavored White Chocolate Bites:
Chop the dried berries and one of the strawberries. Mix with some white chocolate. Check out the video here for help!
Add the knob of butter as well.
Take the berry-white chocolate mixture and spoon in a mold. Fill to the top.
Marbleized Chocolate Bites: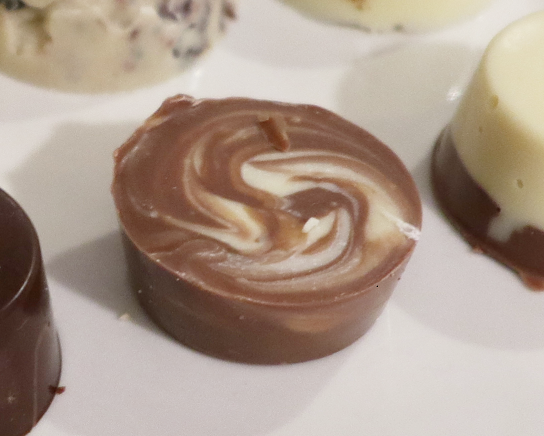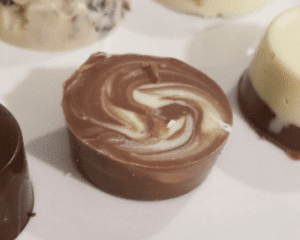 Fill two molds ¾ of the way, one with milk chocolate and the other with white chocolate.
Add a dollop of white chocolate to the milk chocolate and a dollop of dark chocolate to the white chocolate.
Use a toothpick to create a marble pattern.
Chocolate Bites with Berry and White Chocolate Filling:
Fill a mold ¾ with dark chocolate then put in the refrigerator for 10 minutes.
Add a dollop of the berry-white chocolate mixture. Cover the whole thing with more dark chocolate.
Two-Layered Chocolate Bites: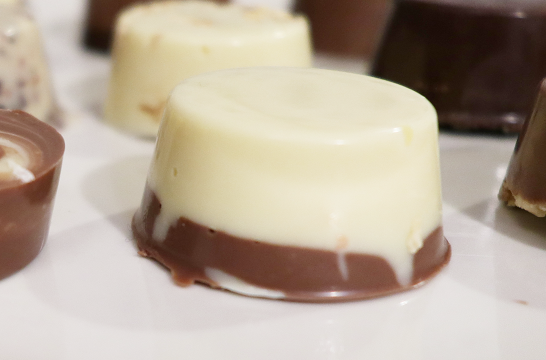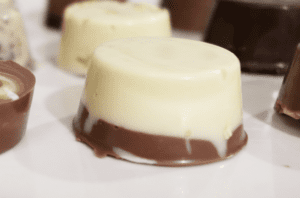 Fill a mold halfway with white chocolate then put in the refrigerator for 10 minutes.
Fill it the rest of the way with milk chocolate.
Alternatively, use milk and dark chocolate and top off with chopped hazelnuts.
And there you have it! Oh and don't forget to check out how to make this cocktail dessert in our video!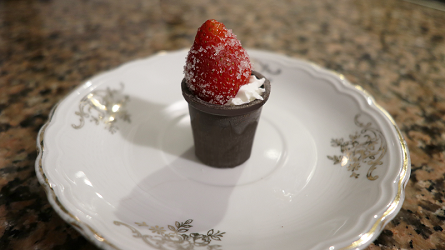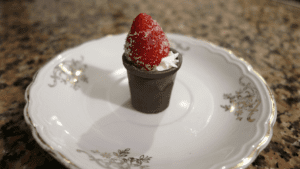 Tips:
Be sure to chop your chocolate into even pieces prior to ensure even melting.
Watch your chocolate closely to avoid burning. Stir frequently and use a low setting.
DO NOT ADD WATER! It will make the chocolate rough and gritty. Make sure all bowls, spatulas, and the mold tray are completely dry. Steam from the bain-marie will ruin the chocolate as well, so don't cover with a lid when melting.
To keep your bowls of chocolate from hardening too quickly, place them securely on top of a bowl of hot water. Again, be very careful that none of the water gets into the chocolate.
Be creative when making your Valentine's chocolate bites, and take your sweetie's tastes into consideration. If your honey doesn't like white chocolate, then just leave it out. Do they like walnuts? Then use them instead of hazelnuts.
Anyone can walk into any store, buy a box of chocolates on February 14th and call it a day. But taking the time to make them yourself and customizing them just for your beloved is more memorable and thoughtful.
And who knows? Maybe next Valentine's Day, you can make them together!
Happy Valentine's Day, hope you enjoyed this Valentine's Chocolate Bites tutorial.
Not into the chocolate sweets, check out these straightforward valentines day gift ideas your partner will surely love!