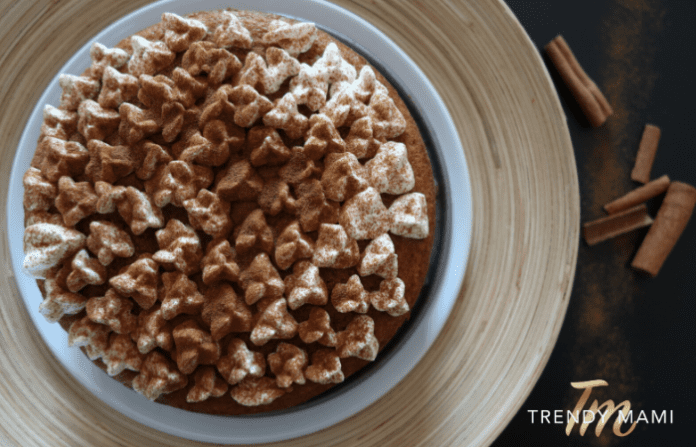 We hope you love the products we recommend! Just so you know, Trendy Mami may collect a share of sales or other compensation from the links on this page.
It's that time of the year again. The time where everyone goes crazy for pumpkins. Us, included. But it's not just in pies. You can find so many other delicious pumpkin-y recipes that aren't just your same ol' pumpkin pie recipe. If you look hard enough. Something that's even special enough to serve guests. Something grand enough to be the memorable sweet finale to the holiday we wait for all year long. We've got you covered with the best pumpkin almond cake recipe you'll ever taste!
It's a moist cake that stays that way, even after a couple of days, if you're lucky enough to have leftovers. The crumb is fine and tender like a cupcake's. The taste is pumpkin-y and sweet, but thankfully, not too sweet. Even with the tasty frosting. The thick and creamy frosting gets its body from the whipping cream and mascarpone. The dust of cinnamon over the frosting is the cherry on top to a perfect fall dessert. For us, it's the perfect pumpkin treat for this time of year. Take our word for it, you don't have to be a pumpkin pie-hater to love this pumpkin cake recipe. We've made a video tutorial too, in case you need a little extra help in the kitchen. Enjoy!
Looking for a latte to pair your cake with? check out thise tasty Pumpkin Spice Latte Recipes!
Pumpkin Almond Cake Recipe:
What You'll Need
For the Cake:
75 gr 2.66 oz flour
50 gr /1.77 oz ground almonds
100 gr 3.53 oz cane sugar
8gr /0.3 oz baking powder
2 tsp of cinnamon
130 gr 23.6 oz of pumpkin (fresh or from a can)
1 egg
1 orange zest
50 ml oil
25 ml milk
Check out Thrive Market for wholesome products that are 20-50% off retail value!
For the Frosting:
100 ml whipping cream
50 gr 1.75 oz mascarpone
Cinnamon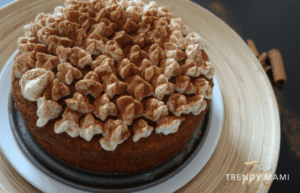 What To Do
Step 1 – Cut pumpkin into small pieces and steam till it has softened and let it cool down.
Step 2 – In a bowl, mix flour, baking powder, orange zest, cane sugar, cinnamon and ground almond.
Step 3 – In another bowl, beat the egg then add oil, milk and pumpkin pulp.
Step 4 – Transfer both your dry and liquid mixtures to a blender and mix.
Step 5 – Transfer your mixture to a baking pan.
Step 6 – Bake at 355° F for 30 mins (use a fork to confirm it's fully cooked).
Step 7 – Once it's fully cooked, let it cool down while you prepare the topping.
Step 8 – Whip the whipping cream and the mascarpone, add the cream into a pastry bag then frost the cake.
Step 9 – Dust some cinnamon on top to finish.
Step 10 – Serve!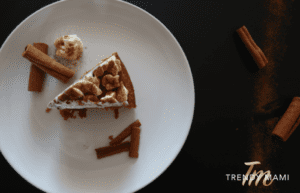 Now that the weather is getting chilly, order your ingredients via Instacart to have them delivered to your door. If you want to pair this cake with an alcoholic beverage, you can have that delivered in no time from Saucey or Drizly.
We hope you enjoyed reading our article on this delicious pumpkin almond cake recipe and enjoy following our video tutorial whilst you cook up a storm in the kitchen. Perhaps for your guests. If you are cooking for a festive soiree, why not try some of our fall themed cocktail recipes? Your guests will swoon over these fall themed cocktails, they are to die for! Or maybe you're just making this delicious cake for yourself and the family? That's okay! Make yourself one of our festive cocktails to enjoy whilst you bake this cake! You've earned it.
Oh and if you're looking for other awesome dessert recipes, check these out!