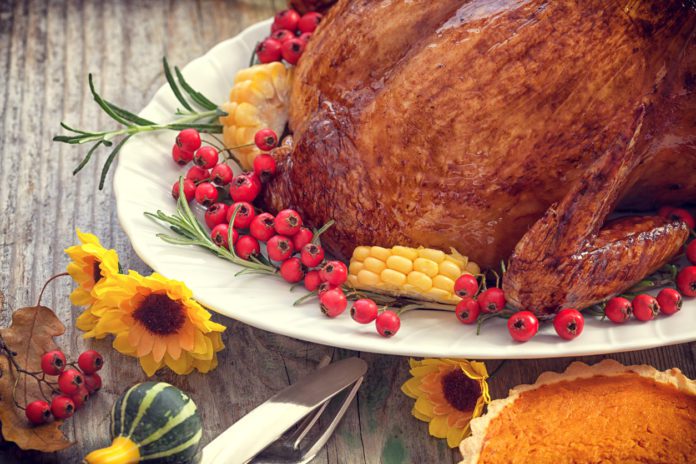 With the holidays coming up, there's sure to be tons of food offerings you'll be needing to make. But if you really want to take the cake, you'll need to make the holy grail of holidays meals. That's right, you'll have to master the turkey.
So take a deep breath, and try to not get in a foul (fowl?) mood in following these simple steps to cook a holiday turkey, via TheKitchn.com.
What you need
Turkey
2 cups chicken broth
2 sticks melted butter
Roasting rack
Roasting pan
Turkey baster
Foil
Meat thermometer
Directions
About half an hour before you're ready to cook the turkey, take it out of the fridge and let it sit breast side up on a roasting rack.

Preheat your oven to 450F.

Add the chicken broth to the roasting pan.

Place the turkey inside the oven and turn down the heat to 350F.

Roast the turkey. Here's where the waiting game begins. Plan to have a cooking time of 13 minutes for every pound of turkey. So for a 20-pound turkey, plan for a cooking time of around four hours. This is a rule of thumb, so check around seven minutes in to see how evenly your bird is cooking.

Baste the turkey. Pretty much every Thanksgiving turkey my family has made has turned out dry as bone. To prevent this, as well as to protect the breast meat from drying up, you'll need to baste. Every 45 minutes, take the turkey out of the oven, take your baster, suck up some liquid, and bathe the turkey in its juices. This helps cool the turkey down to a uniform temperature so it cooks evenly. In the final 45 minutes of cooking, try basting with melted butter to produce a crispy, brown skin.

Check the turkey's temperature. Before you're done, the FDA recommends your bird must be at least 165F before it's safe to consume. Check the temperature using a meat thermometer at the breast, inner thigh, and outer thigh. If any of these temperatures falls below 165F, put the turkey back in the oven for another 20 minutes. You may shield the breast with foil should the breast be done already.

Take the turkey out and let it rest. Once your turkey is finished cooking, carefully take it out of the oven and place the pan on your counter. Tilt the pan to drain out any juices inside the turkey (you can use these juices for gravy later!). Take the turkey off the rack and put it on a cutting board. Tent the turkey with foil and let it rest for 30 minutes. This allows the meat to reabsorb any juices it may have picked up during the cooking process.

Once the turkey has rested, carve it and enjoy!
That wasn't so bad, was it? Cooking a bird that's as big as one of your dumbbells might be intimidating, but it doesn't have to be. Follow these steps and you'll be the gobble — er, talk — of your family's holiday party with a perfectly roasted turkey.
Have you tried out this turkey recipe? How about some turkey tips? Leave a comment below!