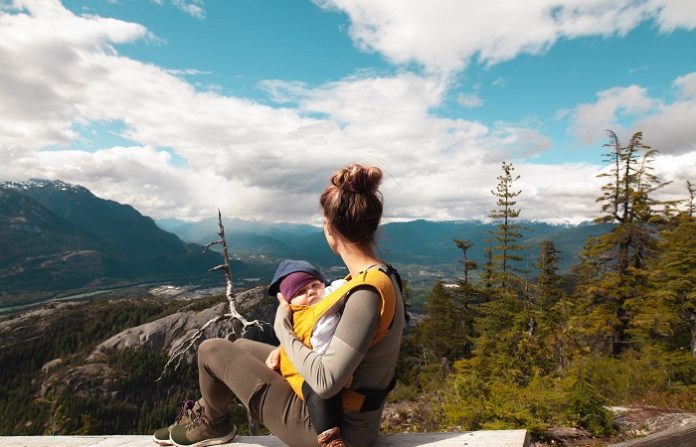 We hope you love the products we recommend! Just so you know, Trendy Mami may collect a share of sales or other compensation from the links on this page.
After the first few weeks of bringing home a newborn, it's awesome to just sit on your bed or rock them in the rocking chair that's in their own room. But once you get the green light at the doctor's visit, you can finally start moving around a bit (if for no other reason than you probably have a little bit of cabin fever) and start showing the world to your brand new baby.
One item that can make it easier for you—and your baby's other parent—to easily and comfortably get back into the swing of things is to use a baby carrier (or baby sling).
These days, there are tons of different ones to choose from. This means that trying to figure out which carrier is best can be one of these tedious and irritating tasks that you'd probably like to avoid at all costs.
We totally get that. That's why we decided to remove a lot of the guesswork for you and share six different carriers that fit a variety of budgets, style preferences and needs. We're hoping that in, oh around seven minutes or so, you'll know exactly which one will be suitable for both you and your baby.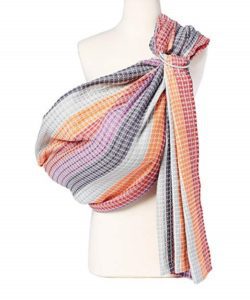 A cotton baby carrier that comes in—count 'em—nine different colors is this sling. It's got great ratings on Amazon, thanks to it being a Fair Trade item (that means it's good for the environment). It will also comfortably hold a baby that weighs between 8-35 pounds.There is a standout feature with this carrier. The feature is that it's designed in such a way that you don't have to worry about it putting any stress or strain on your neck or back. It's also one that makes it convenient to breastfeed if you happen to need to while you are out.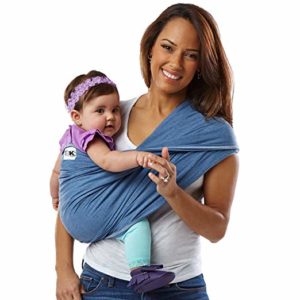 One challenge that comes with selecting the perfect baby carrier is trying to figure out which one matches with a lot of different looks. After all, you don't just want to carry your baby, you want to look as good as you can while you're doing it! That's why we like this sling that is made out of denim. As you well know, denim goes with everything. Other perks include the fact that it comes in XXS to XL (which is 35 pounds).It has a matching carry bag and your baby can fit in multiple positions while inside of it. If you look at the reviews for this particular carrier, it's top-notch rated (the icing on the cake, for sure!).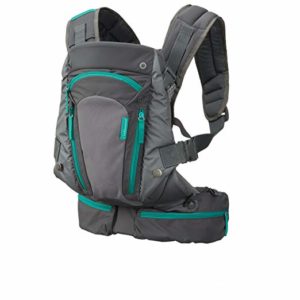 Here's a carrier that comes with a unisex style that's ideal for moms and dads. It's made out of 77 percent polyurethane foam and 23 percent polyester. It has an internal mesh panel (so that there's not too much body heat exchanged between you and your baby). And even padded straps so that there won't be too much wear and tear on your shoulders. This is the kind of carrier that will fit any baby between 8-40 pounds. Also, one of the best things about it, hands down, is the fact that it comes with six organizing pockets. Some of them even overlap so that you can store diapers and even outfits into it.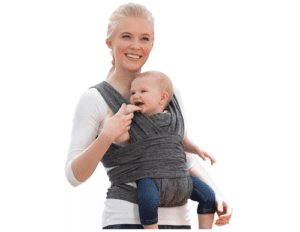 We'll be honest—this one made our list of recommends, mostly because we liked how it looked. That said, if you're the kind of stylish mom who's considered a carrier/sling, but you're hesitant. Mostly because you haven't found one that seemed very fashion forward, we're thinking that this will suit your needs. It's visually-appealing, the fabric its made out of is super soft. Any baby between 8-36 pounds is able to comfortably fit inside of it whether they are front face-in or front-face out. All you've got to do is "click, strap, tie and roll out".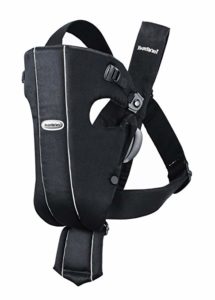 This is the type of carrier that is super ideal for newborn babies. So much, in fact, that you don't even need an infant insert in order to use it. It's made out of polyester, comes in black or dark blue colors and is able to accommodate your baby facing you or facing out. From a safety standpoint, something that's great about this carrier is its designed by pediatricians. Plus, it comes with a safety smart click, so you don't have to worry about using it incorrectly. Oh, and it's unisex in its design so dad will feel "cool" using this carrier too.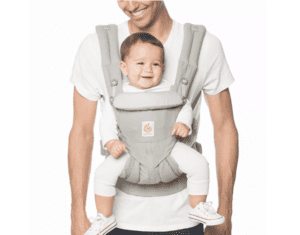 Yeah. The price on this particular carrier is a bit on the steeper side but, for many reasons, it's worth it! For starters, it's made for babies and even toddlers, so long as they are under 45 pounds. It's a carrier that's made with padded support and it's suitable for all positions—front- inward, front- outward, hip, and back carry. Another great feature that comes with this carrier is it comes with a pouch so that you can put items into it. It was so researched that, once you buy one, you can use it with other children for years to come. Oh, and it comes with a lifetime guarantee in case you do fall in love with it, but need to replace it for some reason. Yep, definitely worth the bump in cost, wouldn't you say?
Planning to go hiking in your new baby carrier? Here is some more gear you might want to grab just before you're on your way!