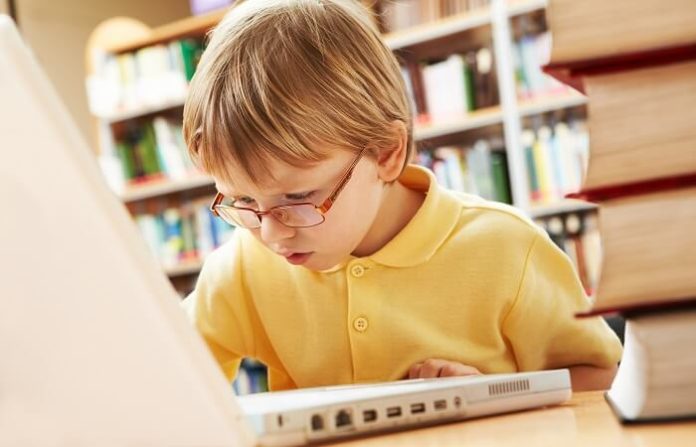 We hope you love the products we recommend! Just so you know, Trendy Mami may collect a share of sales or other compensation from the links on this page.
This year, school might look a little bit different than what we are all normally used to. Instead of attending classes at school, kids are now being taught online through the virtual world of online learning. It's a drastic change that might take a while for kids (and their parents) to adjust to. Thankfully, there are plenty of ways to support your child with one of the following online learning for kids products.
Before we get into it, make sure you have the right antivirus software to keep your kids electronic information safe. McAfee offers reasonably priced, top of the line antivirus software, and even family packs for all of your devices!
Top 10 Ways to Support Online Learning for Kids
1. Give Them a Desk
To increase productivity, kids should be encouraged to work at their own desk. Having a personal area where they can learn and do school work teaches them about responsibility and ownership while also keeping them away from potential distractions. We love this simple desk from Melissa & Doug, which has a lift-up top so they can store all their papers and pencils.
And make sure they have plenty of clothing for the online school year. The Children's Place offers tons of clothing options for kids of all ages.
When it comes to online learning for kids, going back to school has never been more fun than it has with Adventure Academy. Targeted towards elementary and middle school students, Adventure Academy lets your kid step into a virtual world. There, they'll learn about math, social studies, science, and language arts. Using a custom avatar, they'll be able to interact with other students and go on quests while they explore this immersive imaginary world.
For those of you looking for more eLearning ideas, documentaries and historical films can be great ways for kids (or parents!) to expand their knowledge. To get started, check out Curiosity Stream, which offers thousands of documentaries on demand.
3. Keep Track of Assignments
One of the hardest parts of online learning for kids is keeping up to date with the ever-changing schedule. This magnetic dry erase calendar board can be easily hung up in your living room or office, so you and your child will know when classes are being held and when assignments are due.
4. Avoid Distractions
Whether it's the TV or a needy pet, online learning kids face many distractions while studying at home. Blocking out any unwanted distractions is a must for staying focused on schoolwork, which is why you should purchase this privacy desk shield. They'll keep their eyes on their work while also reading the adorable encouraging messages printed on the shield itself.
If you're going to let your child play on your phone, you might as well have them online learning with the ABCmouse app. With over 10,000 different educational games and activities, ABCmouse builds on skills for reading, math, science, and the arts. It's ideal for kids age 2 to 8, and you can keep tabs on their progress using the online progress tracker.
6. Stay Organized
A storage caddy for pens, pencils, crayons, and other school supplies is a great way to keep your child's workspace clean and clutter-free. You can keep it on their desk or in a designated supply corner. This way, they'll always have access to any items they need to help them with their online learning.
7. Listen and Connect with Classmates
One of the most important products when it comes to online learning for kids is a durable set of headphones. Whether they're participating in online classes, listening to their favorite education podcasts, or playing instructional video games, they'll need headphones to concentrate and block out household noise that could distract them while they're hard at work.
8. Keep Them on Schedule
As kids get older, they should be practicing their time management skills, especially when it comes to online learning. By completing tasks in a specified time frame, kids will be able to maintain a better focus on the work at hand. This cube timer is simple to use and is an excellent alternative to many boring school timers on the market. You can have them work for 30 minutes straight before giving them a short break to relax.
9. Make a Work Space For Their Online Learning 
Between numerous worksheets, tests, and assignments, online learning kids need a place to keep all their digital schoolwork. Instead of bogging down the family computer with hundreds of files, why not give them an external hard drive to organize all their files? That why they can have all of their assignments in one place organized by school year, class, and semester.
10. Allow Them to Enjoy Their Free Time Outside of Online Learning
When kids are going to school at home, it can be hard to separate work from play. It's essential to give your kids a break from online learning several times a day, so they can relax and have a little fun! Get their mind off of school by doing something creative like painting or by spending an hour outside getting some exercise with a jump rope. Or check out one of these awesome indoor games you can play with your kids. After a short break, they can return to their work refreshed and ready to learn.
Teaching your kids from home may seem difficult at first. However, it can be just as productive and effective with the right tools and products. Not to mention lots of deep breathing and patience! But by providing an environment that promotes efficient online learning, your children will be on their way to academic success in no time!