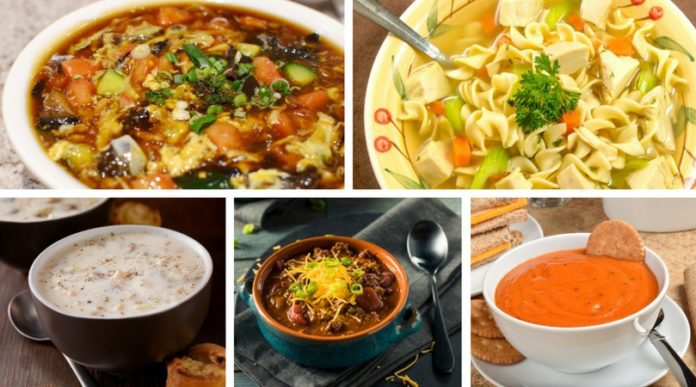 It's chilly outside, which means it's the perfect time for soup like chili. Excuse the bad jokes, but it really is soup season. From tomato bisque to clam chowder, we have all the good  recipes to keep your warm and full till spring rolls around.
Chicken Noodle Soup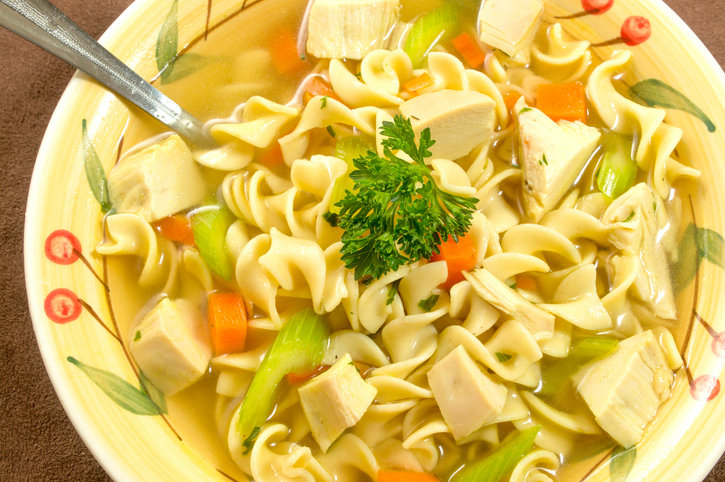 This sick day mainstay isn't just for when you're bedridden with the flu. Enjoy it all through the season with this easy recipe via Wholefully.
Ingredients
3 quarts water

1 large onion, diced

3 large carrots, peeled and sliced

3 large stalks of celery (including leaves), diced

4 cloves garlic, diced (more if you're really sick, garlic is a good cold killer!)

2 bay leaves

2 teaspoons dried sage

1 1/2 teaspoons dried thyme

1 teaspoon dried rosemary

1 teaspoon dried marjoram

Salt and pepper, to taste

2 cups flour

1/2 teaspoon salt

3 egg yolks

1 whole egg

1/4-1/2 cup water

Directions
Place the chicken in a large Dutch oven or soup pot. Cover with water. Bring to a boil, reduce heat and simmer until the chicken is falling off the bone, about an hour.

Remove the chicken, and let cool to touch. Remove the meat from the bones.

Add the onion, carrots, celery, garlic, bay leaves, sage, thyme, rosemary, and marjoram to the broth.

Bring back to a boil, reduce heat and simmer until the veggies are tender, about 15-20 minutes.

While the broth is simmering, make your egg noodles by mixing together the flour and salt in a medium-sized mixing bowl. Make a well in the center, and add in the egg yolks and egg. Using clean fingers, mix together until it is lumpy and yellow.

Add in water a few tablespoons at a time, kneading after each addition, until the dough comes together to form a ball.

Flour a work surface, and roll out the dough until paper-thin. Using a sharp knife or a pizza cutter, cut into 1/4″ x 2″ pieces.

Add the noodles, just a few at a time, to the simmering broth.

Once all noodles are added, also add in the chicken.

Boil noodles for 3-5 minutes until they are tender and no longer doughy. Season with salt and pepper, and serve.
Chili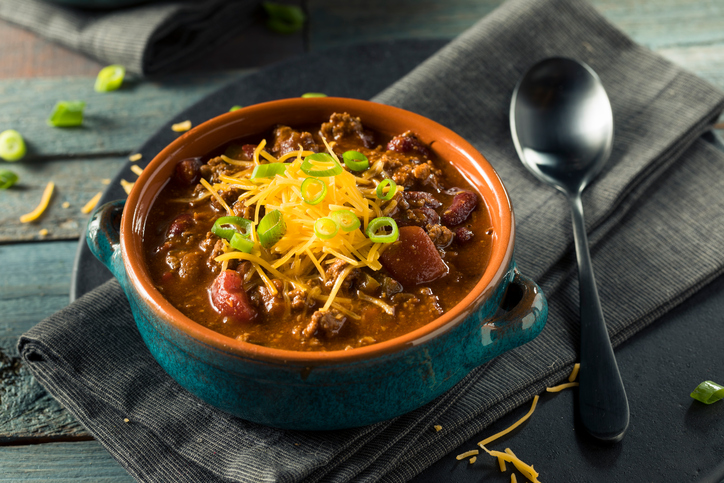 Cook-offs, super bowls, or however you enjoy it, chili is definitely an American staple. Here's an easy homemade version from Susan Branch.
Ingredients
3-4 teaspoons Canola oil
4 cloves garlic, minced
1/4 cup chili powder
1/4 cup flour
1 tablespoons dried oregano
1 tablespoon ground cumin
3 1/2 cups beef broth
2 – 15 ounces pinto or kidney beans, drained and rinsed well
chopped red onion
sour cream
chopped cilantro
cheese (optional)

Directions
In a large heavy pot, heat oil, and brown beef chunks (not touching so they will brown well)  in 3 or 4 batches, removing each batch to a bowl, adding a bit more oil when needed.
When last batch is almost done, add garlic and cook 3 more minutes.
Put all beef back into pot.
Stir in chili, flour, oregano, and cumin.
Slowly stir in 2 1/2 cups beef broth (save last cup for later).
Stir well, cover and simmer for 1 1/2 hours.  Stir occasionally.
Over time, add last cup of broth.
Add drained beans, stir well and heat through.
Serve with sour cream, chopped cilantro, and shredded cheese and a side of cornbread.
Tomato Bisque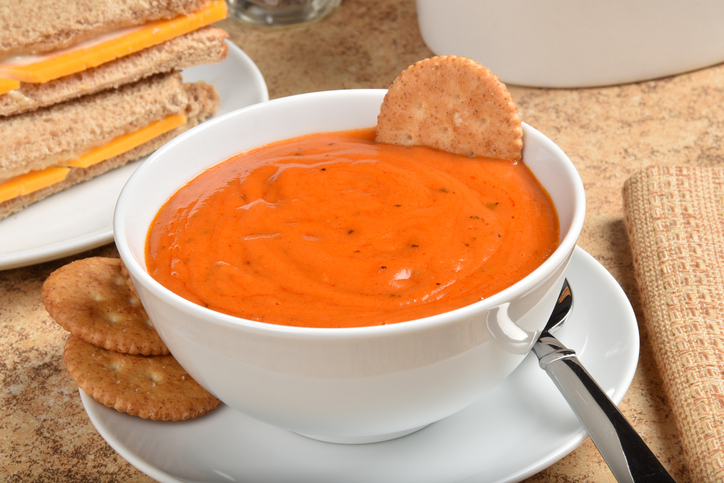 This soup might be hard to pronounce, but it's easy to make! Via The Novice Chef Blog.
Ingredients
2 tablespoons olive oil

4 garlic cloves, minced

1 large yellow onion, sliced

2 cans peeled tomatoes

1 cup chicken stock (or vegetable stock)

2 tablespoons sugar

1/4 cup half and half

8 large fresh basil leaves, roughly chopped

1/4 teaspoon dried oregano

salt and pepper, to taste

Directions
In a heavy bottomed pot (or dutch oven), heat olive oil over medium-high heat. Add garlic and saute for 30 seconds – until fragrant. Add onion and cook, stirring as needed, until translucent – about 8 minutes.

Add San Marzano peeled tomatoes (juice and all), chicken stock, and sugar. Bring to a low simmer. Cook uncovered, for 12 minutes or until it has thickened.

Add the half and half, basil, oregano and season to taste with salt and pepper.

Using an immersion blender (or carefully transfer soup to a blender), puree soup until there are no large chunks left. Serve immediately with a grilled cheese or hunk of warm french bread!

Store in an airtight container in the fridge for up to 5 days or in the freezer for up to 3 months.
Hot and Sour Soup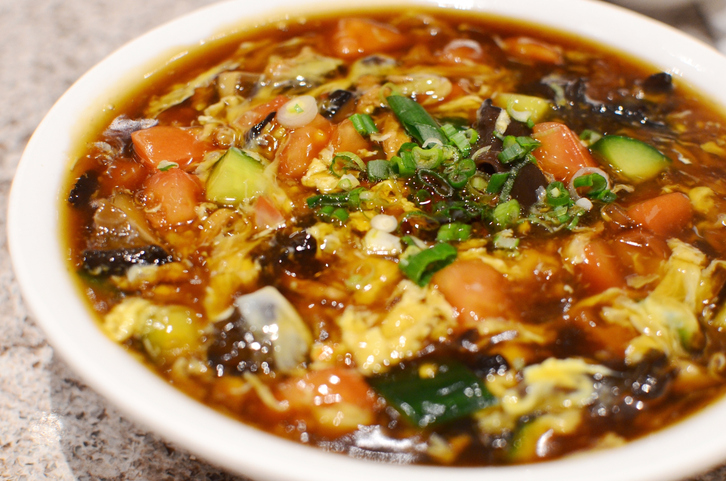 This soup is a given on Chinese takeout menus. But if you don't want to wait in line in the cold for your own bowl, try this recipe from Flying on Jess Fuel (extra points for a clever blog name).
Ingredients
2 teaspoons olive oil

2 teaspoons dark sesame oil

¼ teaspoon red pepper flakes

1 package sliced mushrooms

3 garlic cloves, minced

1 tbsp minced or grated fresh ginger

1 (32 ounce) carton vegetable broth

2¼ cups water

½ cup rice vinegar

1 tablespoon soy sauce

1 tablespoon fresh ground black pepper

½ pound firm or extra firm tofu, diced

2½ tablespoons cornstarch

Salt, to taste

Cayenne pepper, to taste

4 egg whites, lightly beaten

½ cup chopped green onions

¼ cup minced fresh cilantro

Directions
Heat olive oil and 1 teaspoon sesame oil in a large pot over medium heat. Add red pepper flakes and cook 1 minute.

Then, add mushrooms and saute until soft and browned. Add garlic and ginger and continue sauteing 1-2 minutes, until fragrant.

Then, add vegetable broth and 2 cups water. Bring to a boil, then reduce heat and simmer 5 minutes.

Add vinegar, soy sauce, pepper and tofu, and simmer another 3 minutes.

In a small bowl, whisk together remaining ¼ cup water and cornstarch. Add to pot and continue simmering 3 additional minutes, stirring frequently.

Season to taste with salt and cayenne.

Slowly stream egg whites into the pot while stirring continuously.

Remove pot from heat and stir in green onions, cilantro, and remaining 1 tsp sesame oil. Serve immediately.
New England Clam Chowder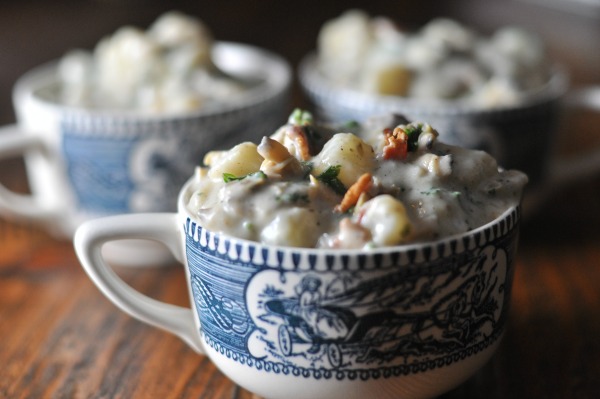 If you're a seafood lover like me, some homemade clam chowder will have you sniffing the ocean breeze and feeling the sand beneath your toes — even if it's freezing outside. Check out Dining with Alice for this recipe.
Looking for more recipes? Check out our other recipes here!