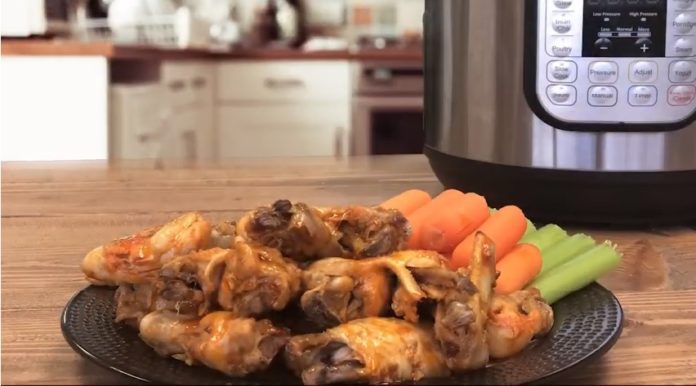 We hope you love the products we recommend! Just so you know, Trendy Mami may collect a share of sales or other compensation from the links on this page.
When big parties roll around, chances are one of the popular party foods is going to involve chicken wings. They're easy to make, taste great, and can feed an army of guests no matter what their tastes. Here's our recipe for homemade buffalo wings.
Also, if you want the best shopping experience when gathering the ingredients for this recipe, try out Instacart, our favorite home delivery grocery shopping service. Instacart delivers from your favorite local grocery stores in as little as 1 hour.
Pressure Cooker Buffalo Wings:
What you need:
Oven (toaster oven will also do)
Microwave
Ingredients:
2 lbs. chicken wings
1/2 cup water
1 tsp. salt
2 tbsp. brown sugar
2 tbsp. Worcestershire sauce
1/2 cup butter
3/4 cup spicy buffalo sauce
Directions:
Cooking the wings:
Set your pressure cooker on your counter and place a trivet at the bottom of your pressure cooker.
Pour the water into the pressure cooker.
Place the wings on the trivet.
Replace the pressure cooker cover.
Cook wings on high pressure for 5 minutes.
Let wings sit for 5 minutes.
Making the sauce and baking the wings:
Mix together salt, sugar, Worcestershire sauce, butter, and buffalo sauce in a bowl.
Microwave the sauce for 45 seconds.
Preheat your oven to 450 F.
Remove the wings from the pressure cooker and toss them in the sauce. Set aside remaining sauce for later.
Place tossed wings on a baking pan and coat the wings with half of the remaining sauce. For easier cleanup, you can cover your baking pan with a layer of foil.
Place the wings in the oven for 5 minutes.
Take the wings out of the oven, flip the wings, and coat the other side of the wings with the rest of the sauce.
Bake the wings for 5 more minutes. Take out wings and serve. You may add celery and carrot sticks if you wish.
Enjoy!
If you don't have a pressure cooker to make these little bits of poultry delight and so many other fast and delicious recipes, don't fret!
Here's a list of Trendy Mami's favorite pressure cookers that can cook your wings to perfection.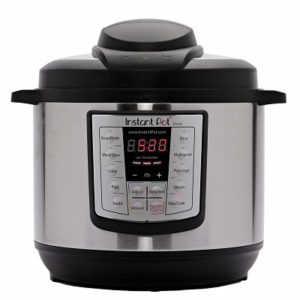 Insta Pot is the brand that's dominating the pressure cooker market right now, and with good reason: Their line of products is simple to use and comes in programmable modes for all your cooking needs. The LUX v3 6 model comes  includes cake and egg modes in addition to the pressure cooker, slow cooker, rice cooker, sauté, steamer, and warmer modes. Cooking is as easy as pressing a button!
And once you're done, keep your food warm up to 10 hours in its sleek, stainless steel pot. Comes with stainless steel steam rack without handles, rice paddle, soup spoon, measuring cup, recipe booklet (English), and manual and time table. 1-year warranty. If you're looking to see the Insta Pot in action, check out our pressure cooker buffalo wings recipe! What to purchase the Insta Pot we used in our video!? CHECK PRICE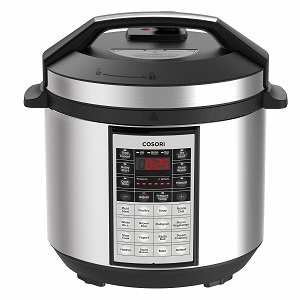 This third-generation Cosori pressure cooker features six new custom smart control programs and improved steam technology. It comes with an unlock indicator; micro limit switch protection custom cook times, Fahrenheit or Celsius readings (F°/C°),six different pressure levels, adjustable temperatures, and two manual cooking modes.
You can also boil pasta and make hot pot in this cooker. Comes with recipe book, stainless steel steam rack with handle, tempered glass lid for slow cooking, extra silicone sealing ring, ladle, rice spoon, and measuring cup. 1-year warranty. CHECK PRICE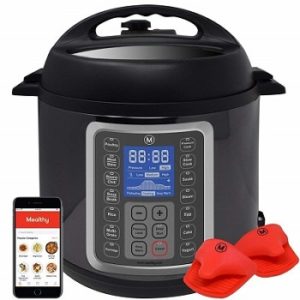 Whip up a meal within minutes using Mealthy Multipot! Not only it can hold 6 quarts in its stainless steel pot, this incredible pressure cook has 9 different programmable ways of cooking that won't disappoint. Steam, slow cook, pressure cook, make your own yogurt and so many more programs to help make your life much easier. The size, the expansive features and the quality of this pot are sure to sweep you off your feet! Not only that, the Mealthy MultiPot also comes with an affordable price tag. CHECK PRICE HERE
Also download the Mealthy app so you have easy access to thousands of recipes and videos on how to make the perfect meal for your family!
Did you try our recipe? How did it go? We sure hope you liked it!