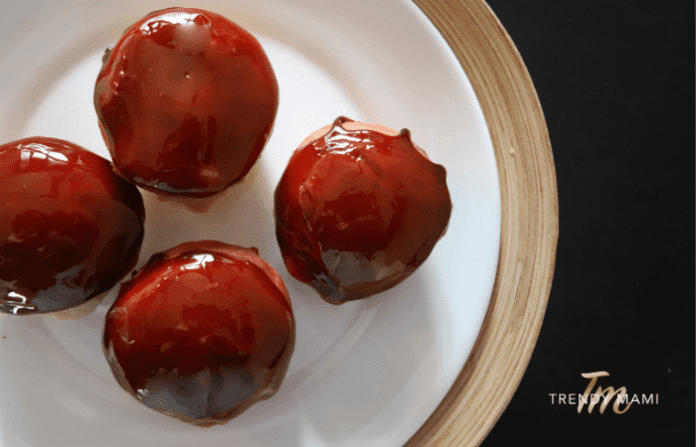 We hope you love the products we recommend! Just so you know, Trendy Mami may collect a share of sales or other compensation from the links on this page.
If you have found yourself in the kitchen more due to the pandemic, you're not alone. Baking at home has become the new norm and we hope it stays that way post-pandemic. Why? It's a way to have fun, learn, and be healthier all in one! If you've been scrolling the internet for a new dessert recipe to try, you've come to the right place. If you love creme brulee and you love donuts, keep reading because we have combined the two to make the ultimate dessert! Let's get into this delicious creme brulee donut recipe!
But make sure to check out Fancy Sprinkles for fun sugary ways to sweeten up these creme brulee donuts!
Creme Brulee Donut Recipe (makes 10-15 donuts)
Ingredients:
Dough: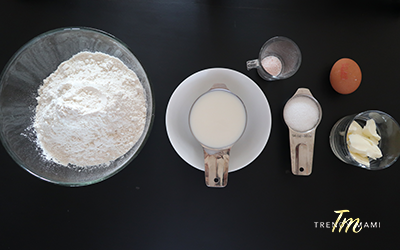 1 cup whole milk (250ml)
¼ cup sugar (50g)
1 egg
2¼ tsp instant yeast(7g)
3¼ cup all purpose flour (406g)
3 tablespoons unsalted butter (30g) softened
Custard Crème:

Caramel Sauce:
1 and ½ cup sugar (300g)
1/3 cup water (100 ml)
Instructions:
Step 1. In a large bowl, beat the egg with sugar for our dough.
Step 2. Add milk and dry yeast to the mixture.
Step 3. Gradually add flour into the mixture.
Step 4. Let it rest for 10 minutes (room temperature).
Step 5. Add the butter and knead the dough until the dough is completely smooth.
Step 6. Let it rise in an oiled bowl so that it is double the size (this will take about 2 hours).
Step 7. In the meantime, prepare the custard creme.
Step 8. In a pot, heat the milk with vanilla extract and lemon zest. Before it reaches the boiling point, remove from the heat and let it cool a little.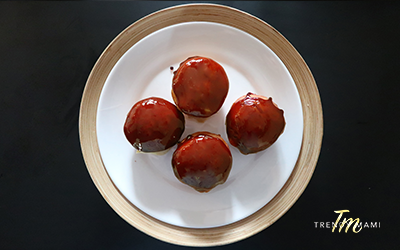 Step 9. Separate yolks from egg whites. In another pot, whisk the egg yolks with the sugar and cornstarch.
Step 10. When the mixture is fully combined, add the milk mixture in gradually (3 times).
Step 11. Put it back on the stove and whisk till it thickens.
Step 12. Remove from the heat and let it cool completely before using it to fill a piping bag.
Step 13. Back to the dough, after letting it rise for 2h, knead again to remove any air bubbles.
Step 14. Divide in half and spread the dough so that it is ½ inch thick (1,2 cm).
Step 15. With the help of a cookie cutter or a glass, cut the dough into disks.
Step 16. You can work the other half or store in the freezer like we did for future donuts to make!
Step 17. Let the dough disks rest for 10-15 minutes while heating the oil.
Step 18. Use kitchen thermometer to ensure the frying oil is around 320°F/160°C. Fry up your dough!
Step 19. Let them cool before making a cut on the side to pipe the custard cream in.
Step 20. Now onto the caramel sauce. In a pot, add the sugar and water.
Step 21. Cook on a low-medium heat.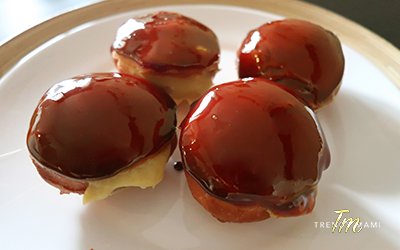 Step 22. Stir from time to time.
Step 23. As soon as it turns to a golden color, remove from heat and mix.
Step 24. Now for the final touches, dip half of the donut into the caramel sauce.
Step 25. Let the excess caramel drip down and place it on a plate to cool completely.
Step 26. Serve and enjoy these delicious creme brulee donuts!
We hope you enjoyed this delicious creme brulee donut recipe! It is certainly a step up from a beginner recipe, however, it will allow you to put all of your new pandemic learnt skills to the test.
If you did enjoy making this recipe and you absolutely nailed it, give our other recipes a try like this Easy Pumpkin Pie Recipe perfect for fall and the holiday season. How about this Moist Gingerbread Cake Recipe? These recipes will definitely satisfy your festive sweet tooth! If you're thinking ahead to Christmas, our gluten-free tree cake recipe is a must-try dessert this year.
Don't have time to make deserts? Check out PlateJoy for healthy meal plans and personalized recipes!
Either way, happy eating!