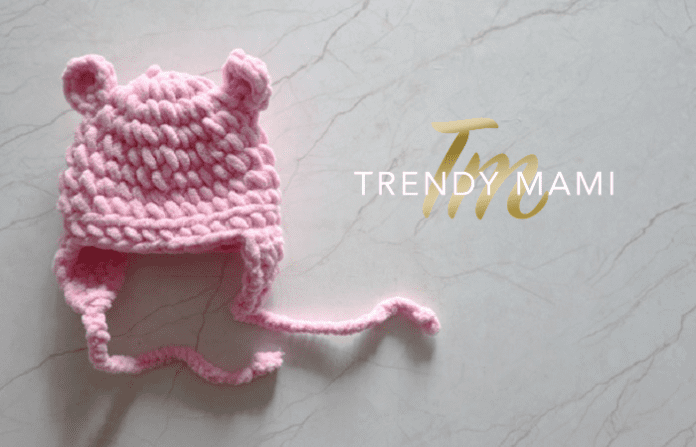 We hope you love the products we recommend! Just so you know, Trendy Mami may collect a share of sales or other compensation from the links on this page.
Winter is here, which means long nights, chilly temperatures, and most importantly, cozy clothing! This adorable bear beanie is the perfect winter accessory for keeping your little one comfortable and warm all season. Knowing how to knit a hat isn't just a cool hobby – it's also a great way to save money on clothes and gifts! You don't even need knitting experience, it's still easy to learn how to knit a hat. Just go to your local craft store or order online from Annie's or Joann's to grab all the materials needed. Then, keep reading to check out our step by step tutorial and video to learn how to knit a hat for beginners.
How to Knit a Beanie
What You'll Need
Scissors
Measuring tape
Round markers
For those of you who watched our video and are now thinking it's best to shy away from this DIY activity (we get it, learning how to knit can be daunting), take a look at Berrylook, which offers great prices on knitwear among other items!
Instructions for How to Knit a Beanie
Round 1
Before you learn how to knit a hat, you'll need to create a magic circle, which is the starting point for any basic beanie. Start by wrapping the yarn around two fingers to create a loop.
Insert the hook from behind your fingers and pull one thread through the open loop.
Moving the hook front to back, grab the thread and pull it inside to make another stitch.
Pull the thread back through the two stitches.
At this point, you should have your first crochet! Now that we completed one crochet, you will need to make seven more for a total of eight stitches. Don't worry if this takes a bit of time – starting a beaning is one of the most complicated steps, especially if you are still learning how to knit a hat.
After you have eight stitches, cinch the tail or excess thread of yarn close to the magic circle.
Round 2
Now that you've mastered the single crochet, it's time to move on to the double crochet. You will need to knit a double crochet for each of your eight single stitches (2 crochets x 8 stitches = 16 new stitches).
At this point, you can add a charm or marker to the first stitch. For those who don't know how to knit a hat, the marker can help you keep track of how many stitches you have already completed.
You can remove the marker once all the double stitches are made.
Round 3
Make one single crochet. You can add another marker here to keep track of where you are.
Now, you'll need to alternate between single and double crochets (8 single crochets x 8 double crochets = 24 new stitches.)
If you're just learning how to knit a beanie, we have a simple tip to help: make all the even number stitches double crochet!
Round 4, 5, 6, 7
Like the previous round, you'll want to make the first single crochet before you add the marker.
Now, continue making single crochet stitches all the way around the circle, for a total of 24 new stitches in the row.
Repeat these same steps for three more rounds/rows.
Remember, each row should have 24 single crochets.
Round 8
By now, you should probably have something that resembles the start of a beanie. Lay down the beanie and look for the point where it doesn't level (the point where it folds). Add a marker to the level.
Make a slip stitch by taking the back loop only.
Create a chain loop.
Make a single crochet to the back again.
Round 9
Start by making single crochets using the back loop towards the marker on the leveling point. This will be the headband part of your beanie.
Remove the marker.
Cut the yarn and use a yarn needle to sew in the last thread. You can hide the tail inside the hat (you will need to flip the hat inside out) and cut to your desired length.
Celebrate! The beanie part of the hat is now complete!
How to Knit a Hat with Ears
Instructions
Although your newly knitted hat is ready to wear, you still need to add the finishing touches to this how to knit a hat for beginners tutorial. The next few steps will guide you on how to attach those adorable bear ears.
Round 1
Wrap a new thread of yarn around two fingers.
Pull the loop to tighten the knot.
Make three chain stitches. On the second and third chain stitch, make a double crochet.
Round 2
Now make a double stitch on each of the previous stitches, for a total of eight new stitches.
Measure 15 inches of yarn from the ear and cut the thread. This is your first ear.
Repeat steps in Round 1 and Round 2 to make another identical ear.
Round 3
Using the 15 inches of yarn and a yarn needle, start stitching the ear into the top of the beanie.
You might need to thread the yarn multiple times in order to make sure the ear is securely sewn onto the hat.
Repeat for the second ear.
How to Knit Ear Flaps
Instructions
The final step in making your bear beanie is adding the side ear flaps. If your struggling with how to knit a hat as a beginner feel free to skip these steps.
Round 1
Flatten the hat to find the folding point.
Add one marker to the folding point and another marker five stitches away.
Make a chain loop.
Make five single crochets.
Round 2
Make another chain loop and then turn the hat to start on the second flap.
Now, decrease the stitch by making two loops on the first two stitches.
Continue with three single stitches.
Round 3
Decrease again on the first stitch.
Repeat again for the rest of the rows.
Round 4
Pull the yarn through the loop until you have 10 inches.
With three 10 inch threads, you can braid the yarn and wrap the end into a ball.
As you can see, knowing how to knit a hat is relatively easy (and fun for the whole family). Anyone can start with these easy directions for how to knit a hat for beginners. With some yarn, a crochet hook, and a little bit of patience, we know you can make this super cute bear beanie. For more craft projects check out all the options from Cratejoy!