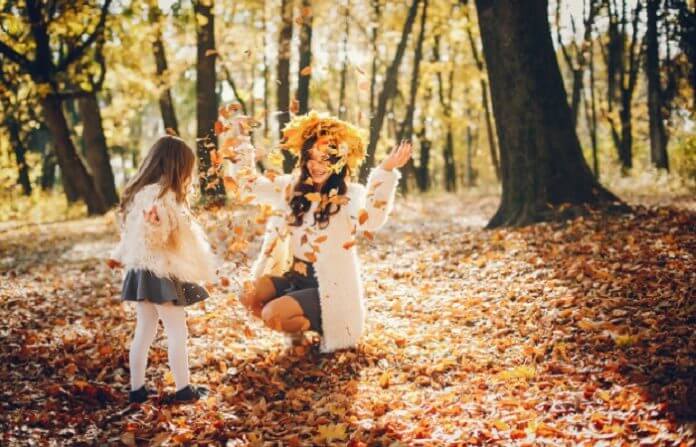 We hope you love the products we recommend! Just so you know, Trendy Mami may collect a share of sales or other compensation from the links on this page.
Let's admit it, autumn is everyone's favorite season for a reason. Or multiple. When the weather gets colder and the leaves start changing their colors, that means it's officially the best season of the year. No, not because it's pretty or Halloween. Fall is so spectacular because of the endless amount of cozy fall activities that the whole family can do together, even if you're on a tight budget. Activities like cuddling up inside with a cup of warm apple cider and watching one of the best Halloween movies of all time (which is Hocus Pocus, obviously) or taking a scenic drive to admire all the beautiful autumn foliage. Trust us, there is no shortage of fun fall activities for families to enjoy together. Now is the time to start adding to your fall bucket list and checking it off as you go!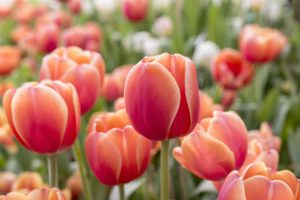 This is a fun fall activity for all ages! Autumn is the best time to plant tulips bulbs, about six to eight weeks before a hard frost is expected. It'll be one dreary winter, but then you'll have your very own yard full of beautiful flowers come springtime. Check out a variety of bulbs here! If you also nee planting tools, check out our gardening article here for tips and tricks!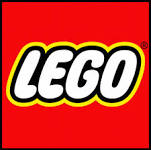 2. Go Camping
Who doesn't love camping?! Especially in the fall. Take advantage of the cool weather and plan an awesome camping trip with the family. Less people camp this time of year, so you'll experience lower rates and fewer crowds — not to mention less bugs, too! Sign me up!
Make sure you check out CampGear.com for any and all camping gear you might need.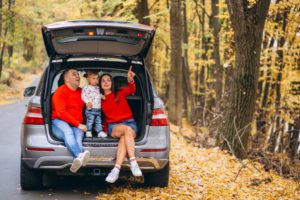 Like we mentioned above! Grab the family, jump into the car and set off on a long scenic drive for a fun afternoon of leaf peeping. A few of the most beautiful drives to take during the fall include a trip down the Pacific Coast Highway in California, Scenic Byway 12 in Utah, and Skyline Drive through Virginia. And just before you go, check out our ultimate road trip guide to help you plan your trip!

4. Bake Apple Cider Donuts
Nothing compares to the feeling of biting into a fresh homemade apple cider donut. Instead of buying them this year from your local fall festival (or, let's be real, in addition to buying them), try whipping up a homemade batch.
5. Visit A National Park
Going to a national park during the fall, and not summer, means you'll beat the big crowds, when the leaves are changing colors and the weather has cooled off. The parks with the most impressive fall foliage include Denali in Alaska, Glacier in Montana, and Acadia in Maine. However, we're sure you can find some pretty amazing ones yourselves. Make sure to go on a few awesome hikes while you're there!

6. Try Out New Flavors Of Classic Candy
The kids will love this one! Your favorite candy companies are constantly releasing new flavors on tried and true classics. Go to the grocery store, round up as many as you can find — like Reese's Peanut Butter Lover's cups and Kit-Kat Duos Mint + Dark Chocolate — and taste-test them with your kids. Beware: It's easy to go overboard with the 'testing'.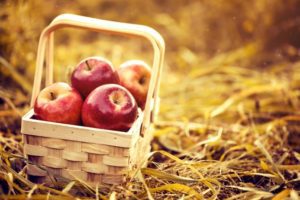 7. Go Apple Picking
This is one of our personal favorites! There's no better way to stock up on your fall apple collection than with some hand-picked varieties. The whole family will enjoy this fun fall activity!
8. Visit A Sunflower Farm
Sunflower season is here! Take your kids to a farm to see the breathtaking flowers in full bloom while you can.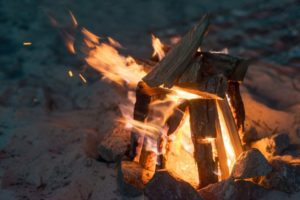 9. Host A Bonfire
Perfect for a cold fall day or night! Heat up the fire pit for a bonfire with the kids. They'll love cooking hot dogs or roasting marshmallows, especially if they can make smores.
10. Make Dinner Inside A Pumpkin
Haven't you heard? Pumpkins aren't just for decoration! That's right, you can serve dinner in them! Serve dinner in a cute carved-out mini pumpkin.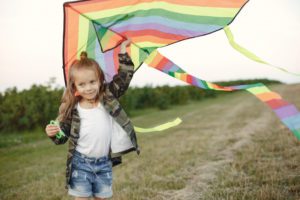 11. Fly A Kite
Use the brisk, fall wind to your advantage and take the kids out to an open field or local park to fly kites.
Get away for the weekend and escape to a cabin surrounded by nature. Sip hot cider outside and relax as the foliage falls from the trees. Check out all the places you can go here!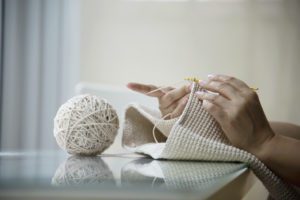 Nothing passes time like a new hobby, and by Christmas time you'll be ready with plenty of beautiful homemade gifts!
If you are also up for it, get your kids building and enjoying a nice day of DIY at home. KiwiCo is a great way to do that. It will leave you some free time to get your knitting on, while your kids are building their new toys for the week! They have different boxes for all ages too!
Nothing feels more comforting on a fall day than a warm bowl of soup — especially when it's homemade. This is something that the whole family will appreciate on a cooler fall afternoon.
15. Attend A Fall Festival
You can go to autumn events dedicated to food, crafts, music, art — or whatever else interests your family — all over the country. Find one nearby. Everyone will love this one!
Oh and last but not least, don't forget that fall is also a great time to do something local, check out all these local things you can do!
We hope you enjoyed reading our article on 15 fun fall activities for the whole family! Autumn flies by in a flash, so be sure to take advantage of the crisp weather and beautiful foliage whilst you can!