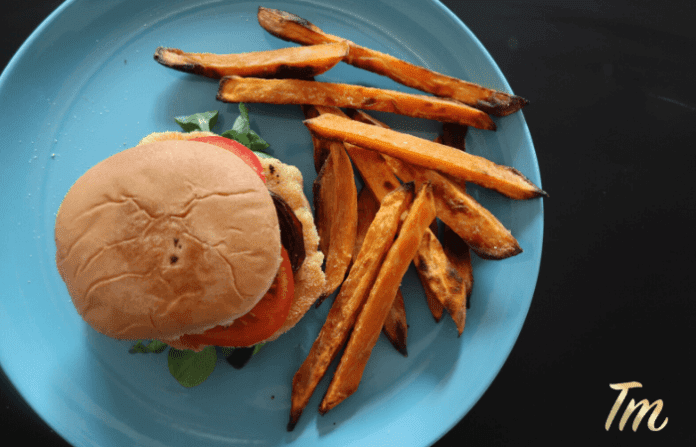 We hope you love the products we recommend! Just so you know, Trendy Mami may collect a share of sales or other compensation from the links on this page.
No Super Bowl party is complete without some homemade burgers on the grill. But who said a burger with a side of fries had to be greasy and fattening? Try our super healthy Super Bowl recipe, a chicken burger with a side of sweet potato fries! For extra help with this recipe, be sure to tune in to our video tutorial. Dig in!
Super Bowl Recipe – Sweet Potato Fries (serves 1 person)
Oh boy will these fries compliment your chicken burger, plus the are baked therefore healthier then your typical fries! Lets get start on the recipe.
What You'll Need for the Sweet Potato Fries:
1 medium sweet potato
2 tsp cornstarch
2 tbsp olive oil
Himalayan salt

What To Do for the Sweet Potato Fries:
Preheat oven to 425°F or 220°C
Chop the sweet potato into fries
Cover sweet potato with cornstarch in a large bowl and rub the cornstarch into the fries
Lay fries onto a baking sheet and drizzle with olive oil
Bake the fries for around 15 mins then flip them so they can bake evenly
Bake for another 15 mins or till they get to the right brown color
Let them cool a little bit and then sprinkle some salt and serve with the chicken burger
Important Note:
The baking time can change depending on the size of the fries, so keep an eye on the oven and as soon as you see the edges getting dark brown take them out and flip them.
Before flipping them make sure that the fries are hard, if they are soft it means they need more time in the oven before getting flipped onto the other side.
Super Bowl Recipe – Chicken Burger (serves 1 person)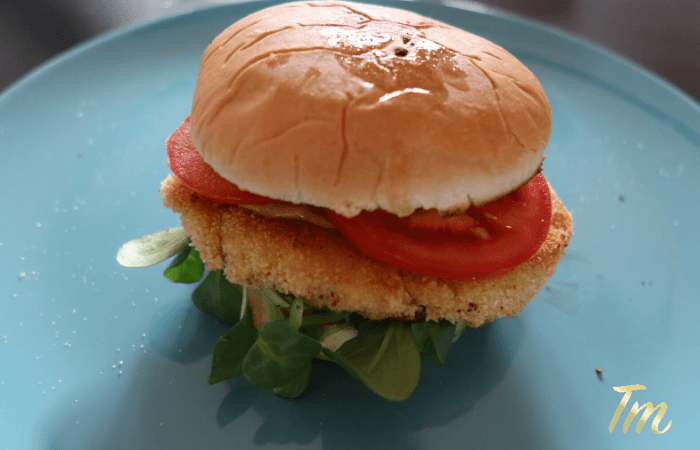 What You'll Need for the Chicken Burger:
Himalayan salt
Black pepper
1 tsp flour
Bread crumbs
1 egg
2 tbsp olive oil
Burger bread
½ tbsp of mustard
3 slices of tomato
2 slices of onion
Favorite salad

What To Do for the Chicken Burger:
Grind the chicken breast in a food processor with 1 tsp of flour, himalayan salt and sprinkle of black pepper
Whisk till the ingredients get frothy
Roll into a ball and flatten your patty into a disc
Cover the meat with flour on all sides
Beat the egg in a small bowl with a pinch of salt and dip the chicken patty in the egg
Cover again with flour and dip the chicken patty back into the egg then cover with bread crumbs
Add olive oil in the pan and cook the chicken patty on both sides
Toast the onion slices and the burger bread
Layer in order: bottom bun, salad (+ salt and ½ tbsp of olive oil), chicken patty, mustard, onion, tomato and top bun
Serve with side of sweet potato fries!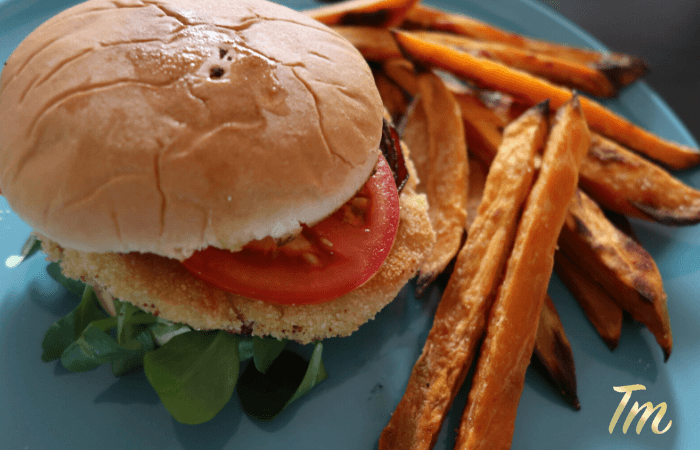 We hope you enjoy this delicious and super healthy Super Bowl recipe for your Super Bowl shindigs this year! Remember, there's always a healthy and just as delicious alternative to your favorite fast foods! For more amazing Super Bowl recipes like this one, check out our Super Bowl BBQ recipes here.
If you're looking for some fun super bowl party games, to go with all those good recipes, check out this article on Super Bowl Party Games here.
Happy cooking and may the best team win!