We hope you love the products we recommend! Just so you know, Trendy Mami may collect a share of sales or other compensation from the links on this page.
Why buy store cough drops when you can make your own at home? These all-natural homemade honey lemon ginger cough drops have only 5 ingredients and are super easy to make. Pssst, these are perfect little stocking fillers for over the holidays!
Everyone gets the sniffles in the cold winter months and these homemade cough drops will really warm their hearts and lift their spirits! With lemon juice, ginger and honey, these cough drops are a great remedy when fighting a cold. Be sure to watch our video tutorial for an extra helping hand in the kitchen! Let's get started!
Homemade Cough Drop Recipe
What You'll Need:
Need to get a few ingredients for this recipe? Have them shipped to your door with Instacart!
What To Do:
Step 1 – Pour the honey, lemon juice, and ginger into a pot and whisk to combine.
Step 2 – Set the flame to a medium-high heat and attach a candy thermometer to the pot. The mixture will boil up, so remove the pot from the heat when this happens and continue to whisk until the bubbles go down.
Step 3 – Return to the heat and continue doing this until the mixture reaches 310 degrees Fahrenheit (you will see the color changing and the consistency getting thicker and dense).  This is a 1hr process.
Important Note: The mixture needs to reach 300-310F/148-154C degrees, which is when it reaches the hard crack stage. If you don't have a thermometer, test the mixture by dropping some of it in a cold bowl of water and if it hardens, it's ready.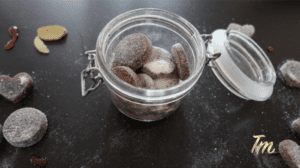 Step 4 – Once ready, carefully pour the mixture into silicone candy molds and allow to cool at room temperature until the candy has fully set and cooled to the touch. This will take approximately 30 mins.
Step 5 – Remove candies from the mold. Combine the powdered sugar and powdered vitamin C in a small bowl. Toss the candies in the sugar and vitamin C mixture, then bounce in a mesh sieve to remove the excess powder. Wrap them up or put them in a glass mason jar and gift them!
There you have it, your very own homemade cough drop recipe. This is an extremely thoughtful gift for over the holidays and recipients will be extremely grateful, especially once the colds start to hit. We hope you enjoyed reading this article and that our video tutorial could further help you out!
Looking for other holiday gift ideas? Check out our best gift baskets for the holidays article, ultimate gift guide article, ultimate family gift guide, white elephant gift guide or even simply an ugly Christmas sweater article for a good ugly sweater gift!